"Though we travel the world over to find the beautiful,
we must carry it with us or we find it not."
~ Ralph Waldo Emerson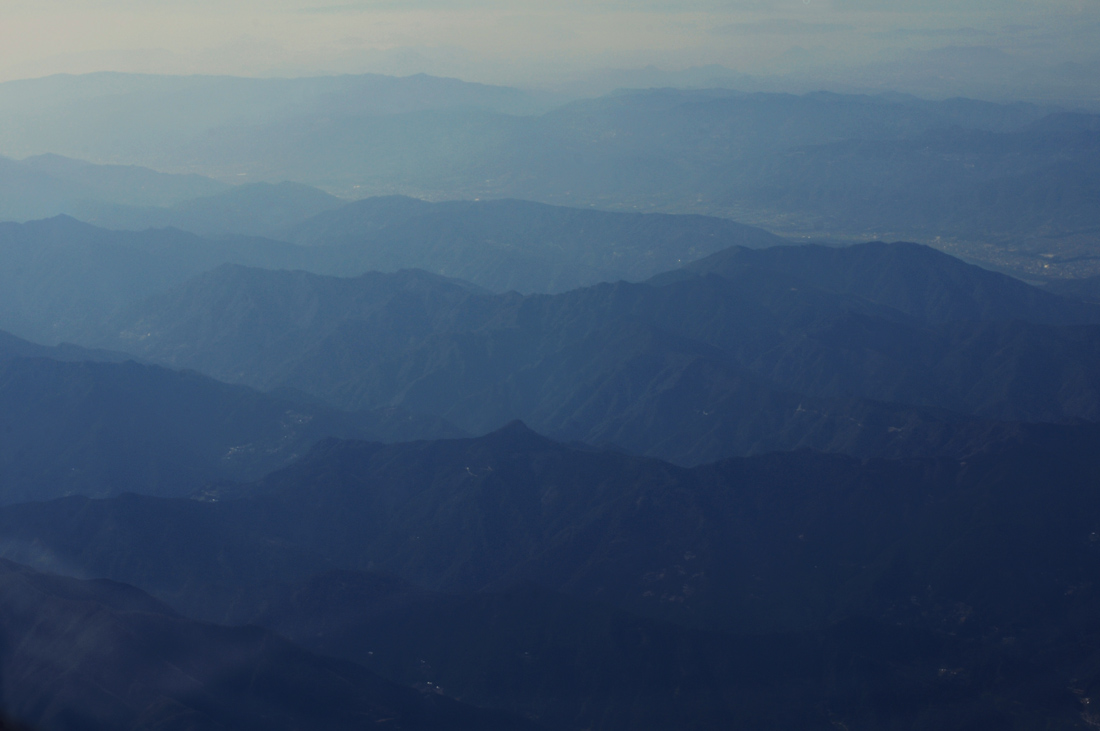 Minutes before we landed in Osaka, roughly before 3:15pm Japan time, last 5th of April, 2011. I almost cried at the sight of this. Well, I lied. I shed a tear. Brian has actually traveled back and forth many times to Japan compared to me who's yet to have my many firsts. And I was tryin' not to be over dramatic about it because I was still on the plane, sitting on my right is Brian and there was a cute little Japanese girl next to us. I wouldn't want her to think whatsover. 😛
I was just deeply grateful that I came to live that day when finally, right before my eyes, I can set foot to the country I've always dreamed of visiting. You may compare such earnest wish to a kid longing to see Disneyland. Yeah, I'm that kid, except I didn't dream of Mickey Mouse — I dreamed of Japan. I know I shouldn't be saying this but I was ready to die happily knowing I've been to Japan. Big bucket list entry checked off from my list!!! That's how too important this trip was for me. Really. 😛
But wait, here's a lil warning: really loooong post ahead that you'll need to stretch your legs and twist your necks later! =)
While I'm writing and posting these photos now, I'm earnestly still praying for Japan's recovery from the earthquake that happened about 2 months ago. We stayed far from the affected area so the photos I'll be posting will show the other side of Japan — my photos can't surely justify how everything else there has been truly beyond amazing. Many said it was risky to go but I'm glad I never changed my heart at all because I swear it was well worth the risk. And despite Japan's tragic times, it's been undeniable how everyone in Japan is managing to move on forward with so much positivity and courage. And I came to witness that even during our flight when I sat around few Japanese nationals.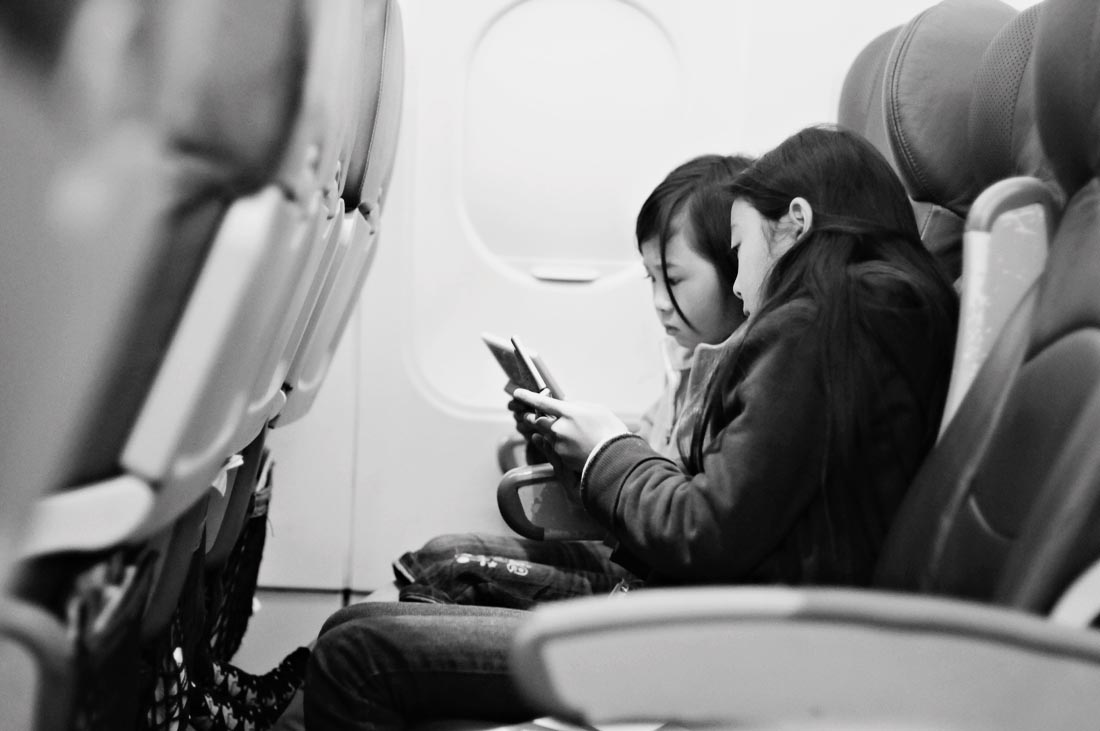 I came to know the Japanese girl's name is Rina-san. On the opposite side is where the rest of her family sits. She was very polite and cute and friendly. While watching a movie on her own dvd player, she gestured if I wanted to watch together with her. I shyly said, 'Daijo-bo desu. Arigatou!' (It's okay, Thanks!) I was just too overwhelmed being on the plane on our way  to what had become such a trip-of-a-lifetime-experience for me so I was just staring most of the time at the window. Yes, like a puppy.
At some point, I remembered I saved a copy of Tangled movie on the iPod Touch. I felt like sharing it with Rina-san and her lil sister. They sure quickly jumped off their seats to sit close to me and we were like family that instant. Now I'm missing such cute moment. I didn't get to really know her parents but they bid bye and thanked me before we parted ways.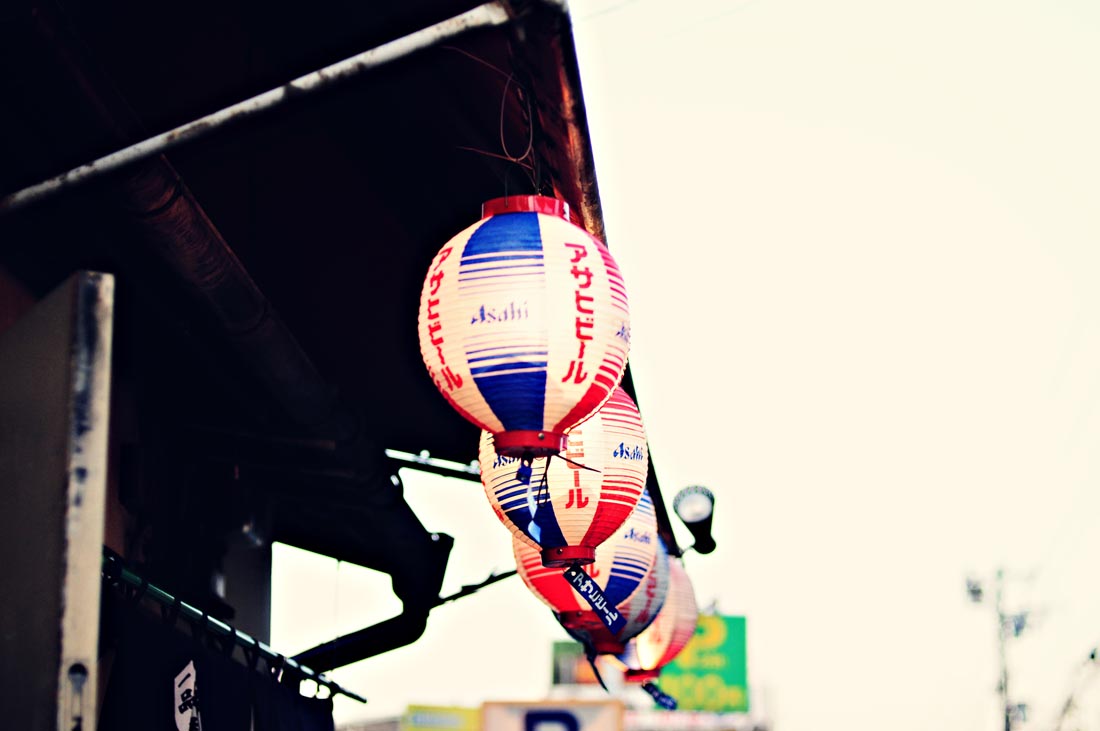 A little fast forward. We arrived safely in Osaka airport. I looked for a wifi signal right away and tweeted from Japan my first ever status. Hah! I pinched myself real hard and asked Brian, almost always annoyingly, if I was really already in Japan. And Brian would either pinched me back or bulged his eyes out — his way of telling me, 'Jhoe, will you try act a lil normal!' Haha.
We went by train in order to find the nearest station where our hostel was located. While Brian was staring at our map, (obviously he has more sense of direction than I am) a Japanese lady approached us and offered help. I couldn't help be suspicious a bit, then totally felt guilty later. Normally, from my experiences, anyone was kind enough to just give us directions but the lady went beyond being helpful. She walked more than 10mins with us just to make sure we find our hostel. Just like that. I now realized more how really kind and friendly the Japanese are.
We checked in to our hostel quickly and left our backpacks so we can hunt for dinner.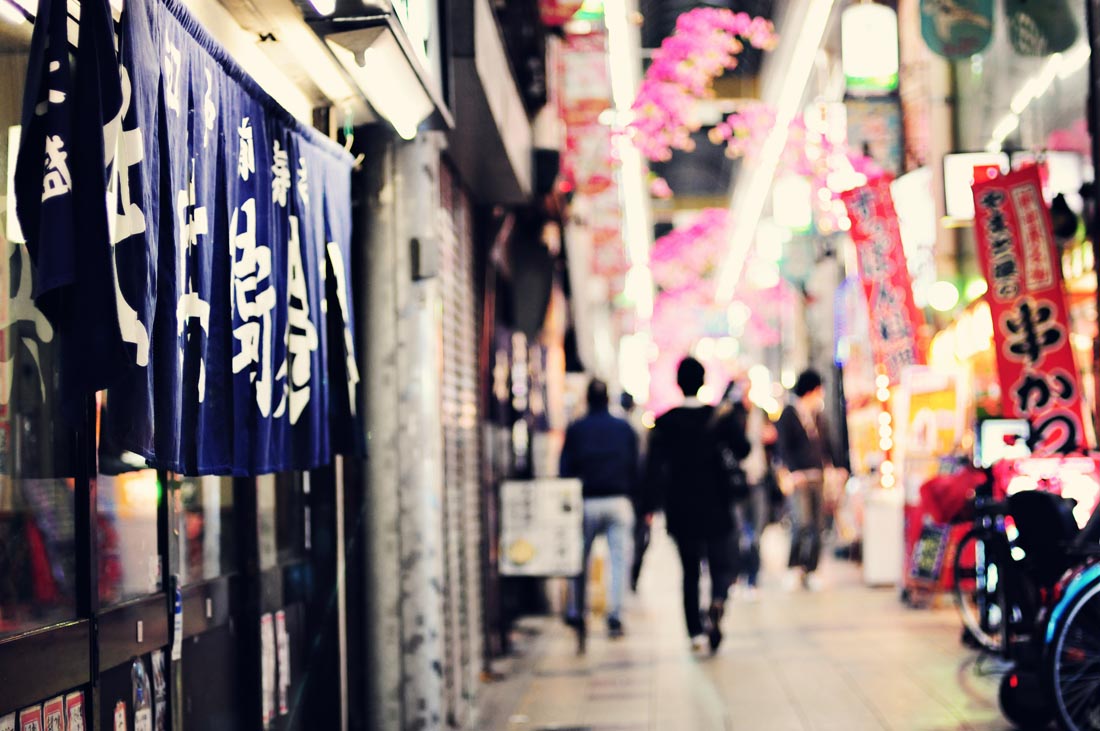 Weather temperature check: below 10 degrees celsius…was it cold for me? oh yeah! it was freakin' cold!!!! brrrr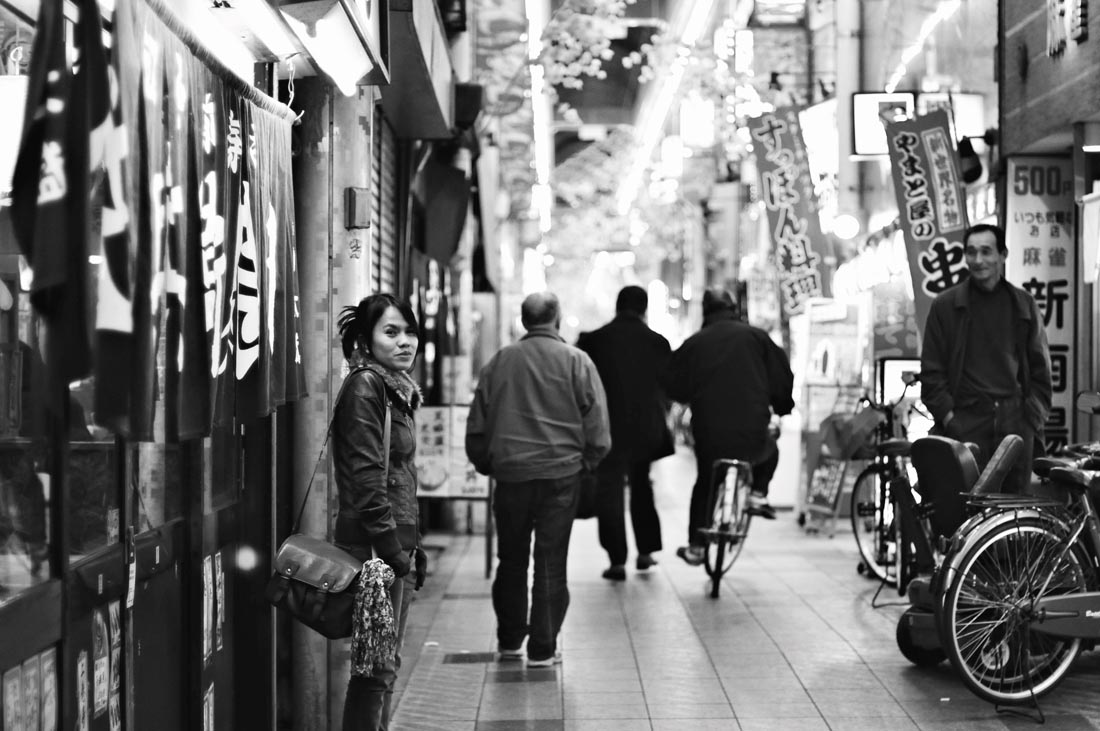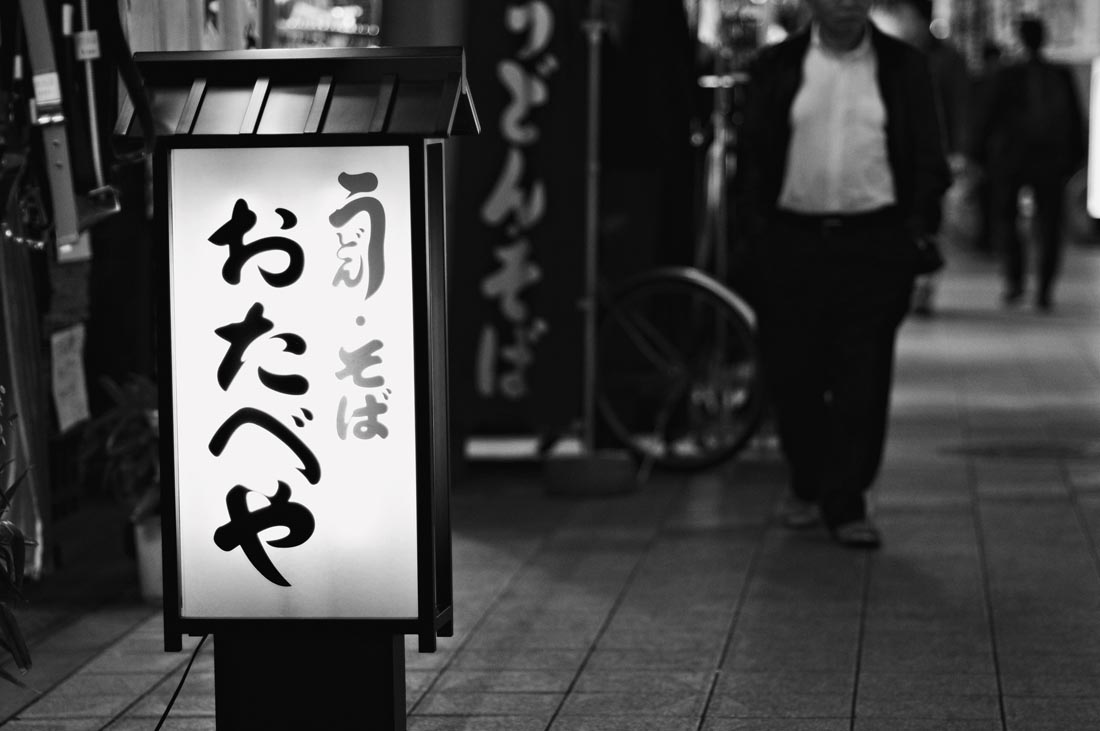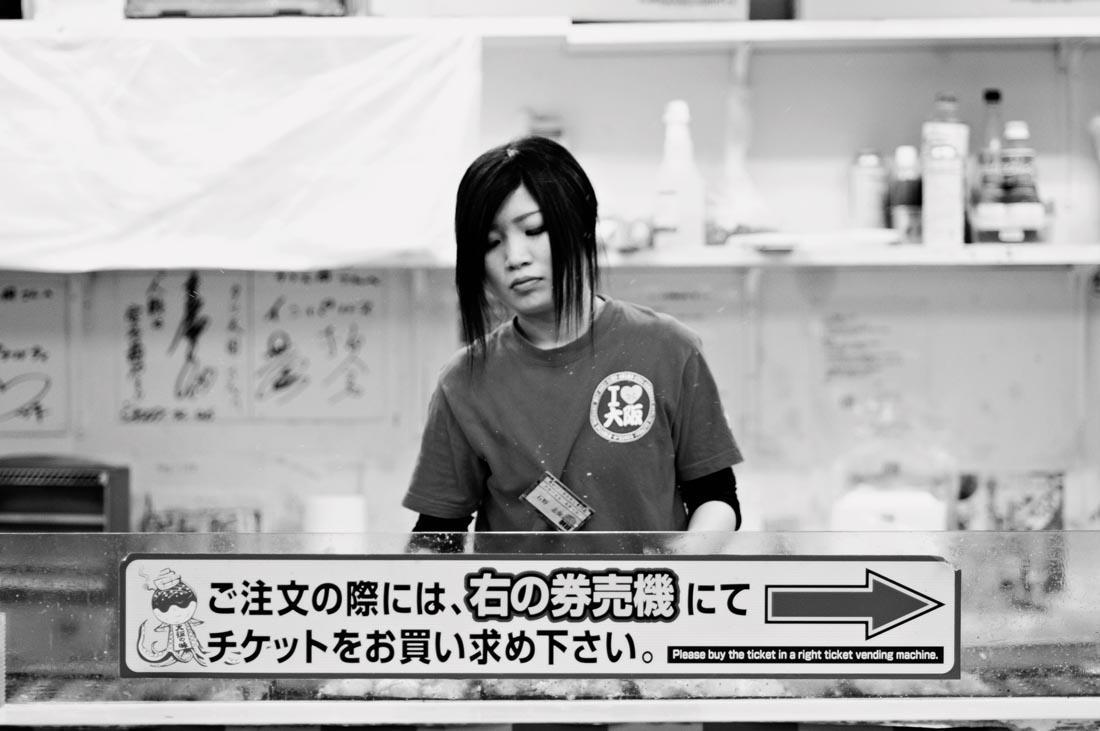 Brian loves the cold weather more than I do. I only love it because I can wear furry leather coats & booties. Hahah.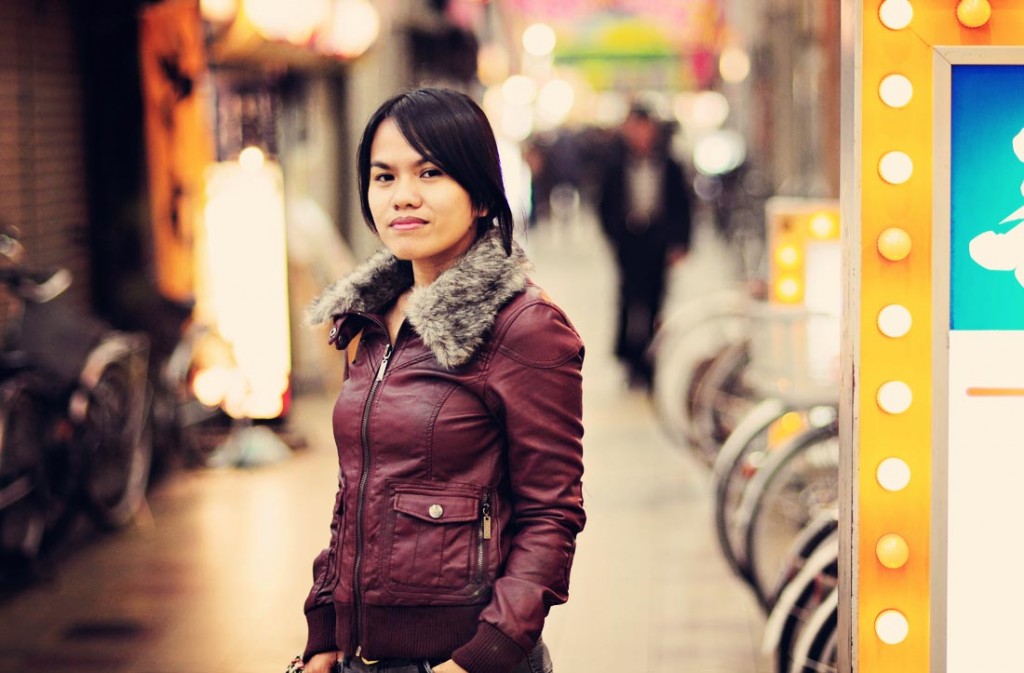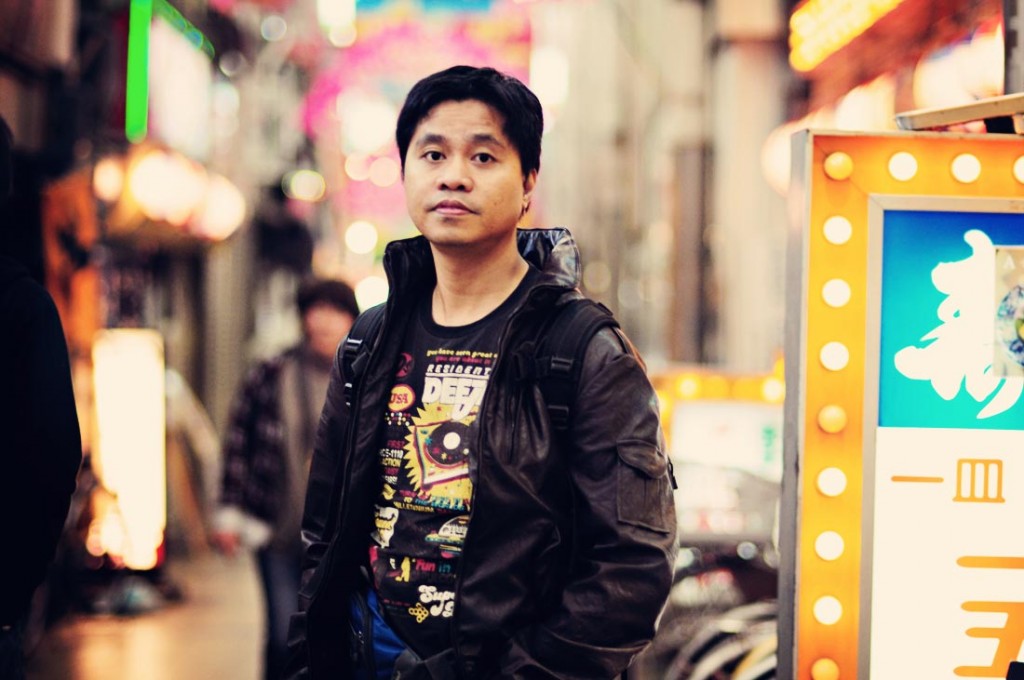 And who would have thought my first meal will end up in Yoshinoya!!!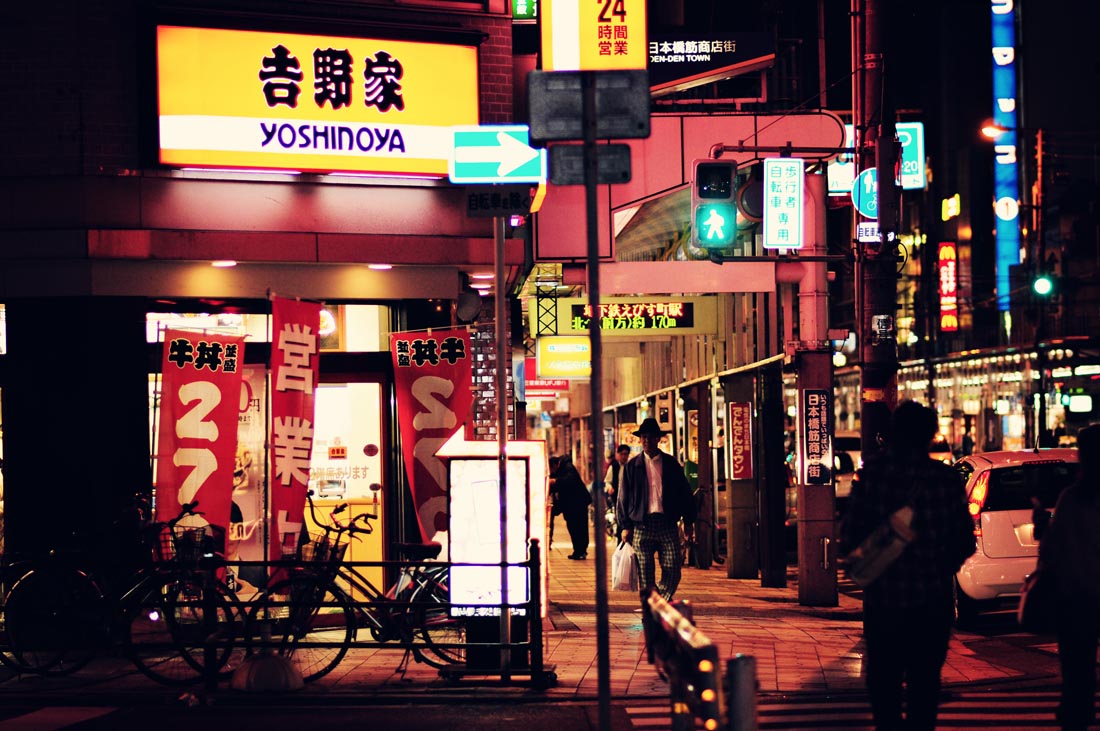 I already like Yoshinoya in Singapore but oh, I'm loving Yoshinoya in Japan more!!!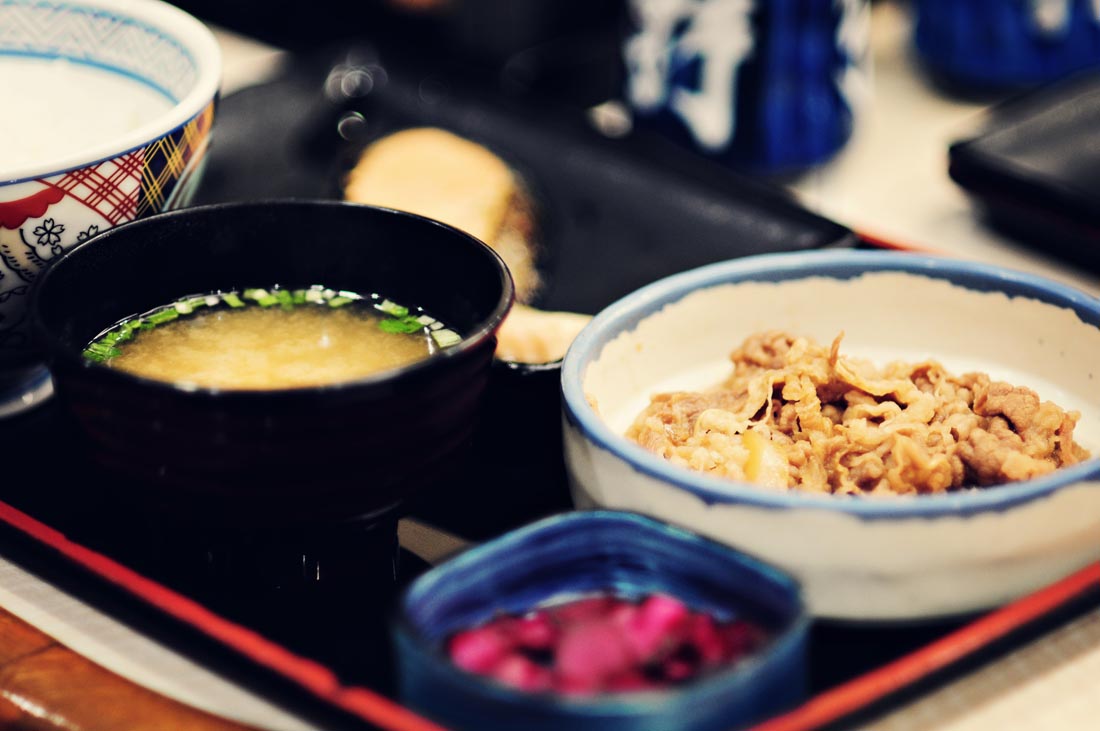 Caught a glance of this kiddo below…he must have been really hungry already staring at the takoyaki stall.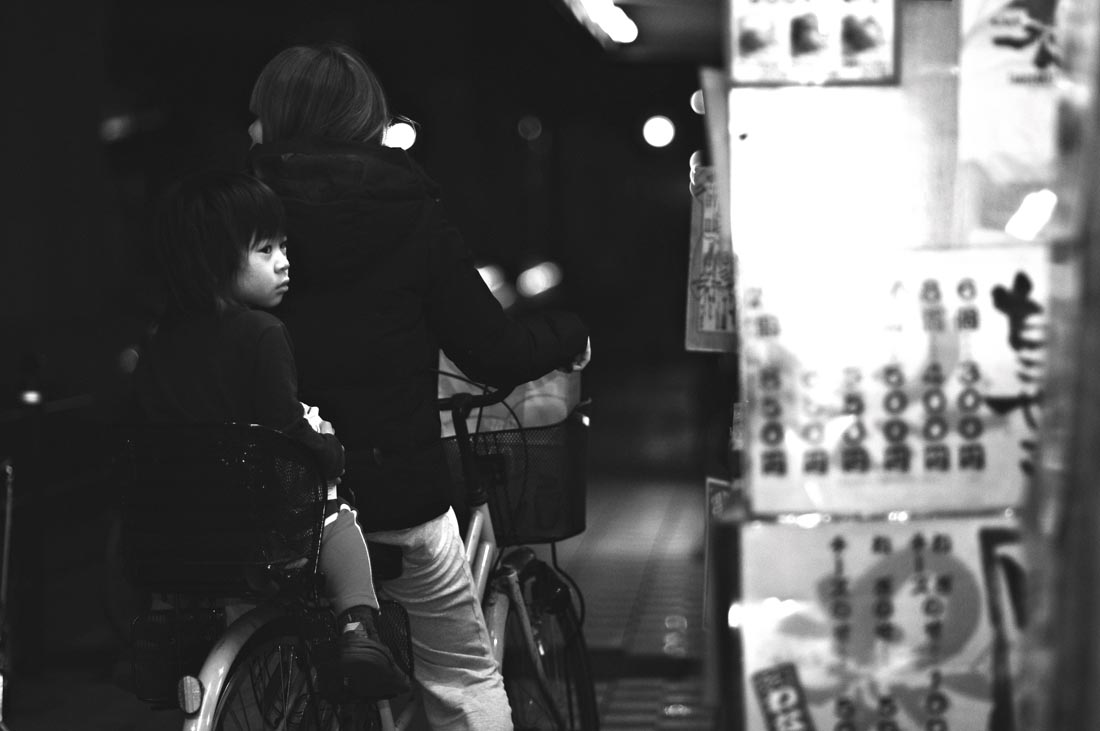 The next morning was still too cold. I was shivering to death I wish I was soaked in a warm bath.
Oh by the way expect lots of street photos…they all looked like scenes plucked from all those japanese dramas/movies I've been addicted to watch  that finally came to reality for me ya know. =)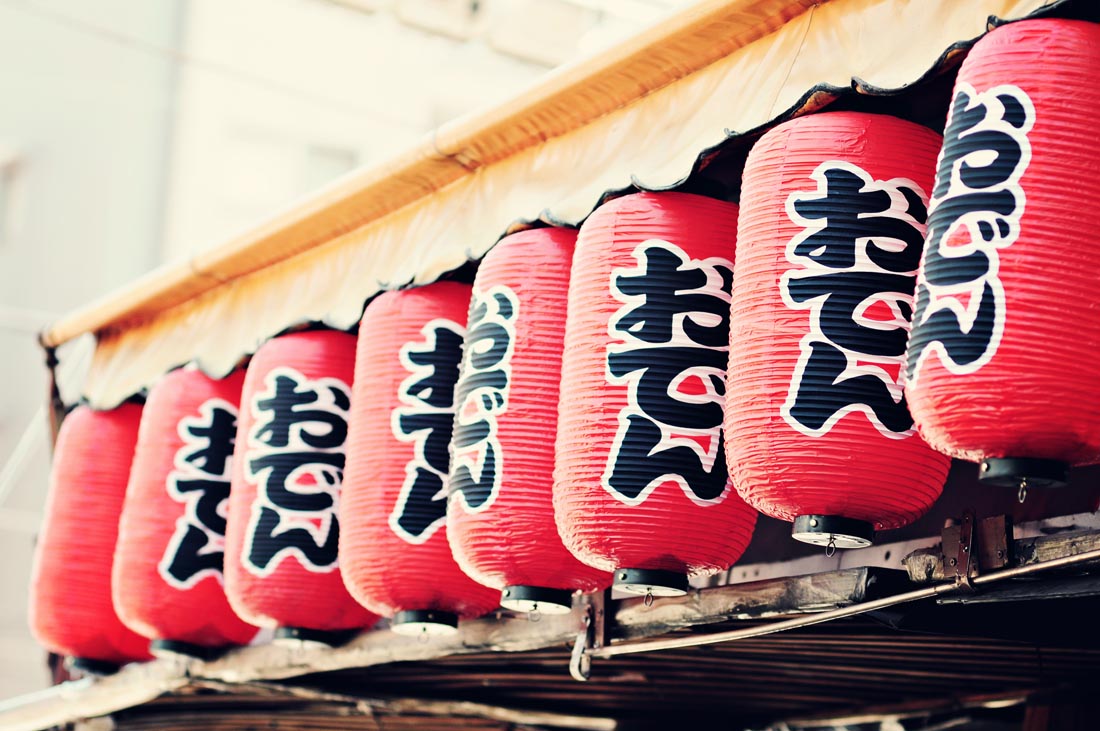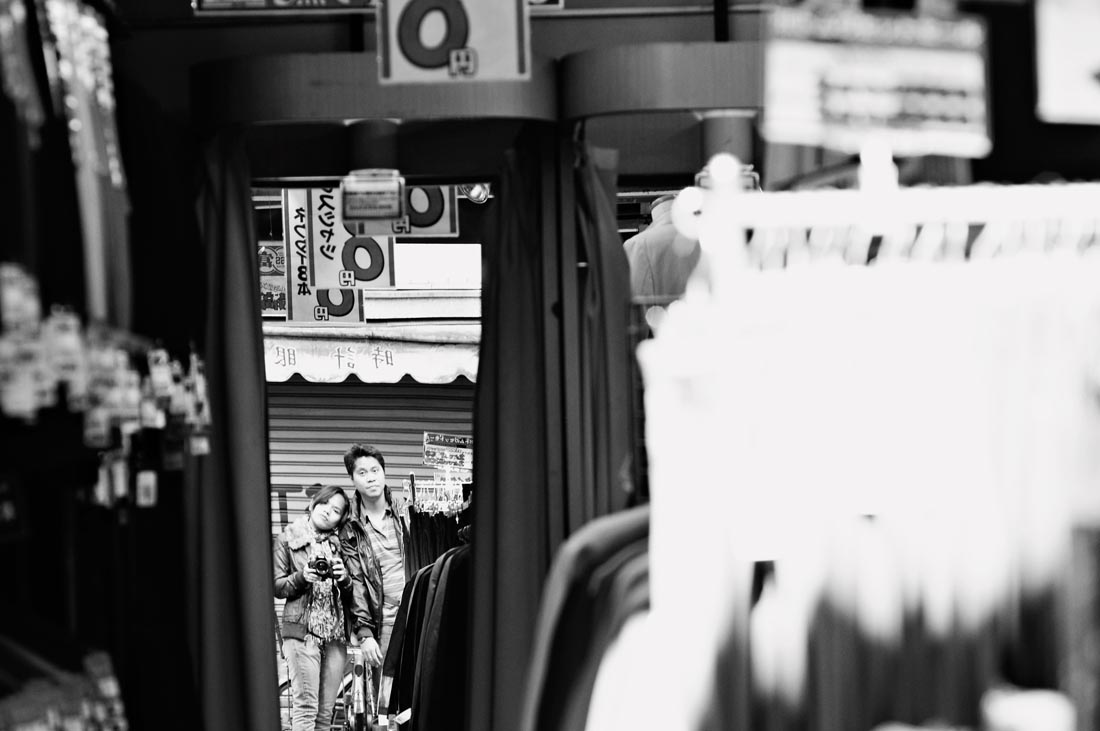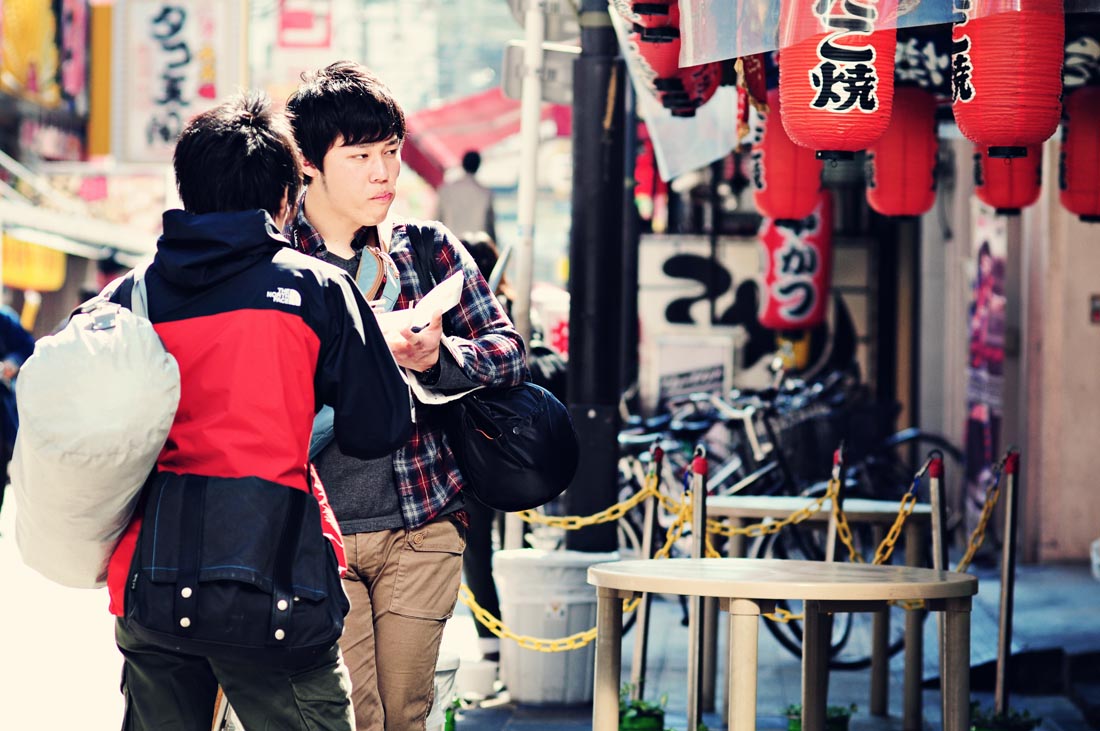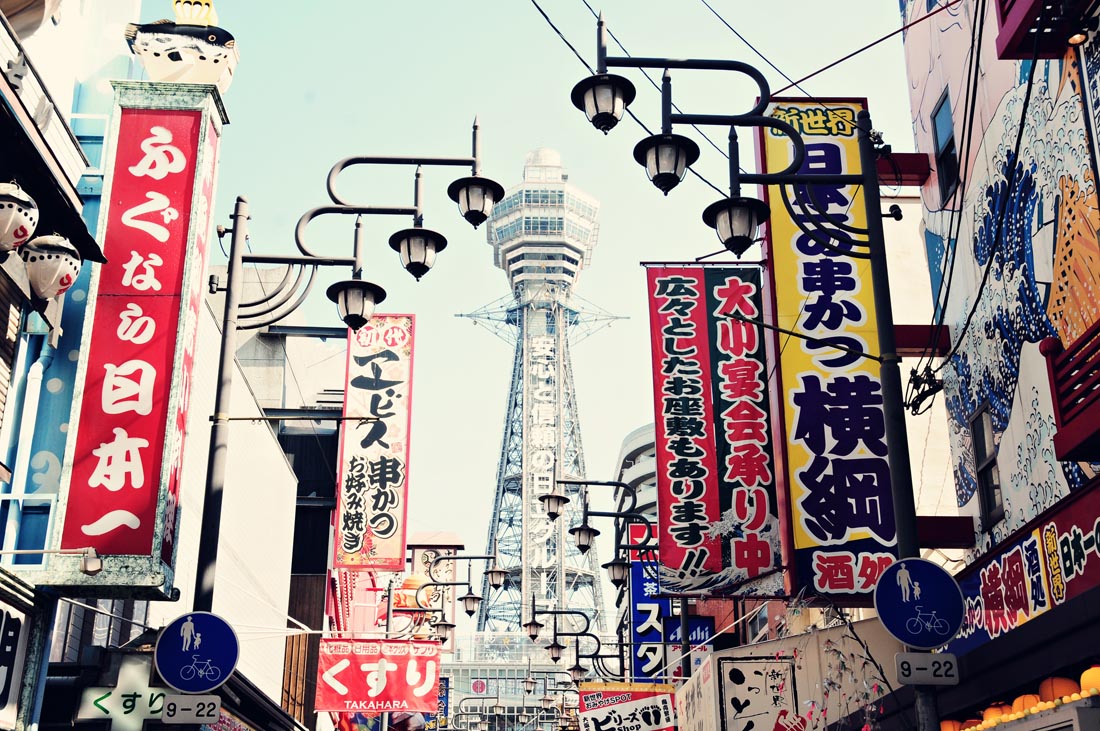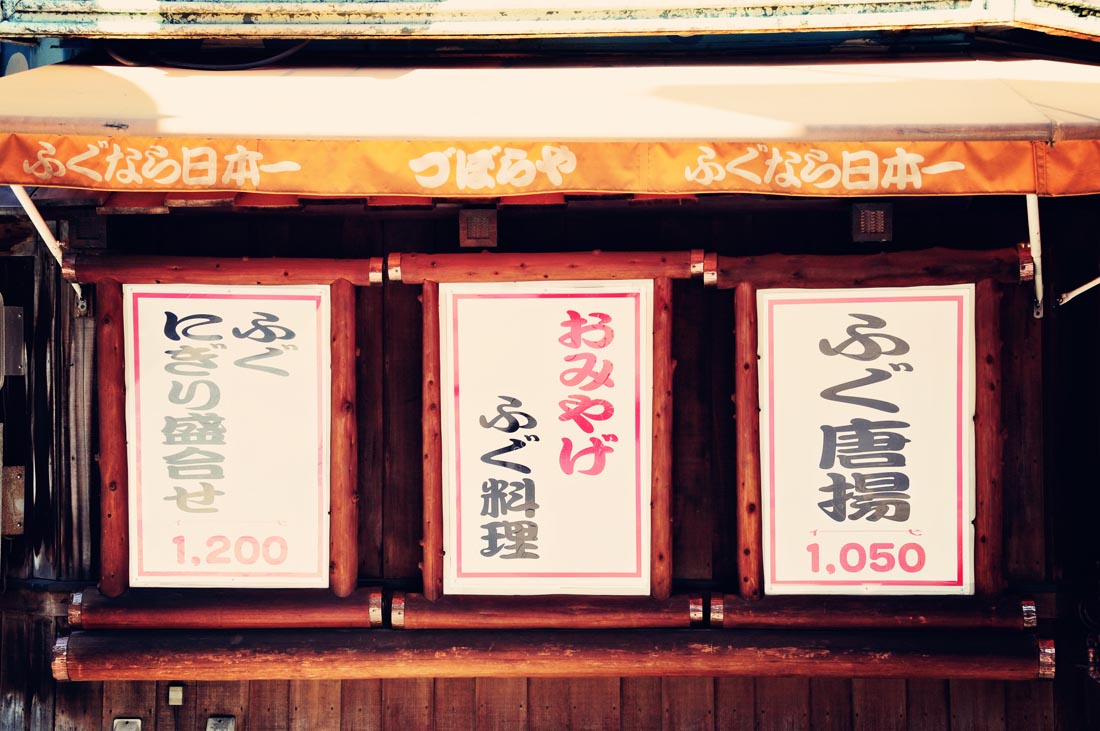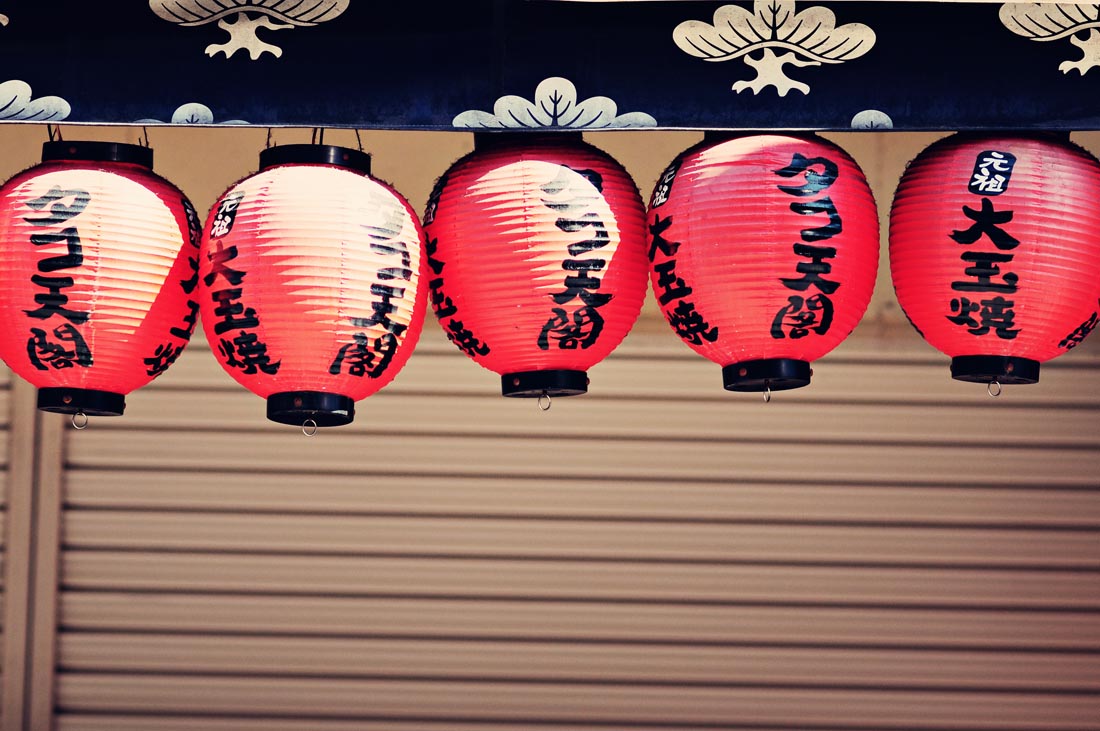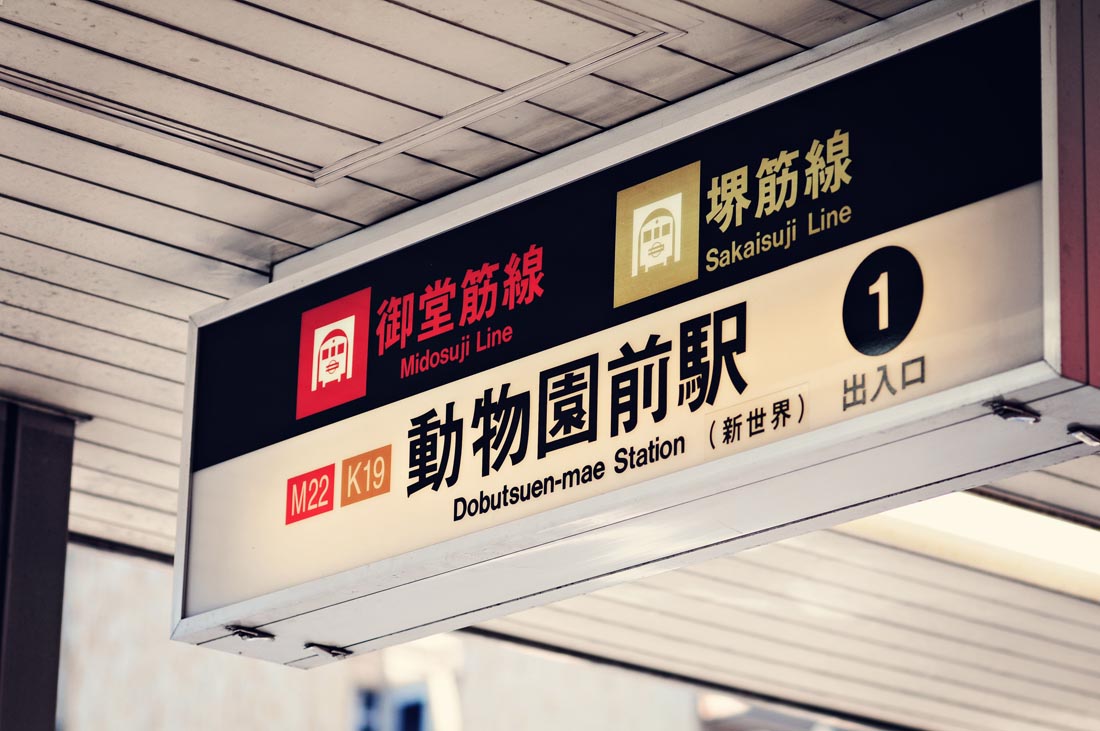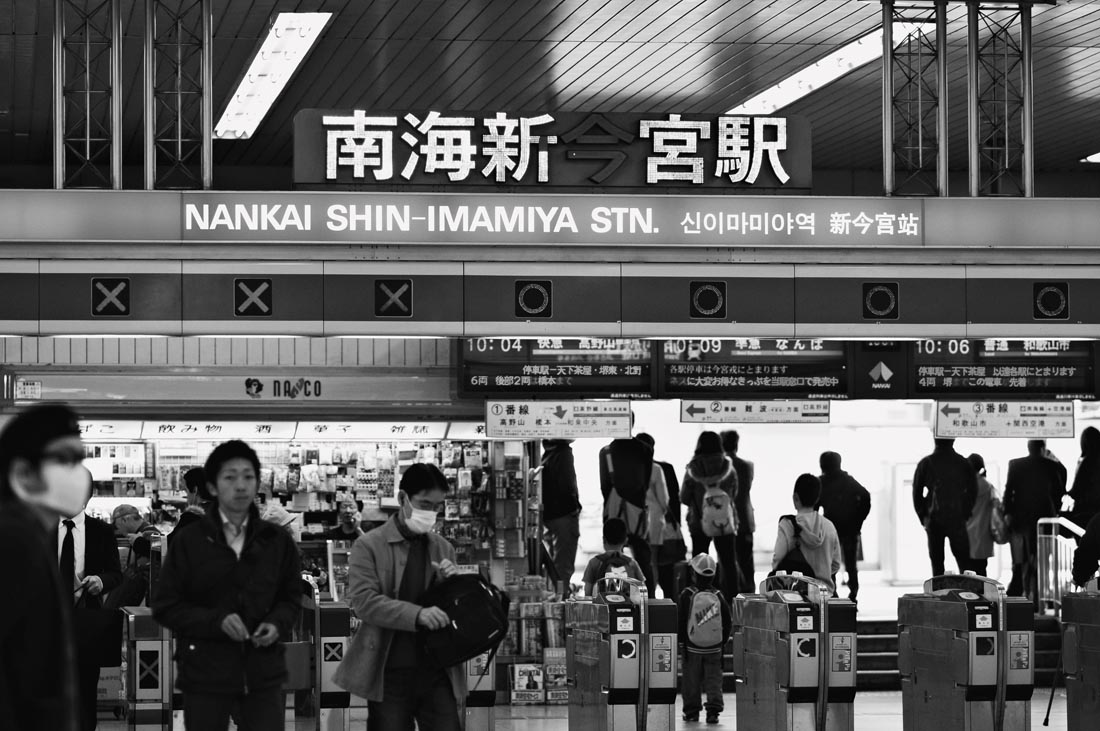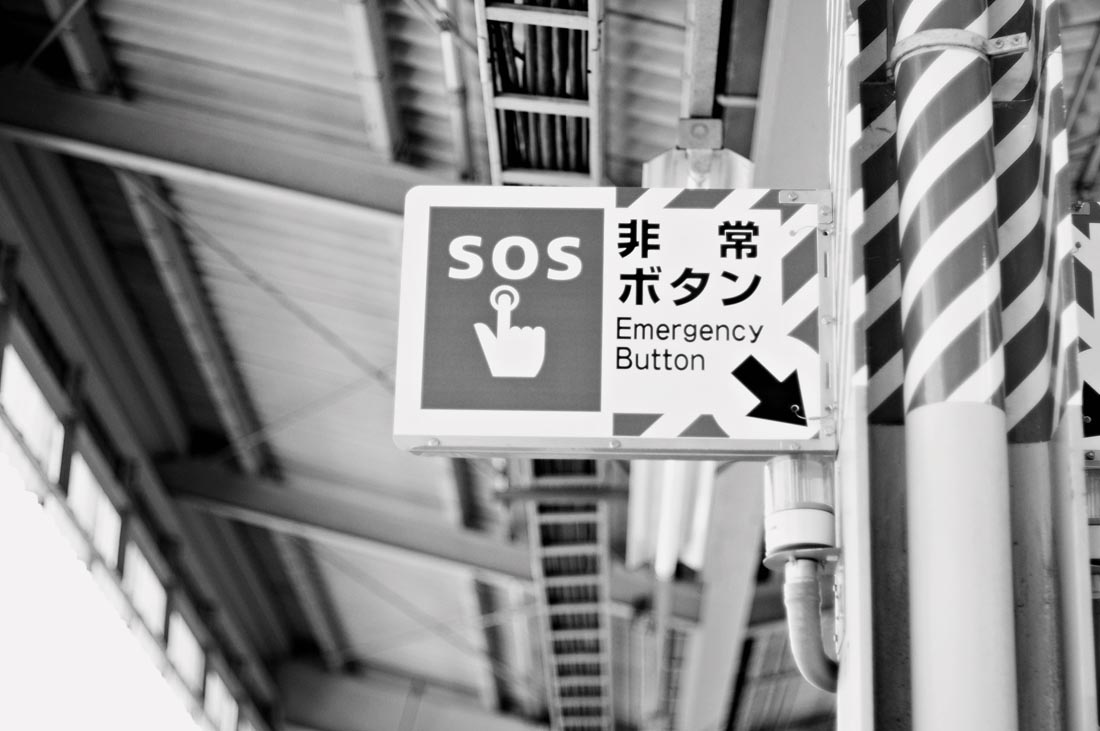 Riding on trains in Japan were pretty easy to understand actually, thank God for English maps,too. Hehe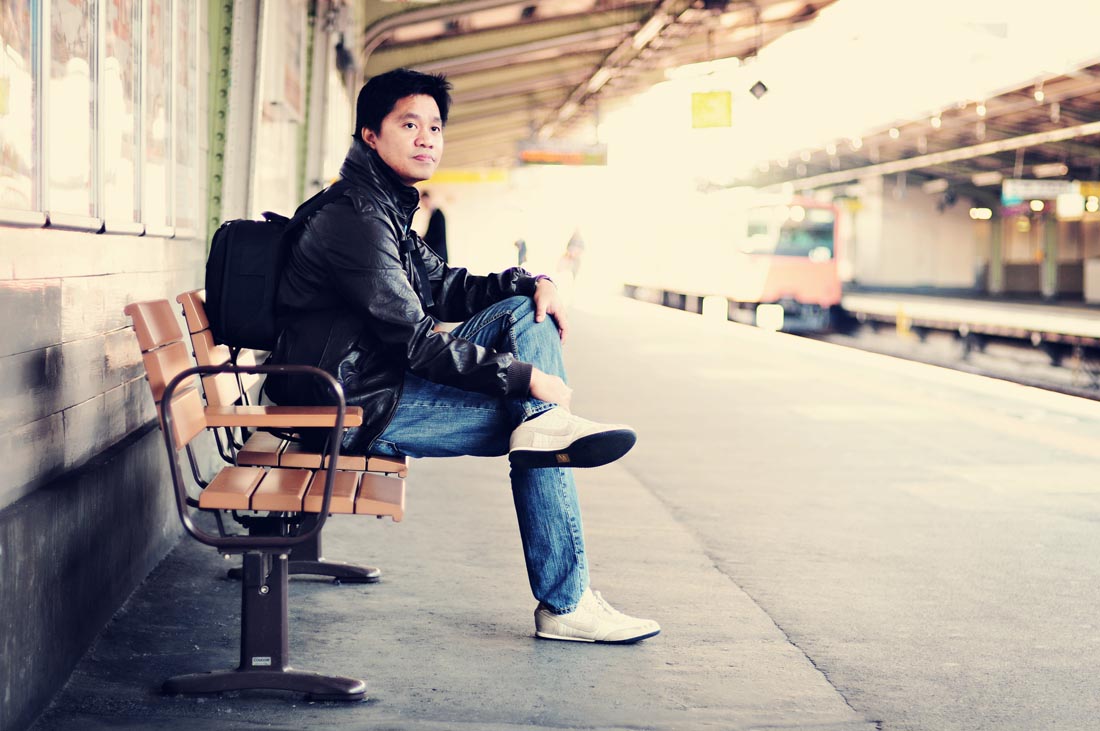 And I just got to have this frame taken, while waiting for the train. Teehee! 🙂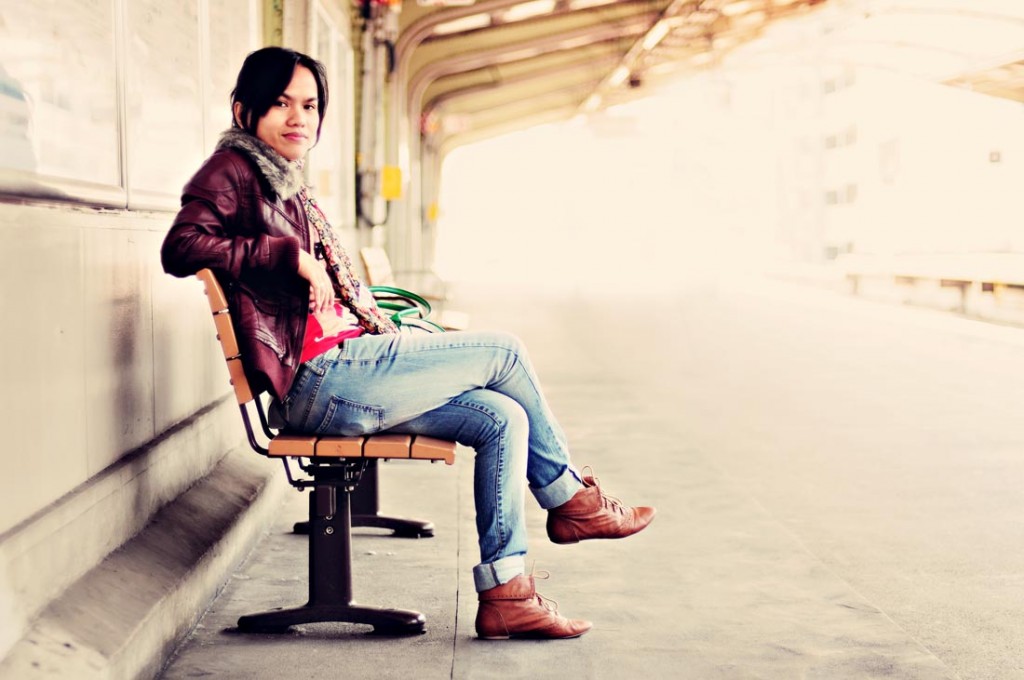 On our way to Osaka-jo Castle.…but before I die seeing all the sakura blooming, I was in search for my first ramen.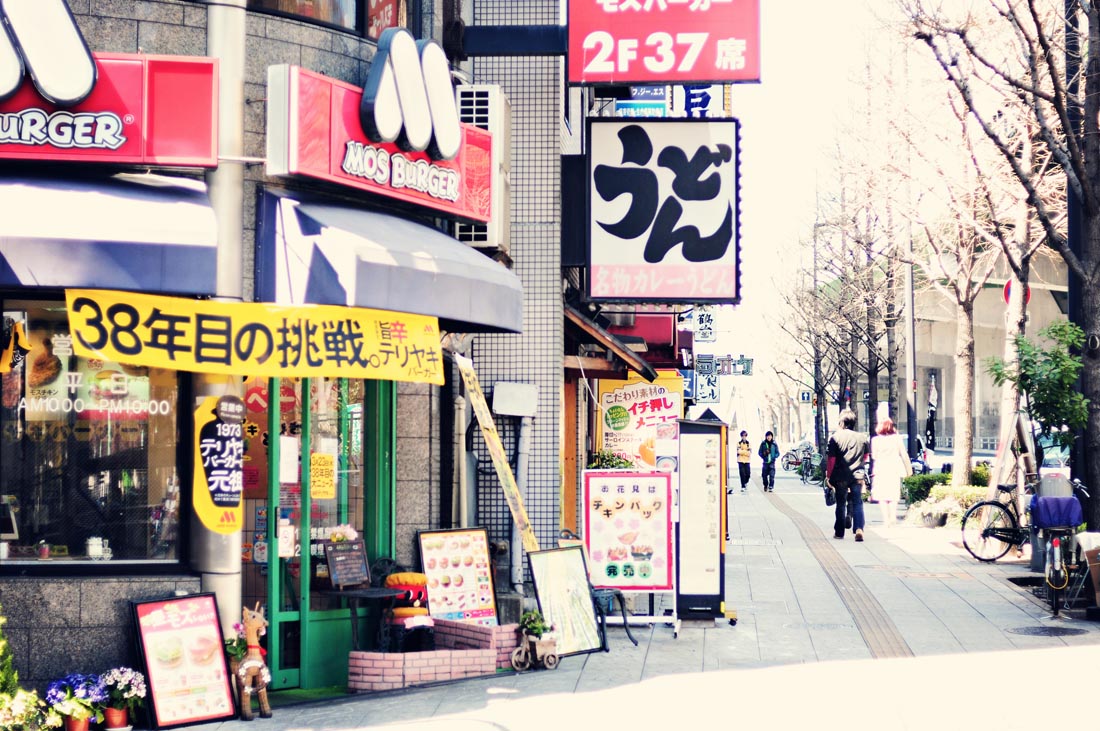 Bicycles. Here and there. I heart.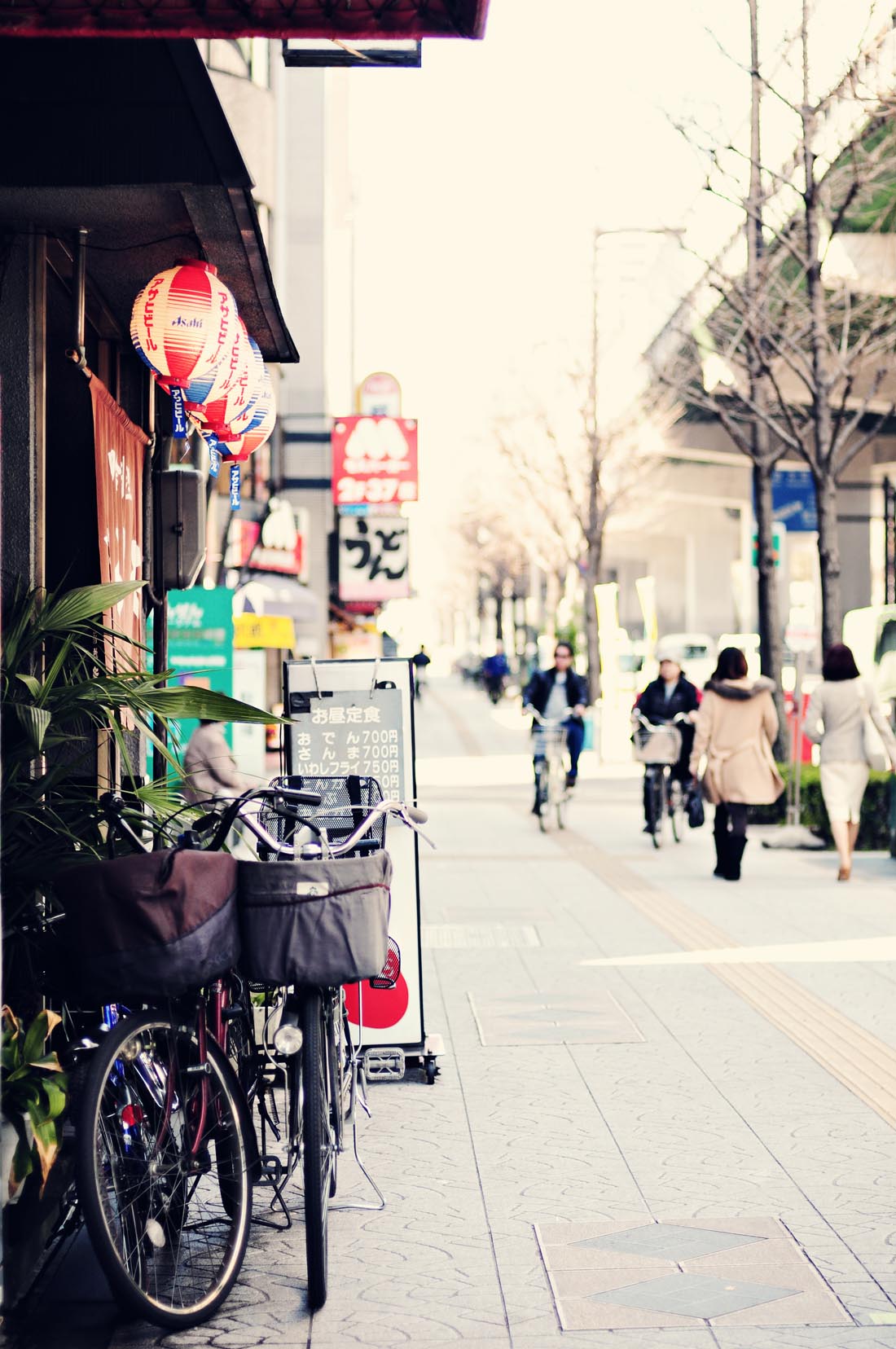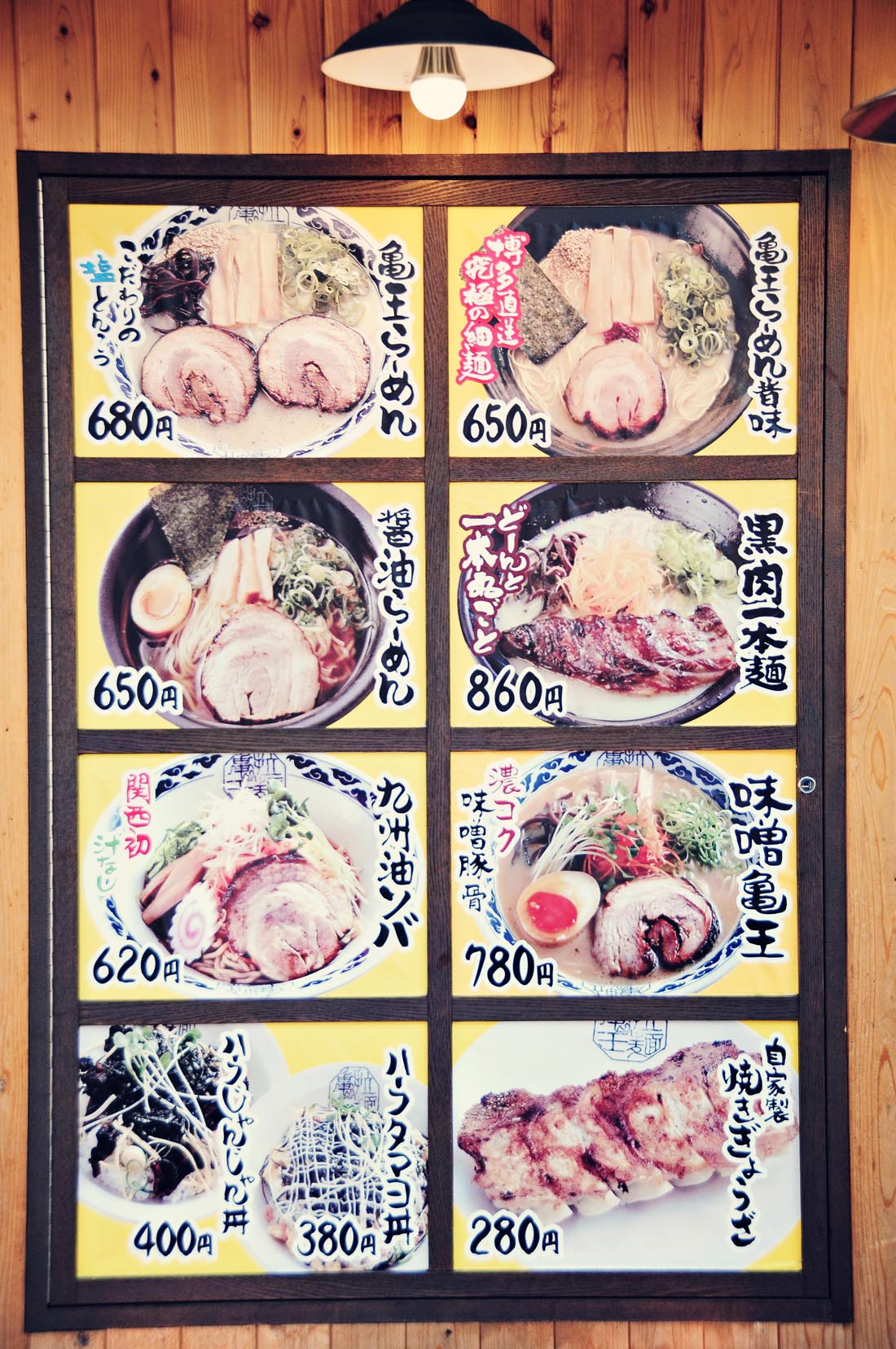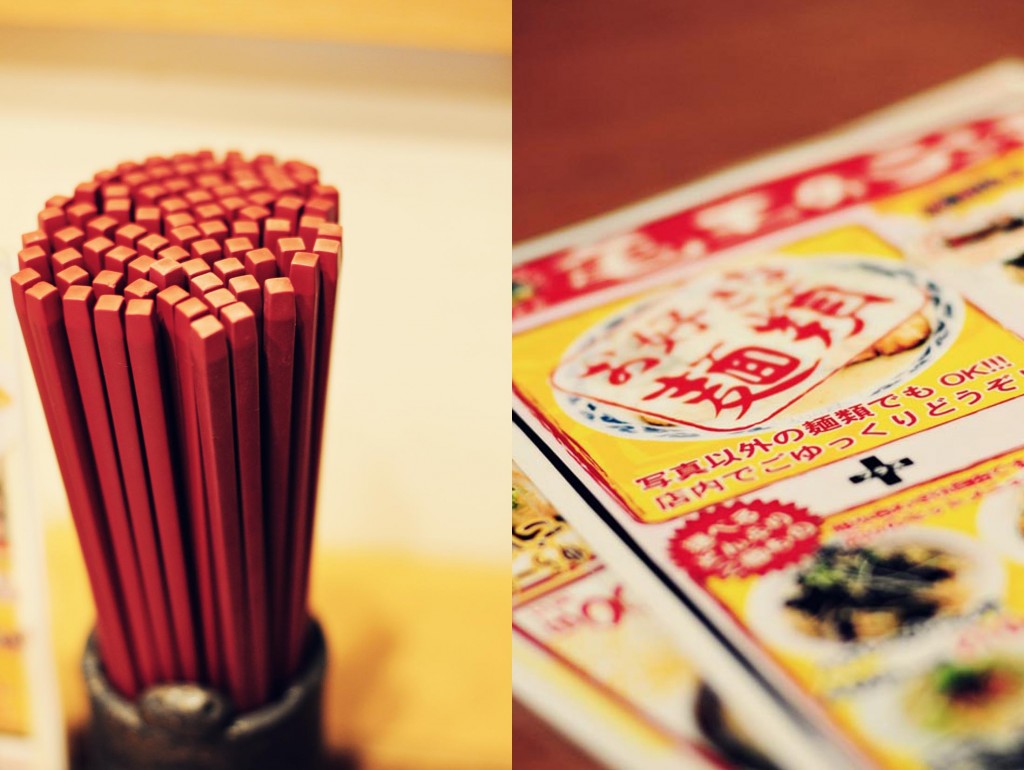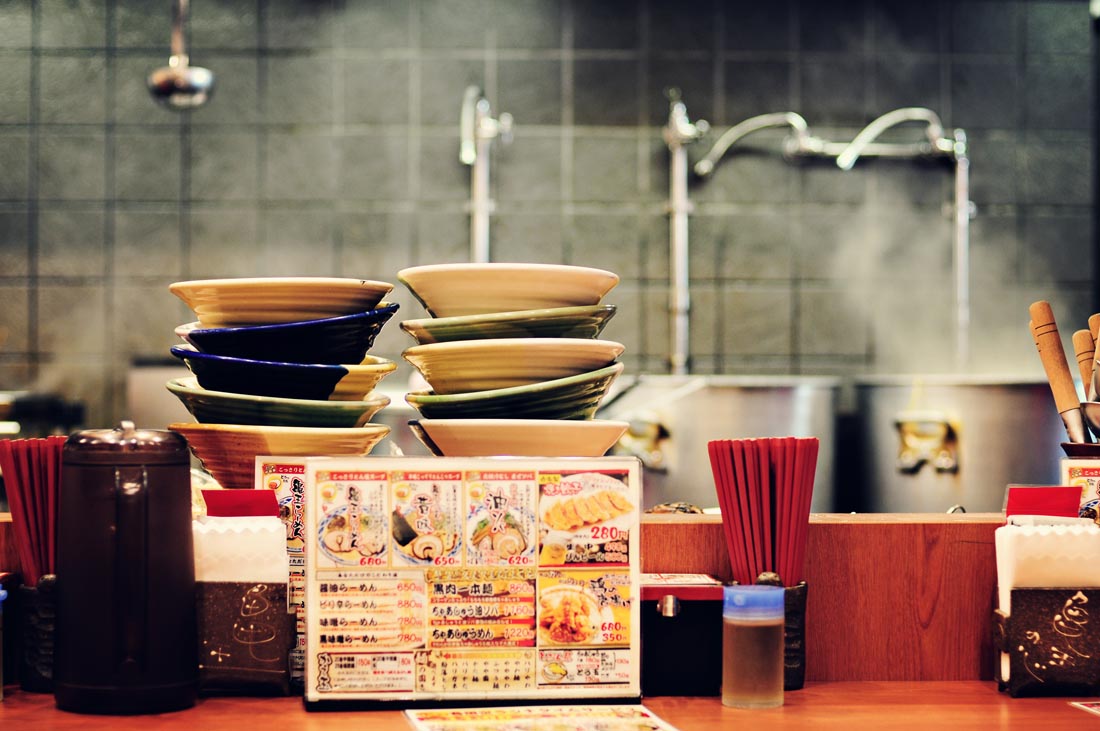 My first ever straight conversation to a local Japanese was 'Osusume wa nan desu ka?' (What do you recommend?)
I was so proud telling Brian I talk like a Japanese LOL ;p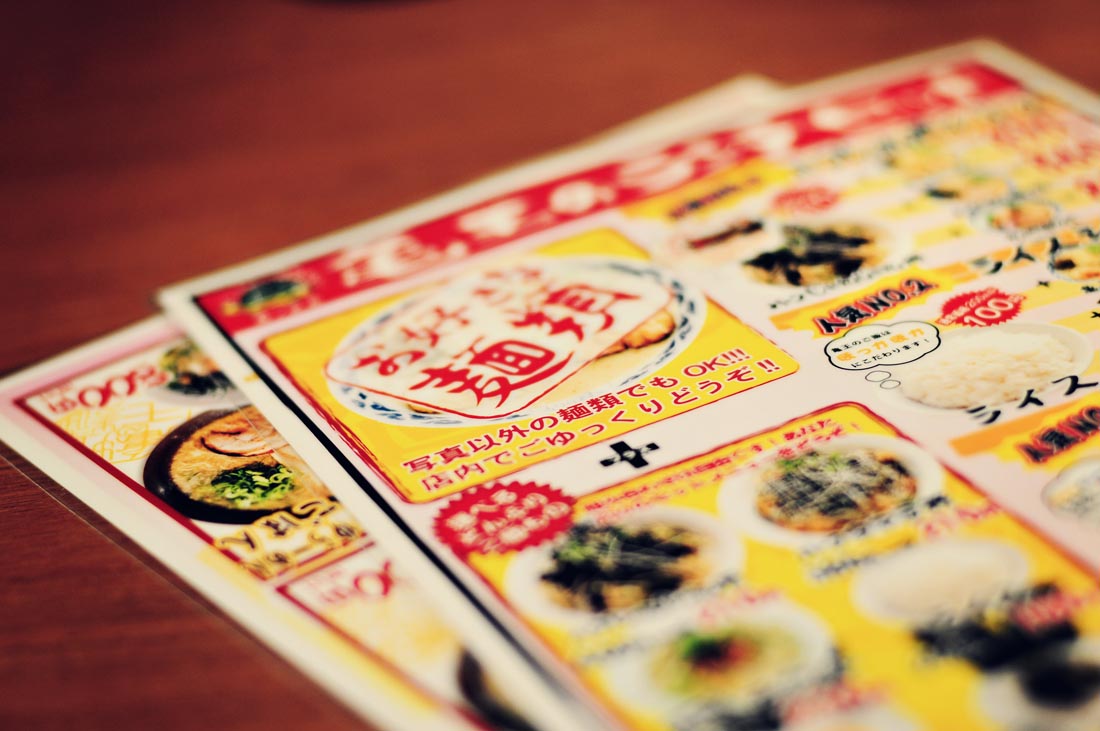 Aaaaah…there's my first ever authentic ramen meal. I swear it was the best ramen I've everrrr tasted. I slurped and slurped loudly! If you didn't know, in Japan, slurping isnt really rude and it tells everyone (especially the owner/the chef) how much you're enjoying the meal — you bet I did!!!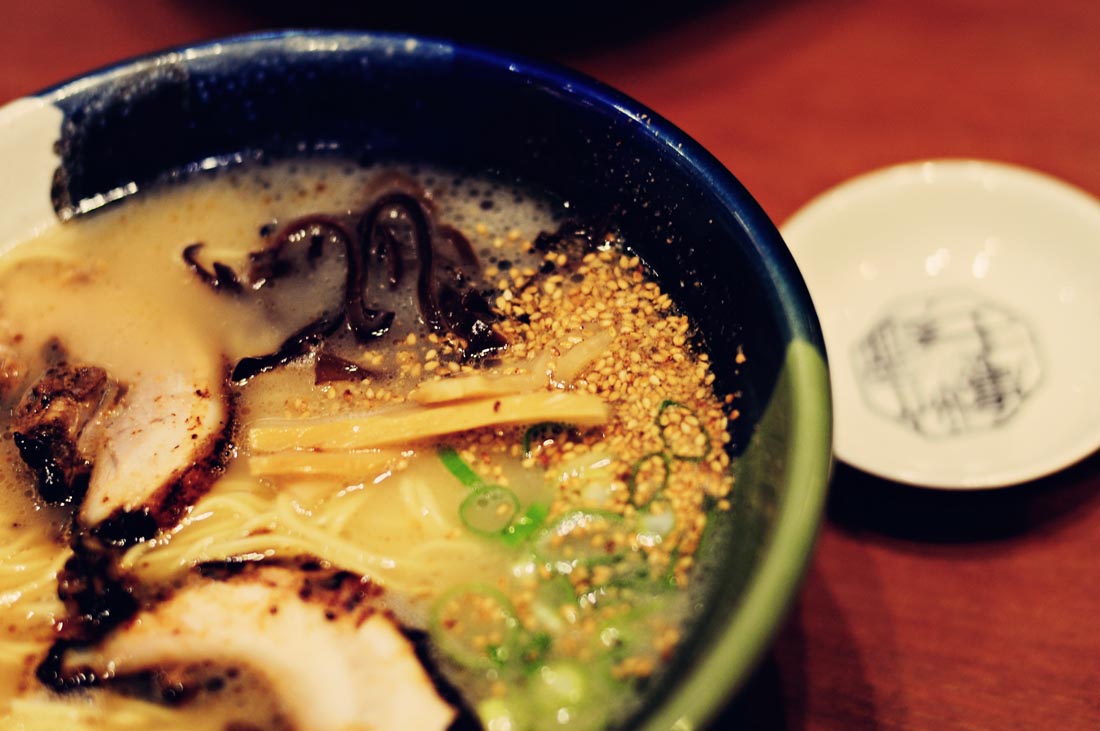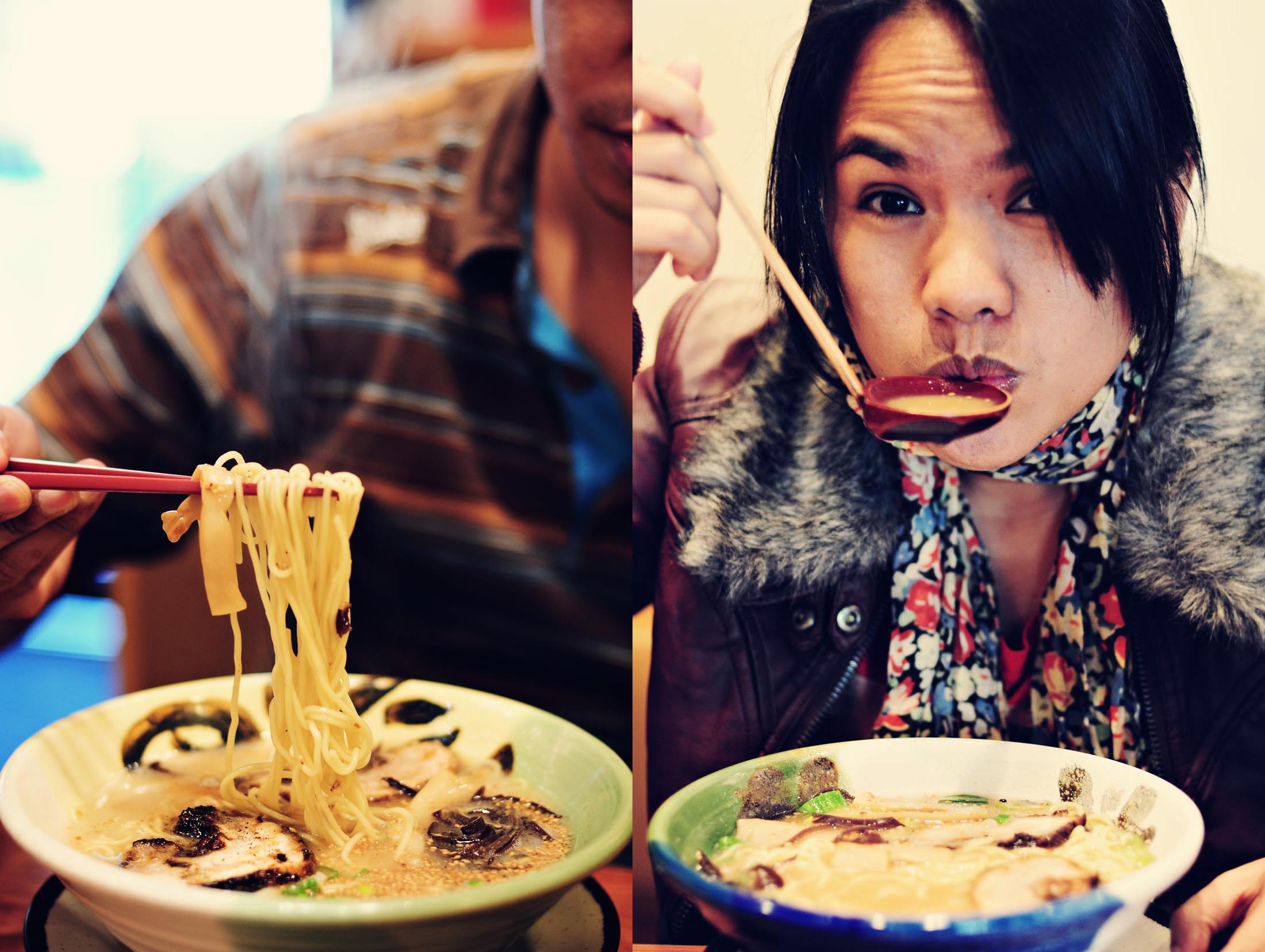 And so finally, there's the sight of Japan's Sakura Spring. I have to pick up my jaw from the ground most of the time, coz really, I've been always in awe at everywhere I looked.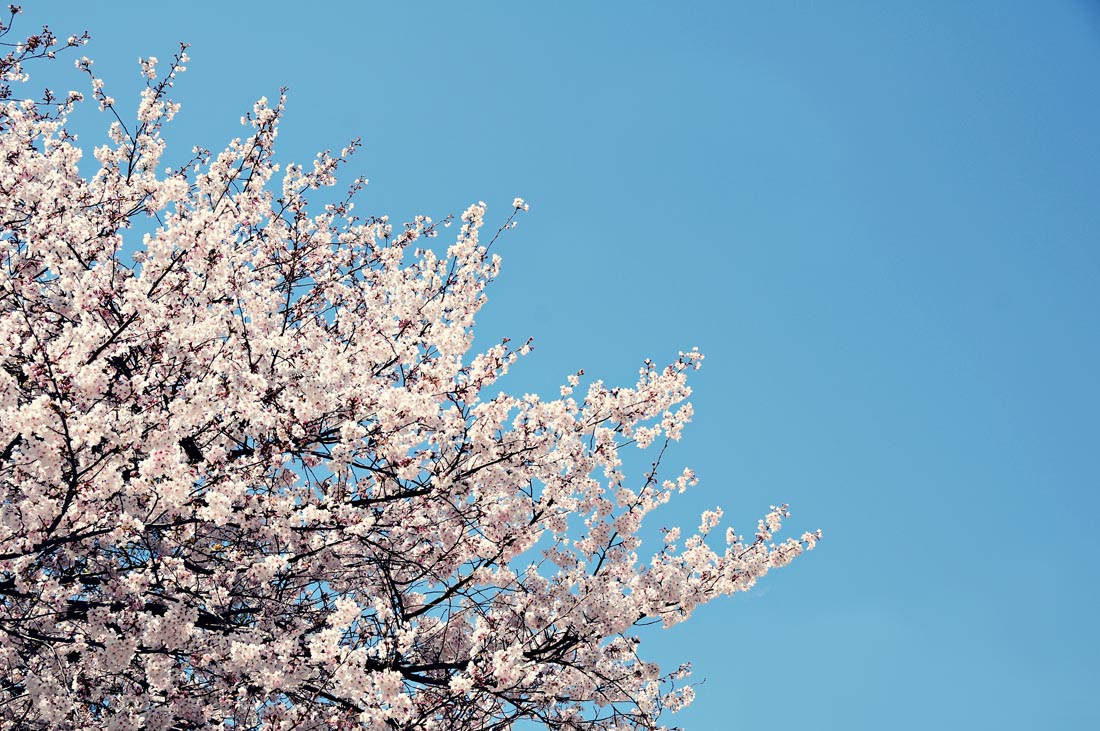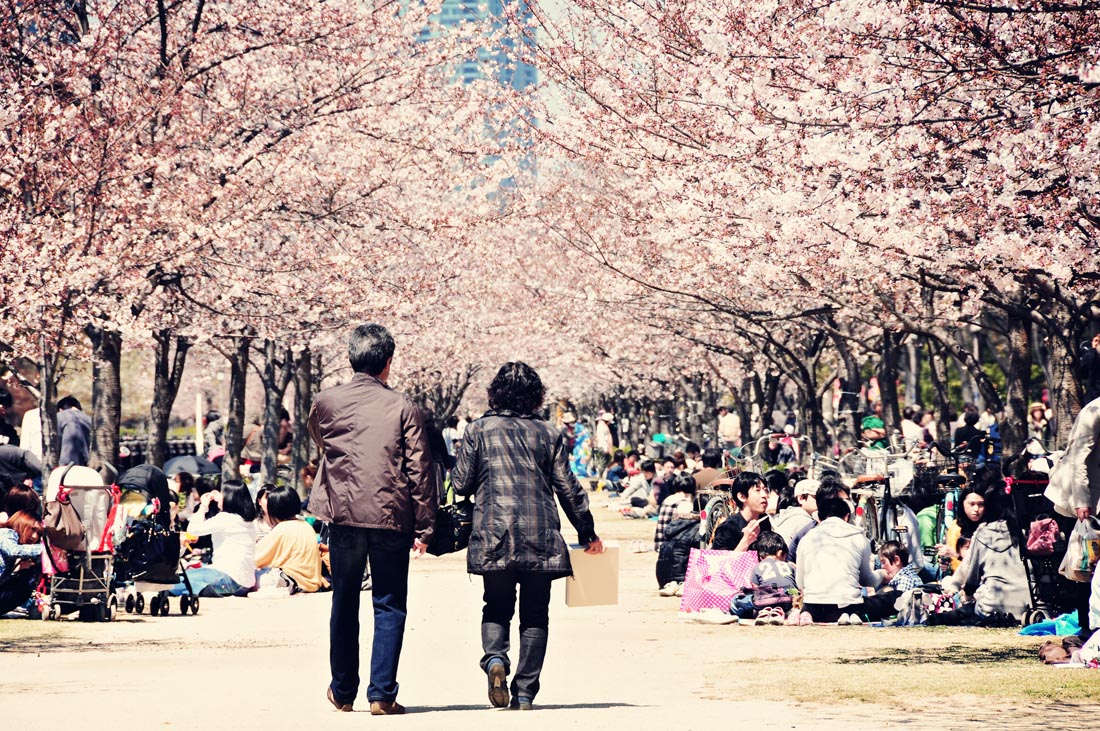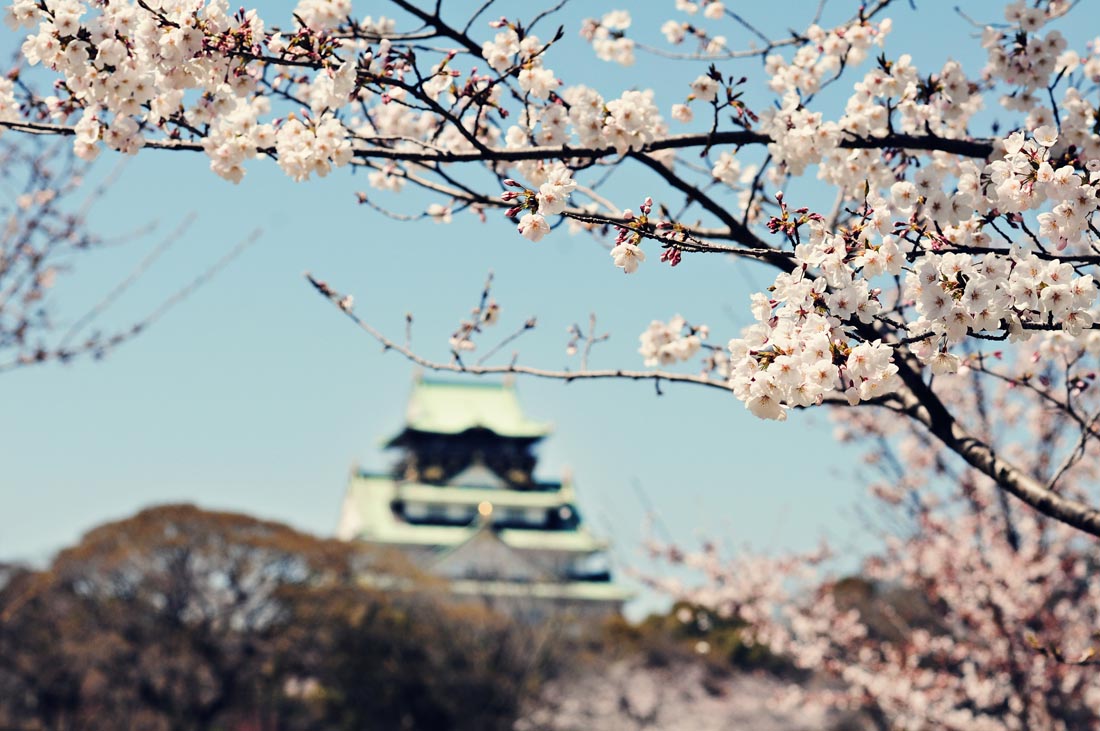 We ate takoyaki under the sakura trees. 😛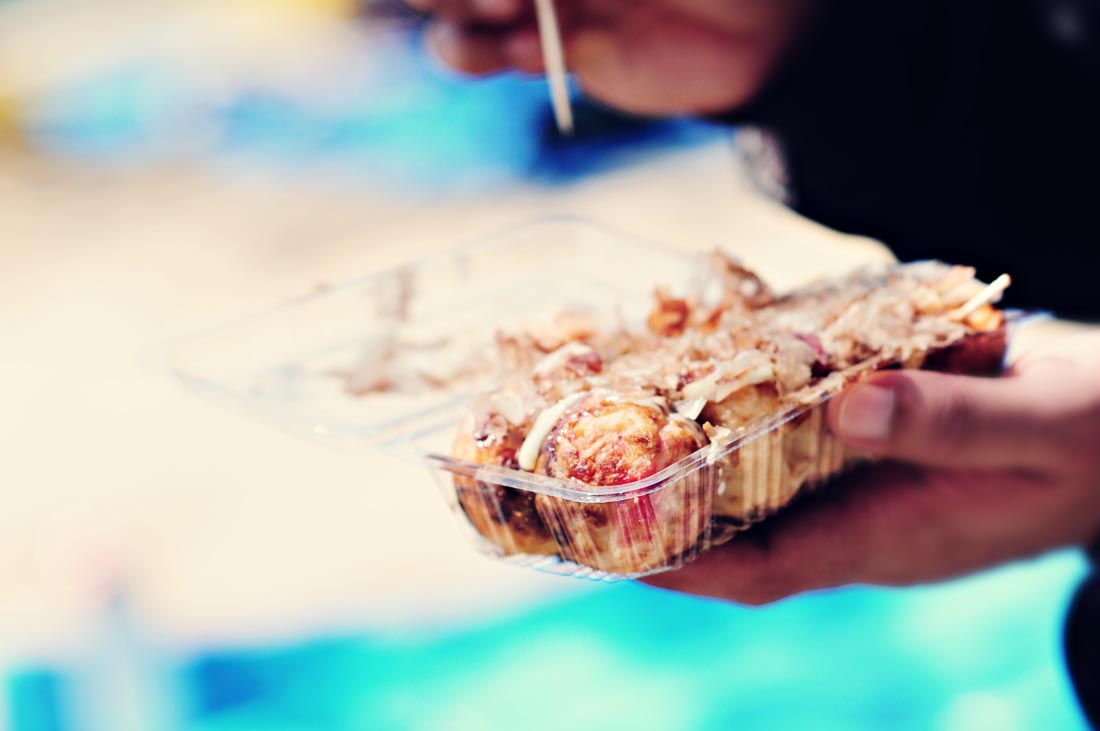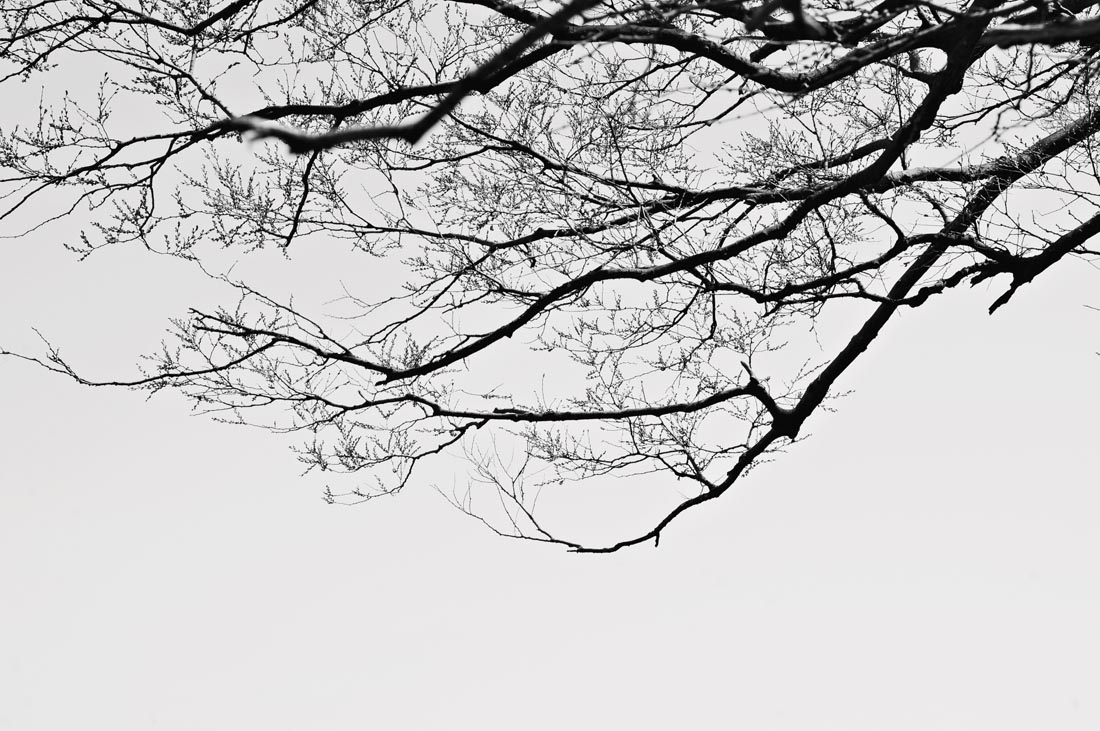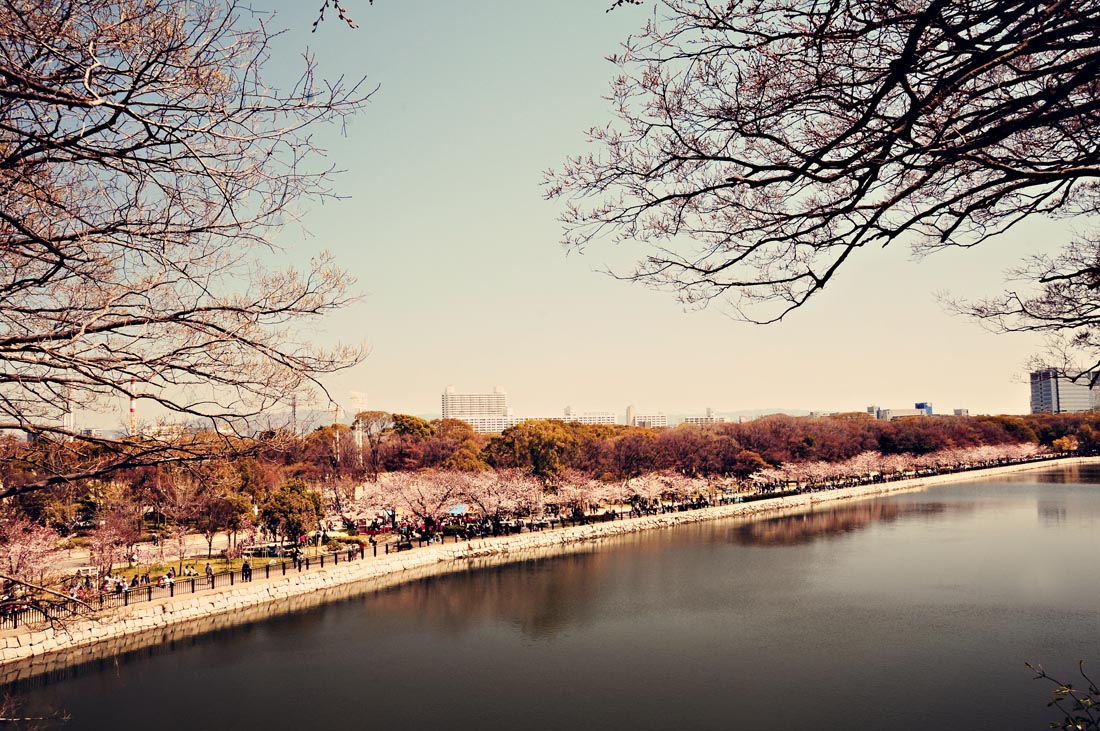 This is our first experience of sakura together (in the background, not all full bloomed yet). And like all 'firsts', this exhilarating feeling just to be here and be really here with Brian, will last me a lifetime. ♥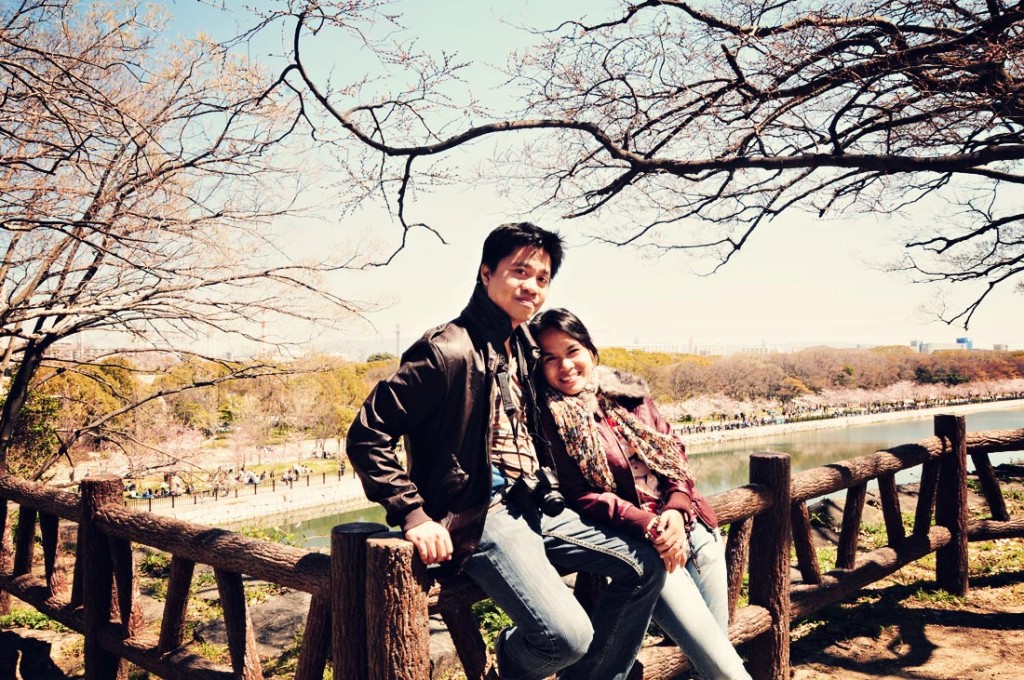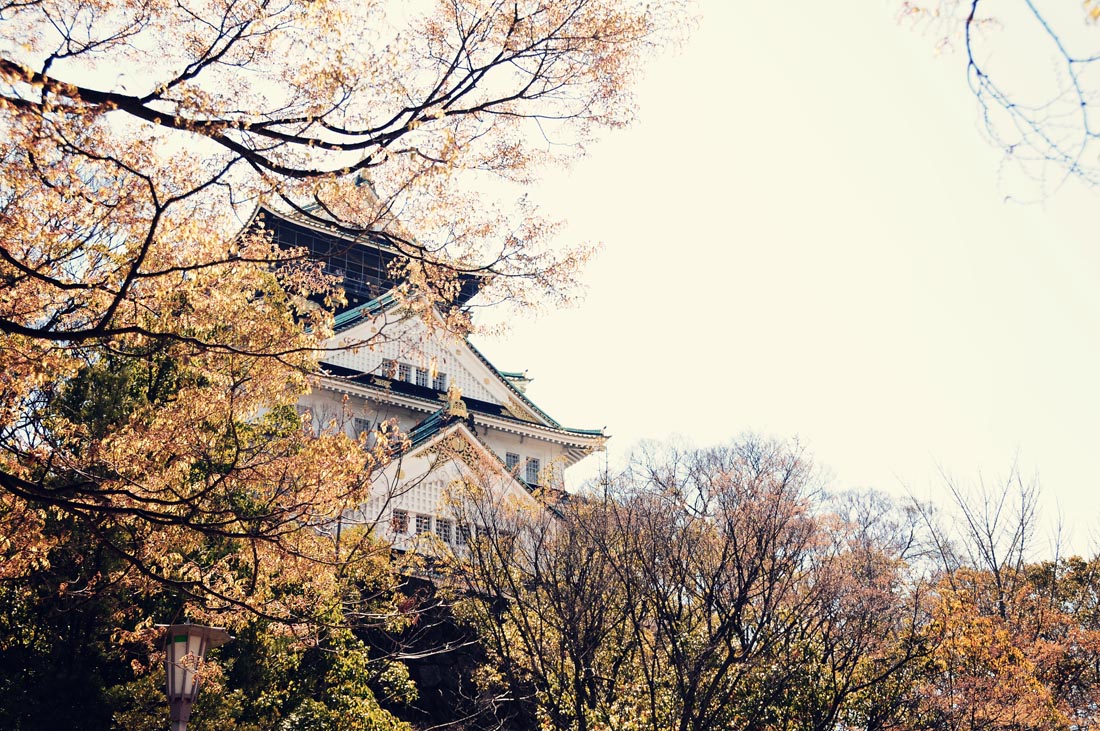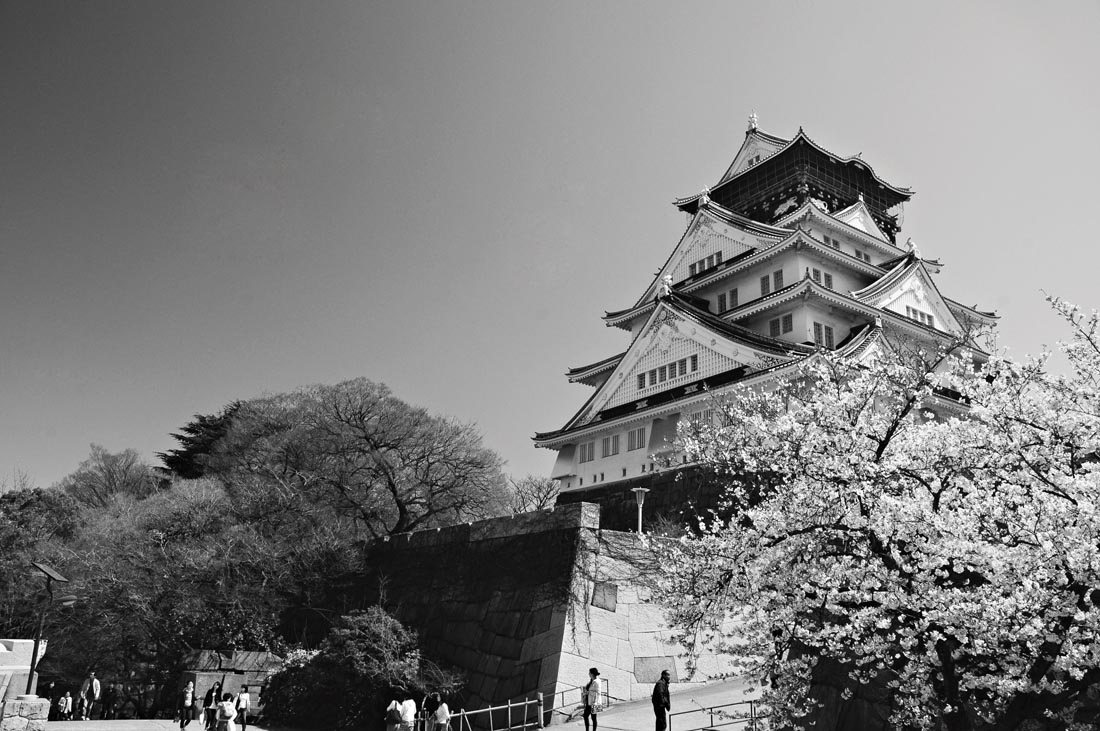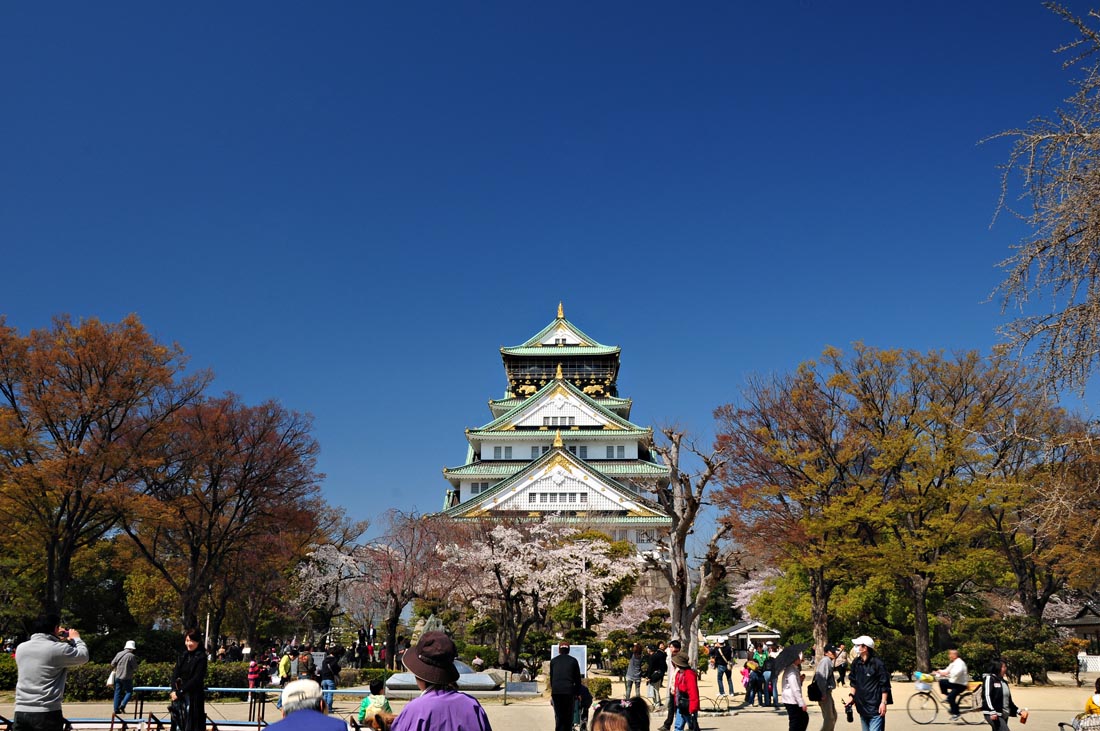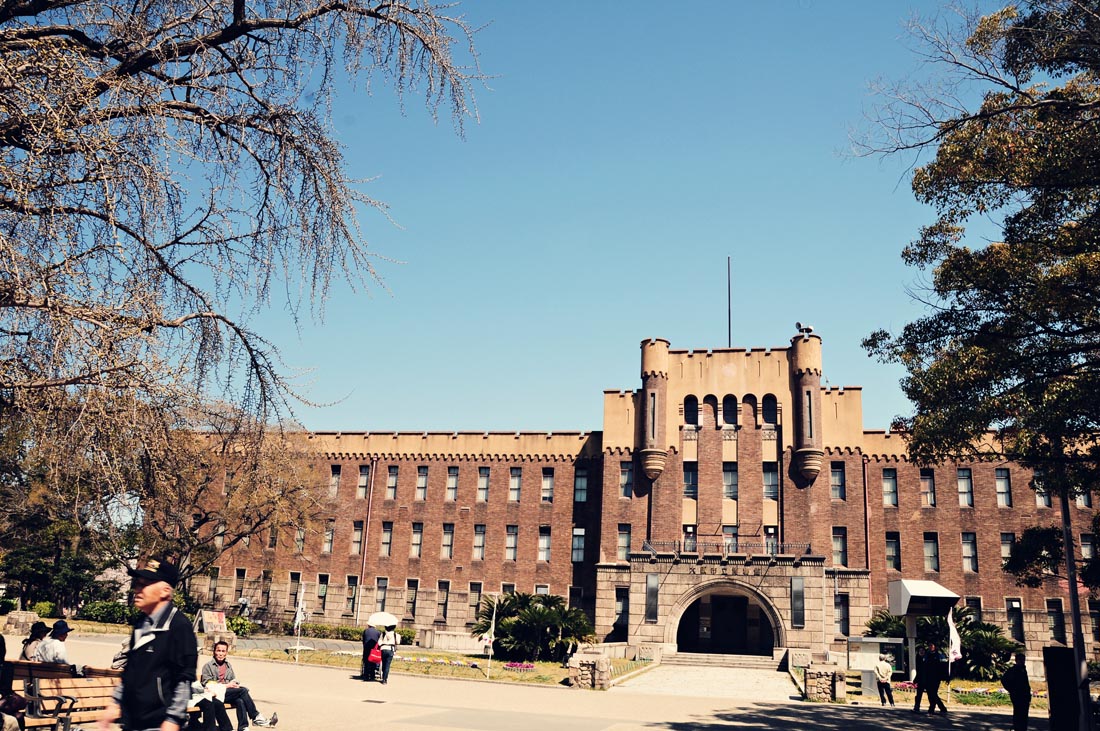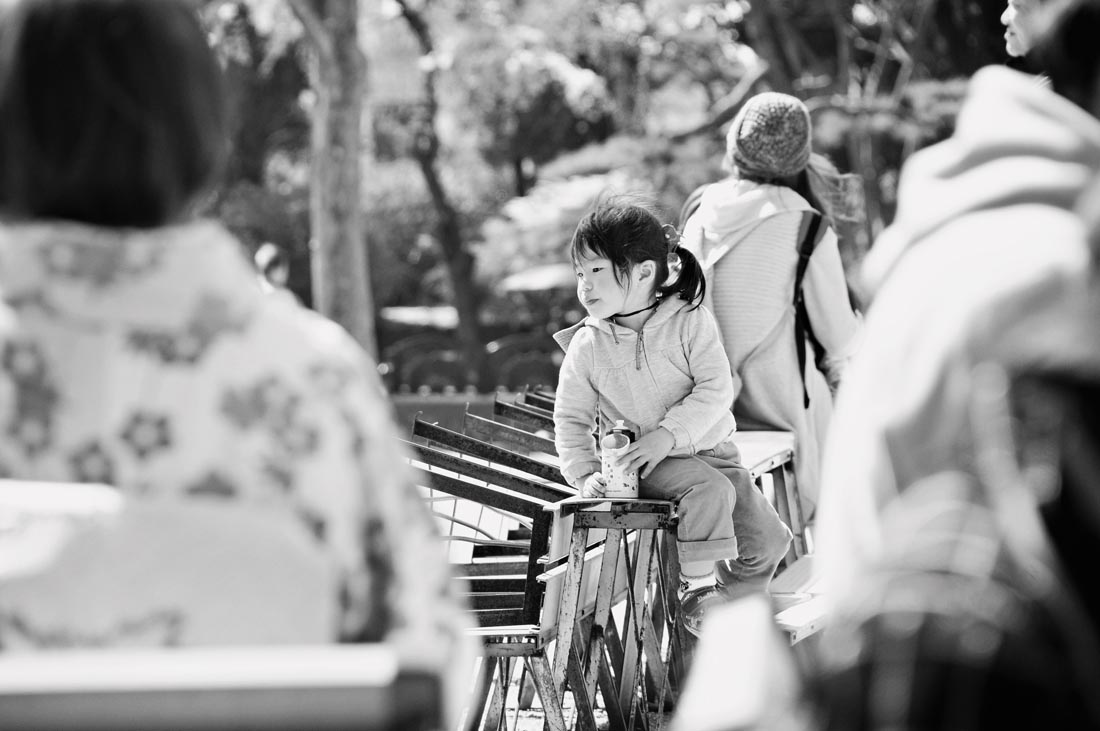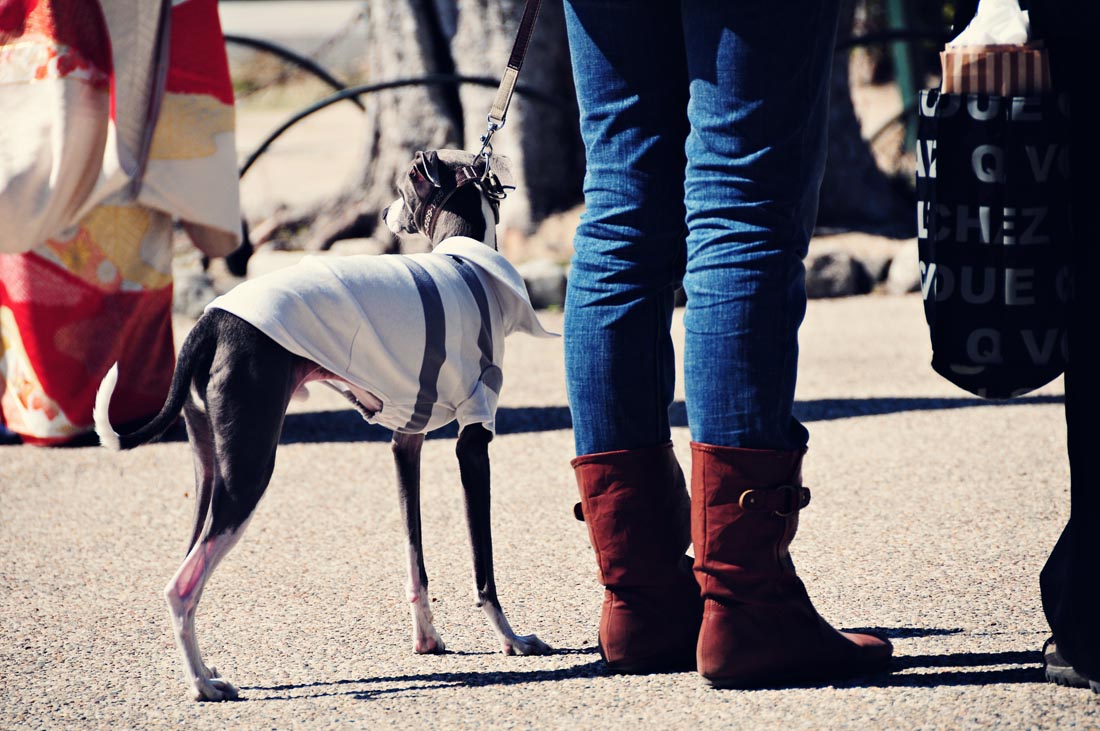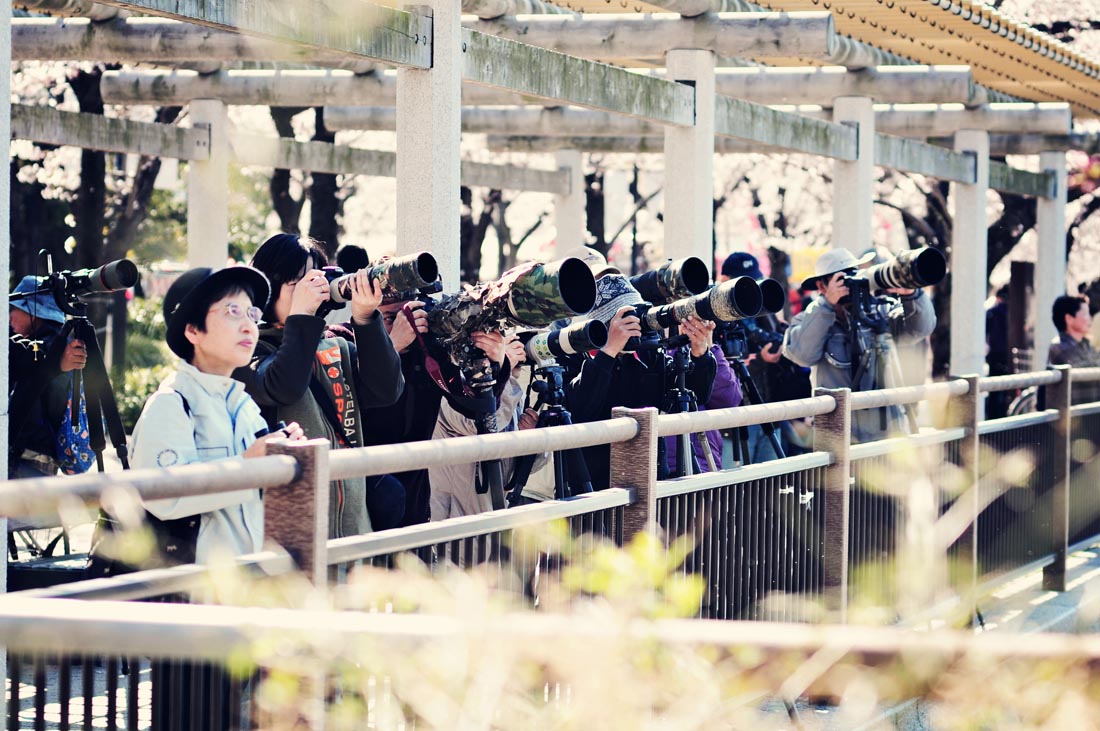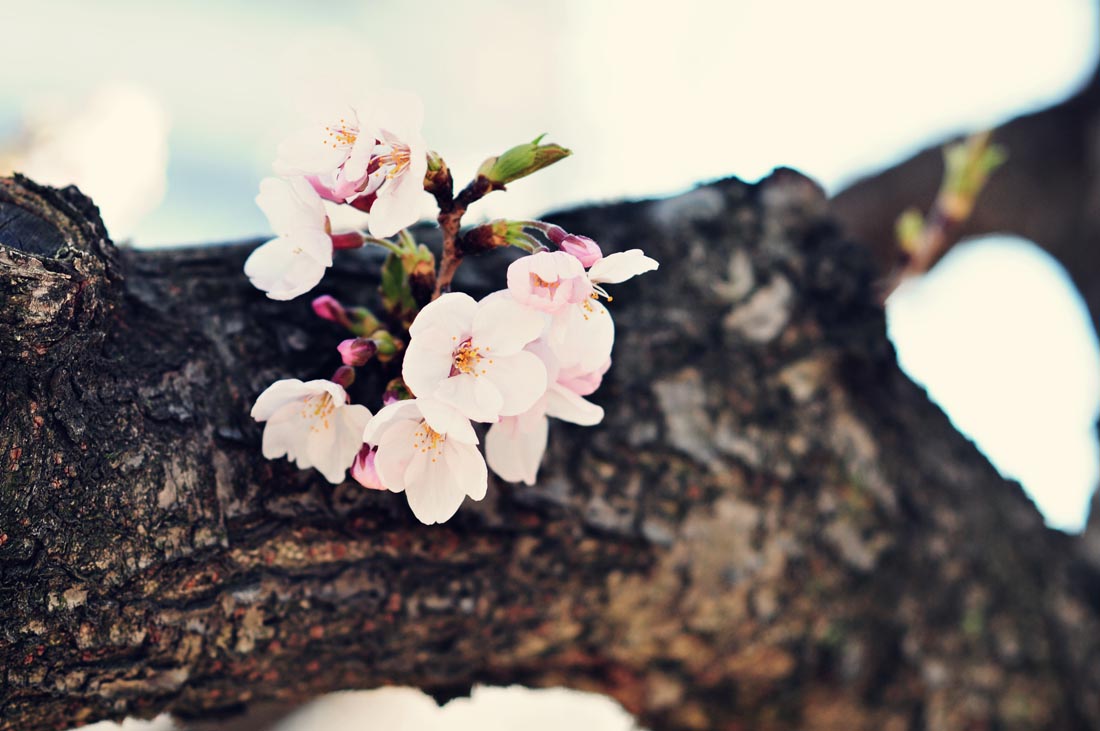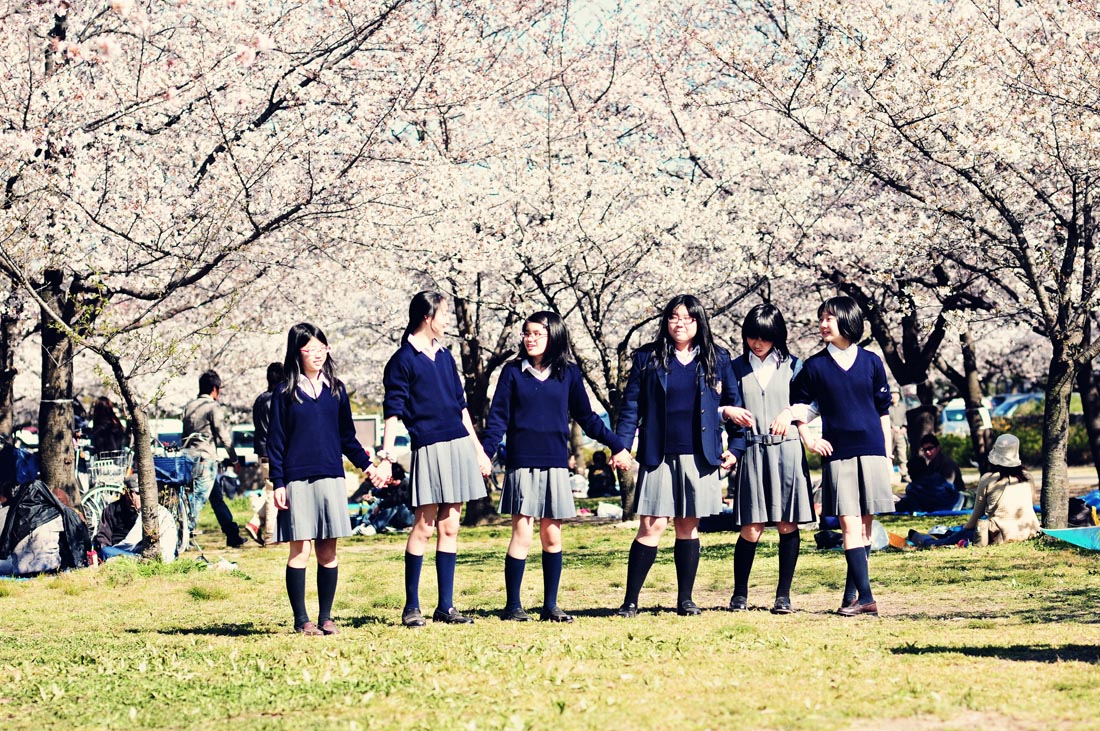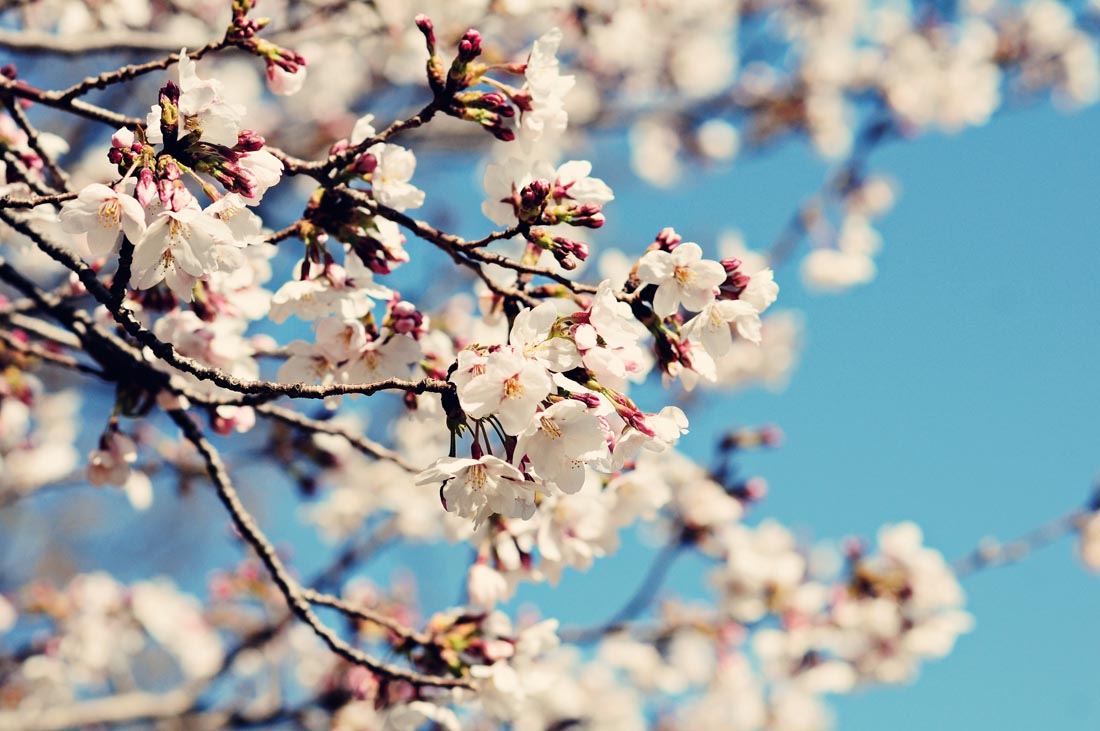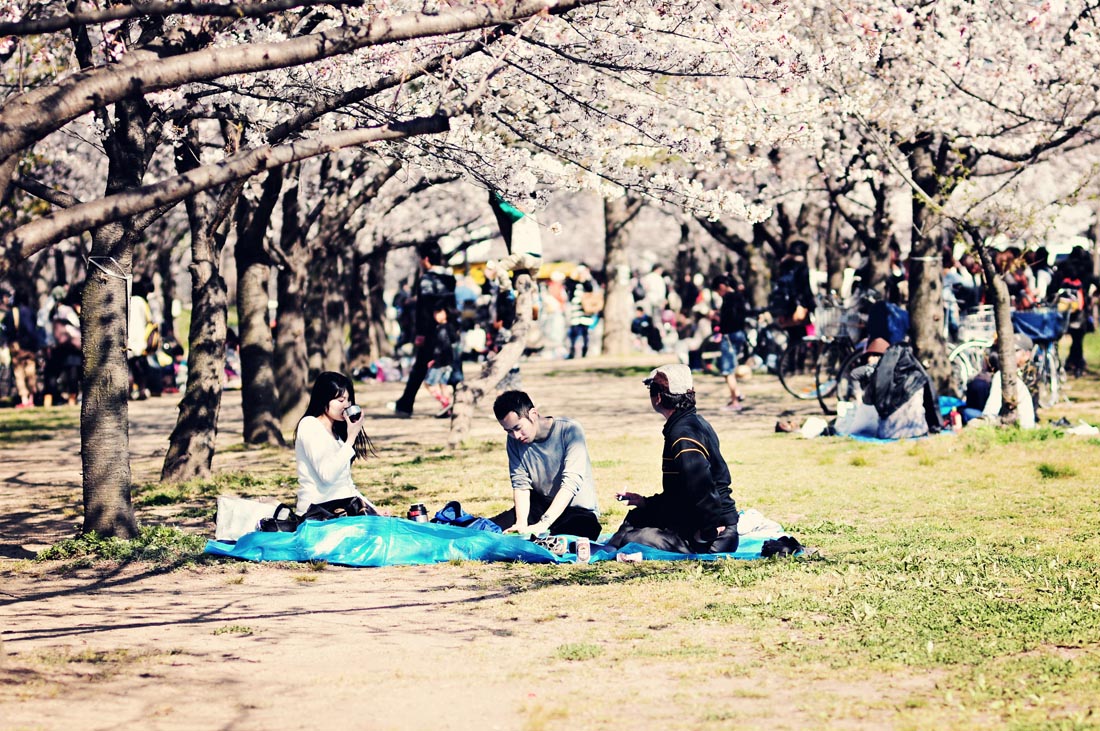 I couldn't be any happier than this.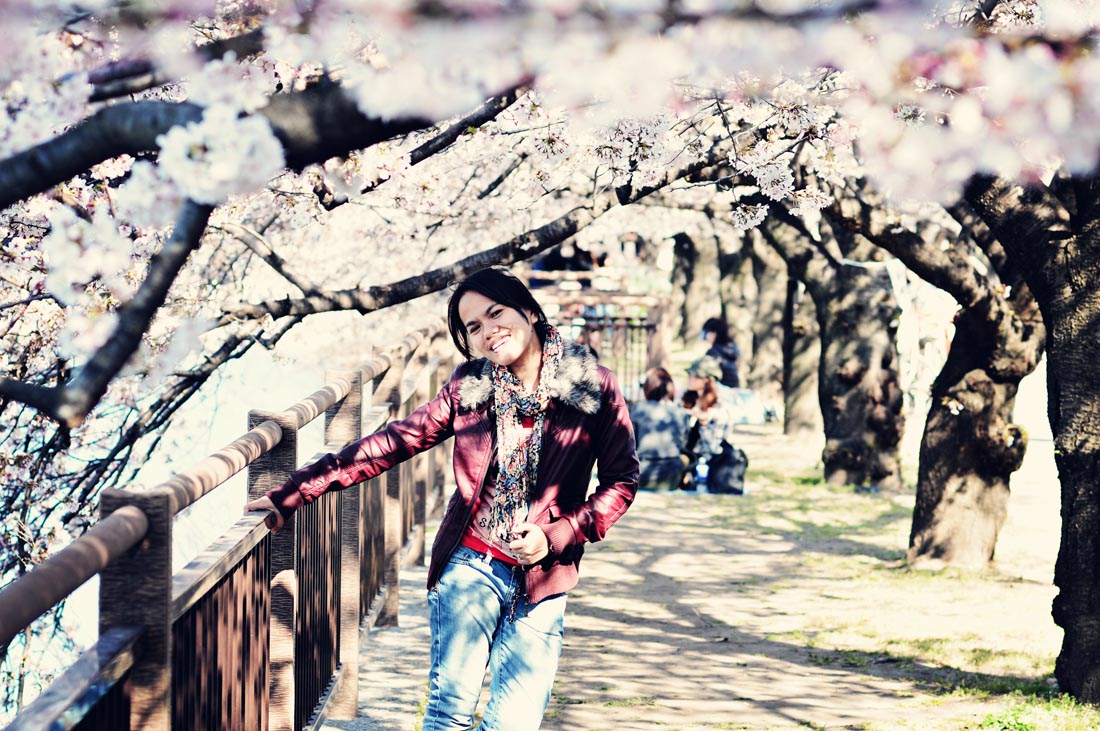 After the long happy walk under the sakura trees, we headed to Umeda to try and catch Japan's sunset.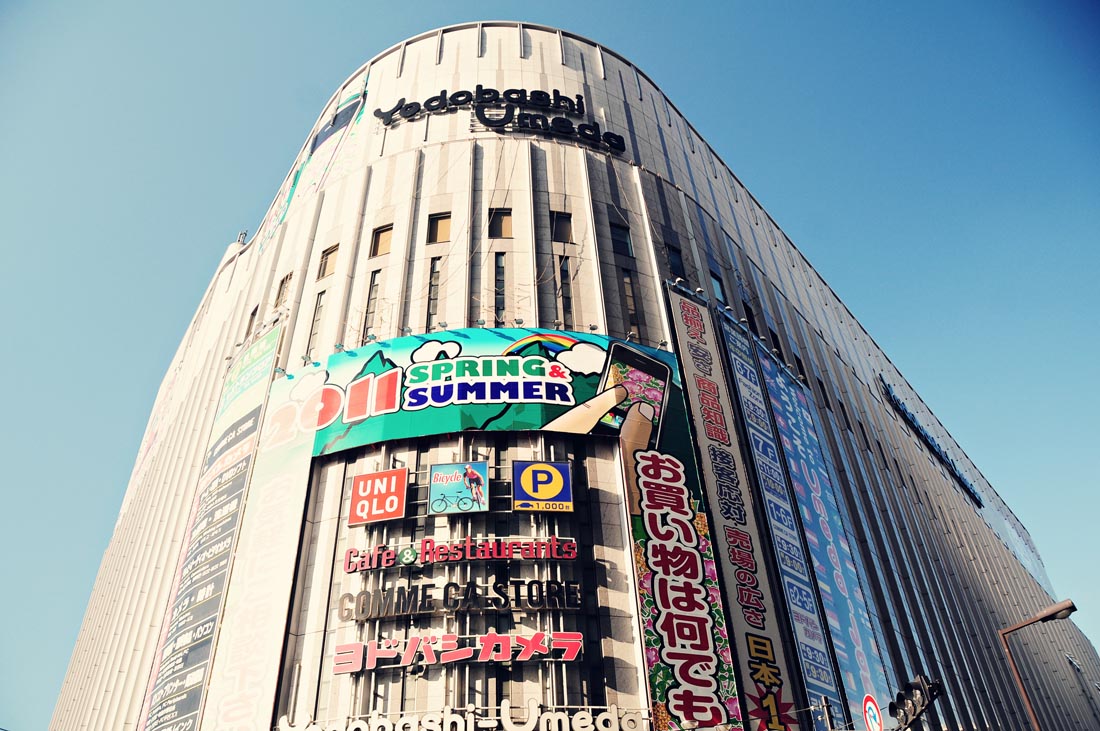 And well, it's not really my best sunset shot but it was such a sight to behold while I was trying to withstand getting frozen on top of a 173 meter tall Umeda Sky Building. No kidding, I felt almost having frostbite up there, it was hard to click on the shutter any much longer. LOL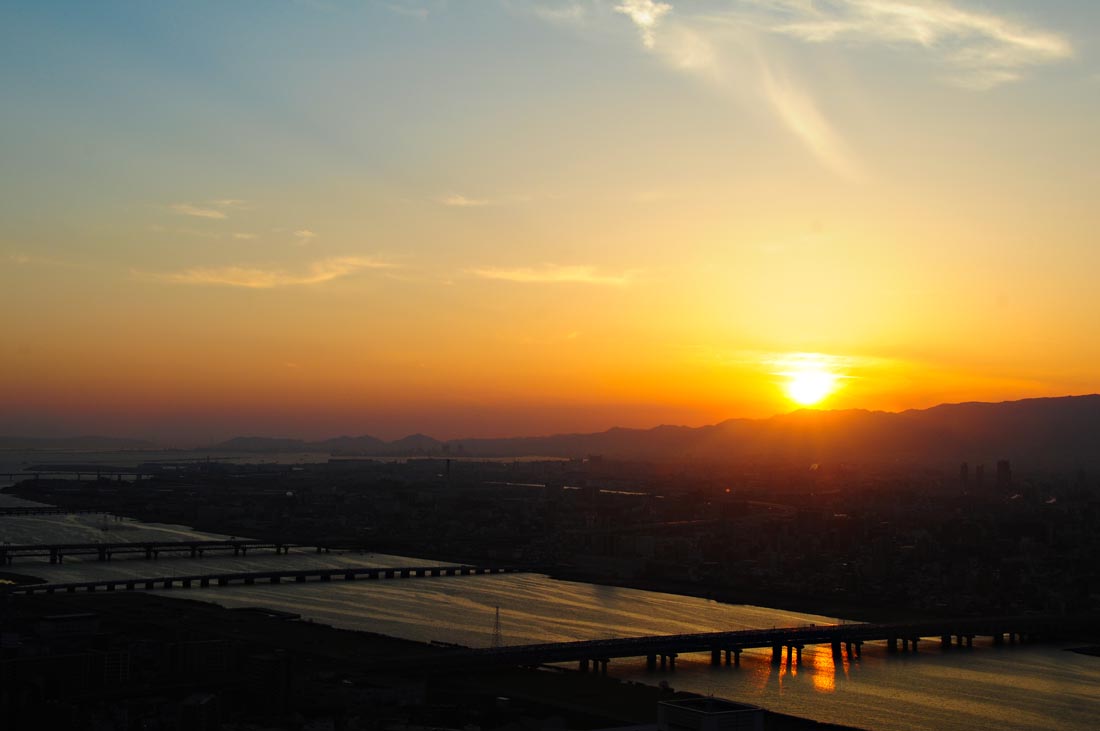 On our second night in Osaka, we walked around Minami (Namba), one of the city's famous shoppping and entertainment district they say. It sure was all crowded and I feasted with my eyes…starting with me beaming "Hello, Zara!" 🙂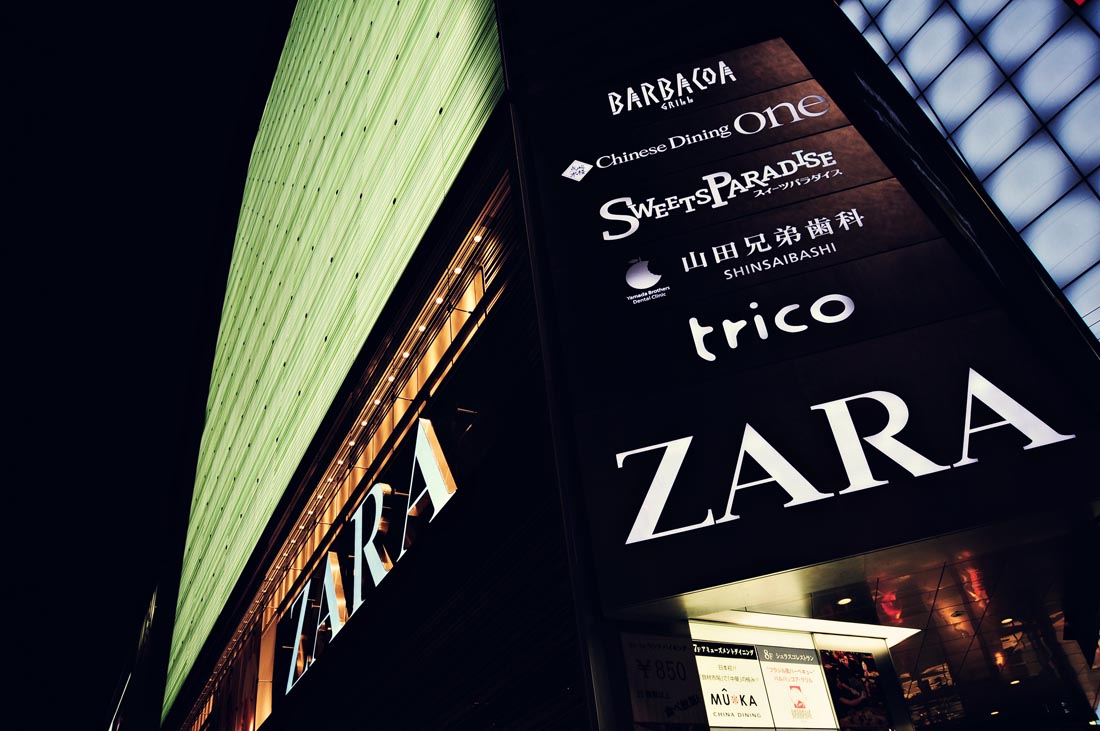 Then, squealed…."Hello booties!!!"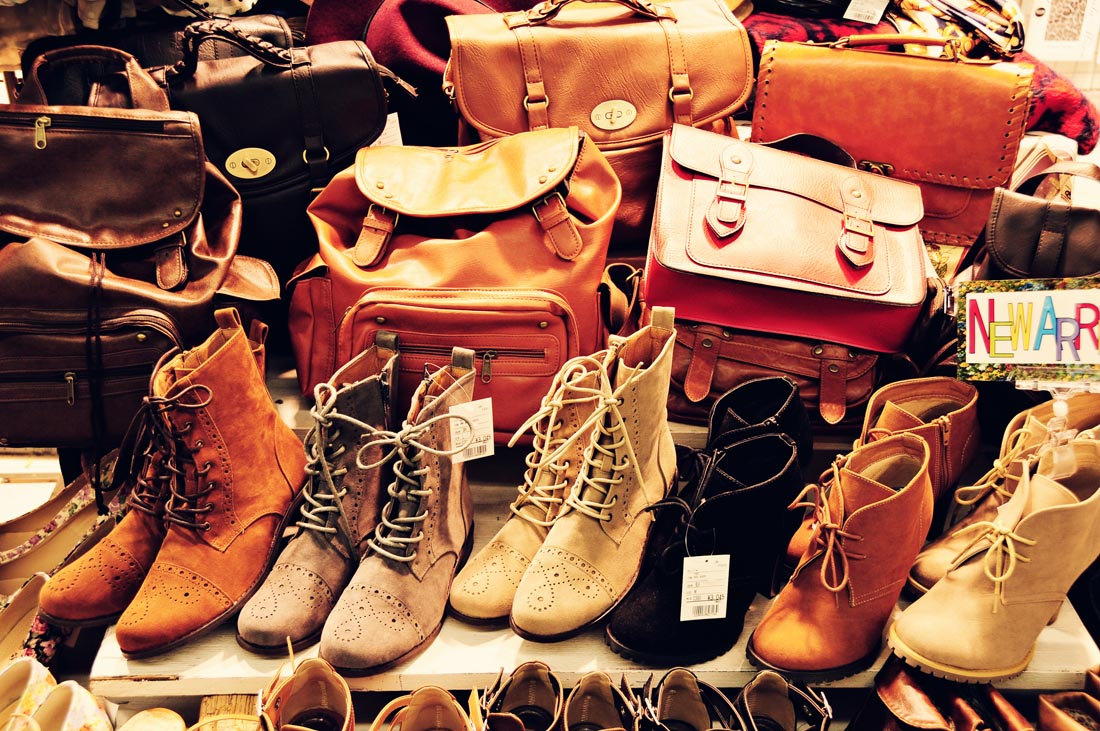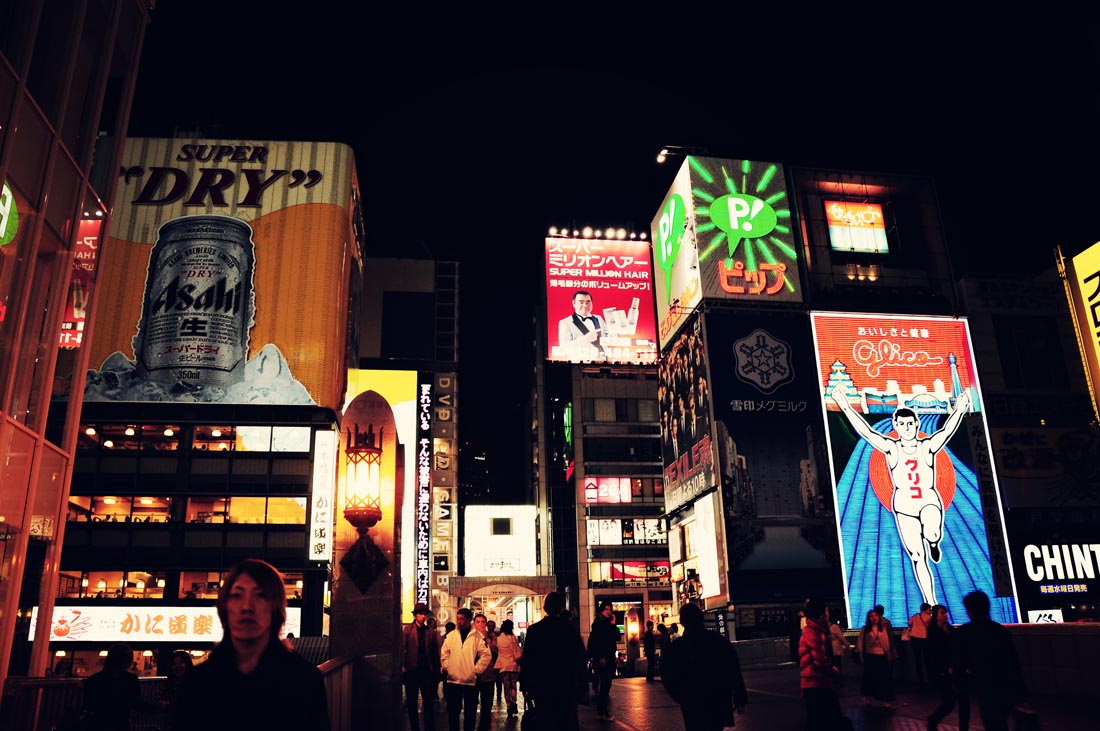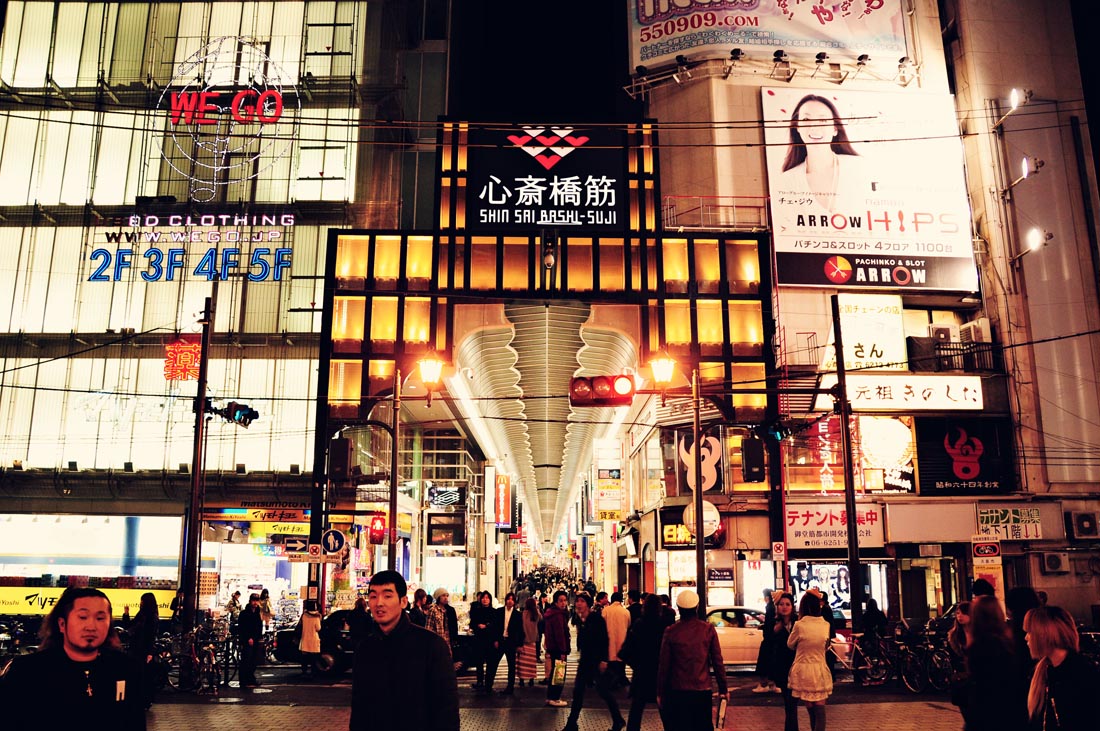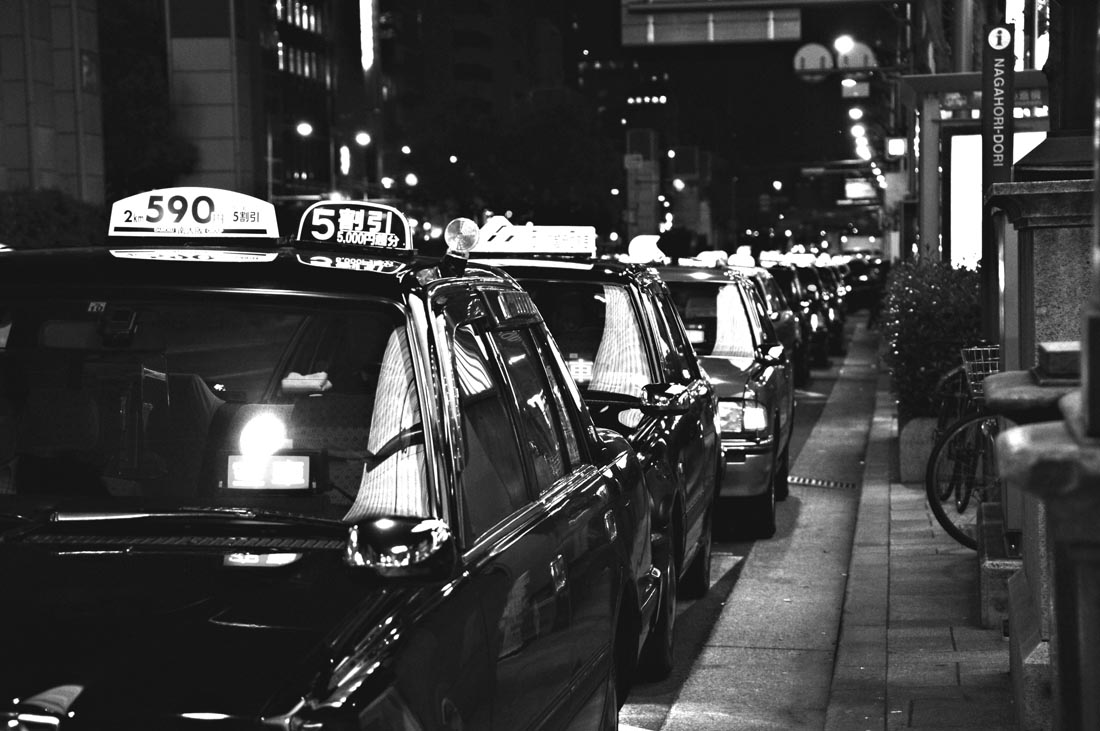 It was getting late and around this time and we still didn't have dinner.
And did you know while inside H&M, I heard someone calling out my name and a Filipina whom later I found out was working in Japan approached me asking, "You're Josephine, right? Photographer?" I beamed happily at her , so surprised that someone actually knew me out there hahaha.  Found out her name is Jacq and she knew about me through one of the couple I've photographed before in Singapore. Don't ya love surprises like this? 😛 Thanks again Jacq for saying 'Hello' while I was in the middle of finding my shirt size out there. Hehe *winks*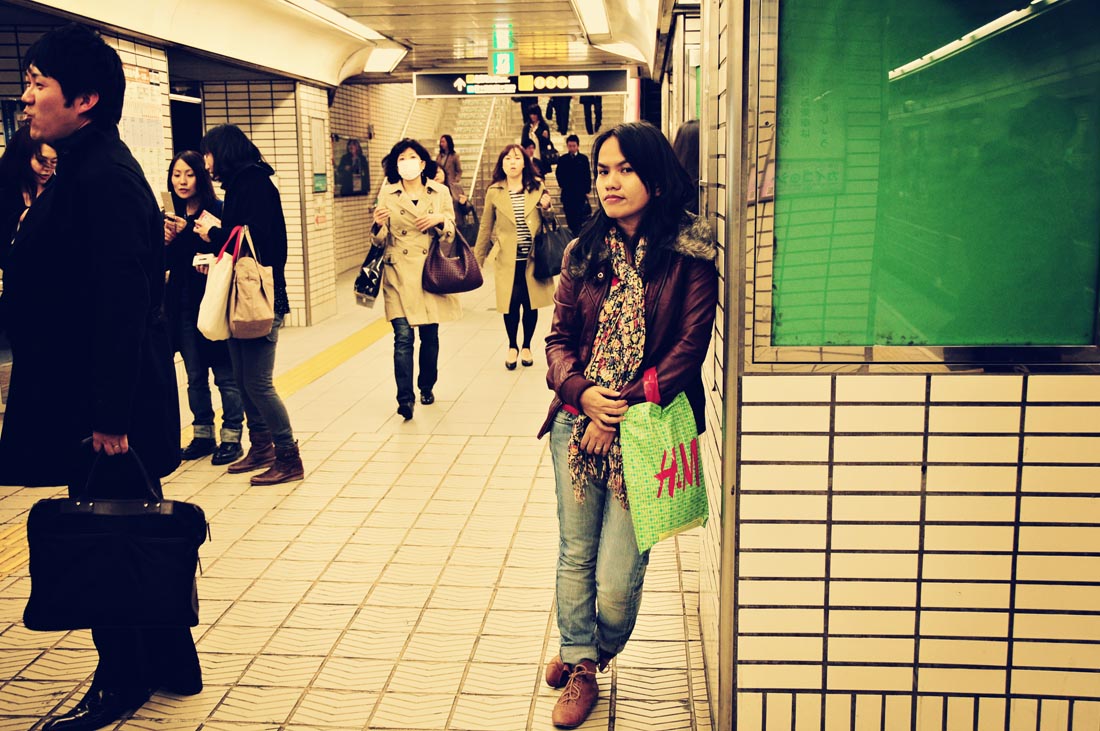 Inside the subway. I must tell you how impressed I was to know that it wasn't allowed or at least discouraged to talk on your mobile phone while on the train.You can put it in silent mode and SMS or play games, but no talking. For them, it's rude to cause nuisance so when Brian received a call one time from our friend, he quickly put it down after realizing it. Hehe. How I wish it's the same in Singapore. Oh boy, it's totally opposite.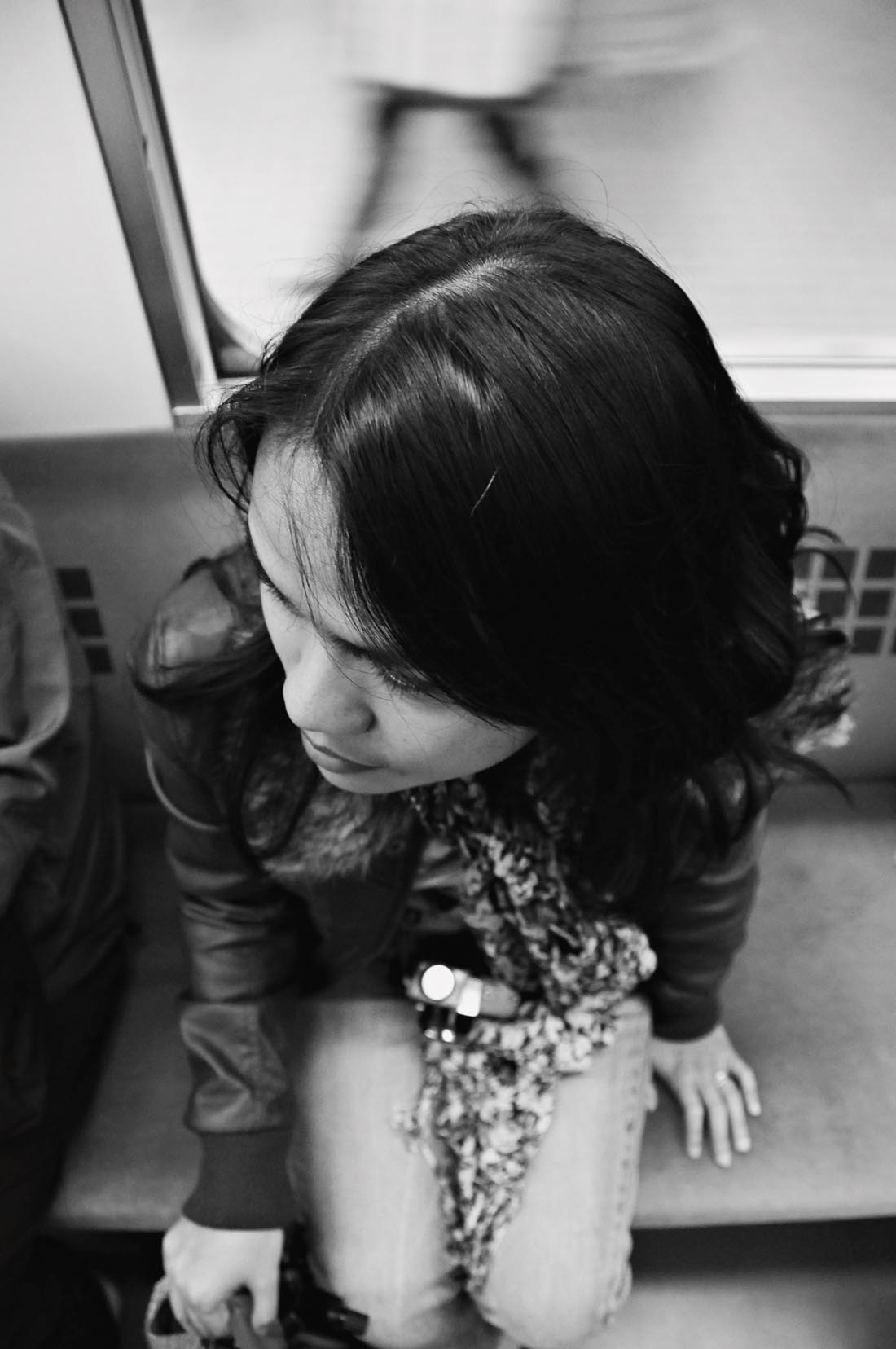 Hope it wasn't too rude to be taking photos while inside the train though. I managed to steal a few snaps. 😛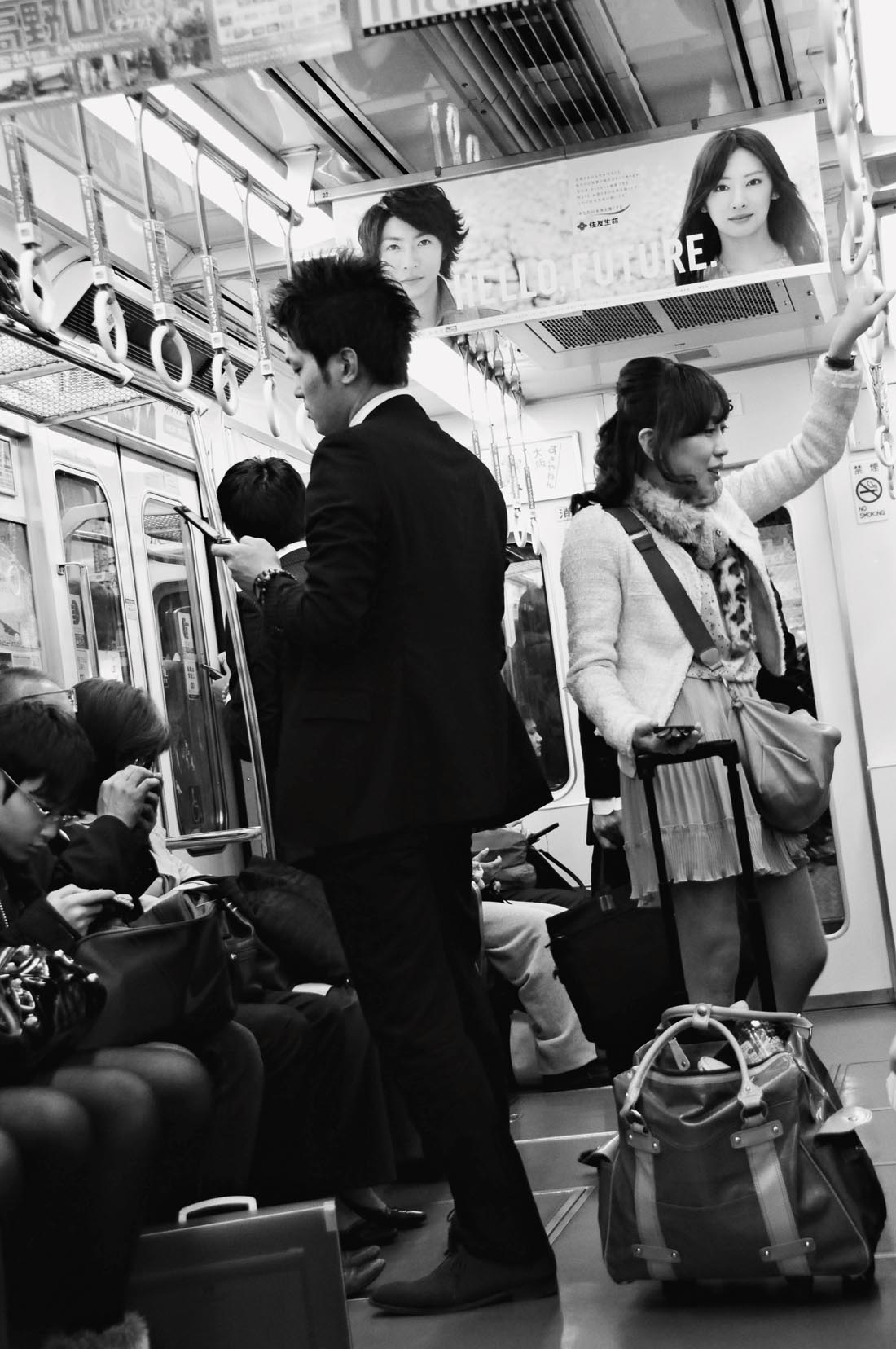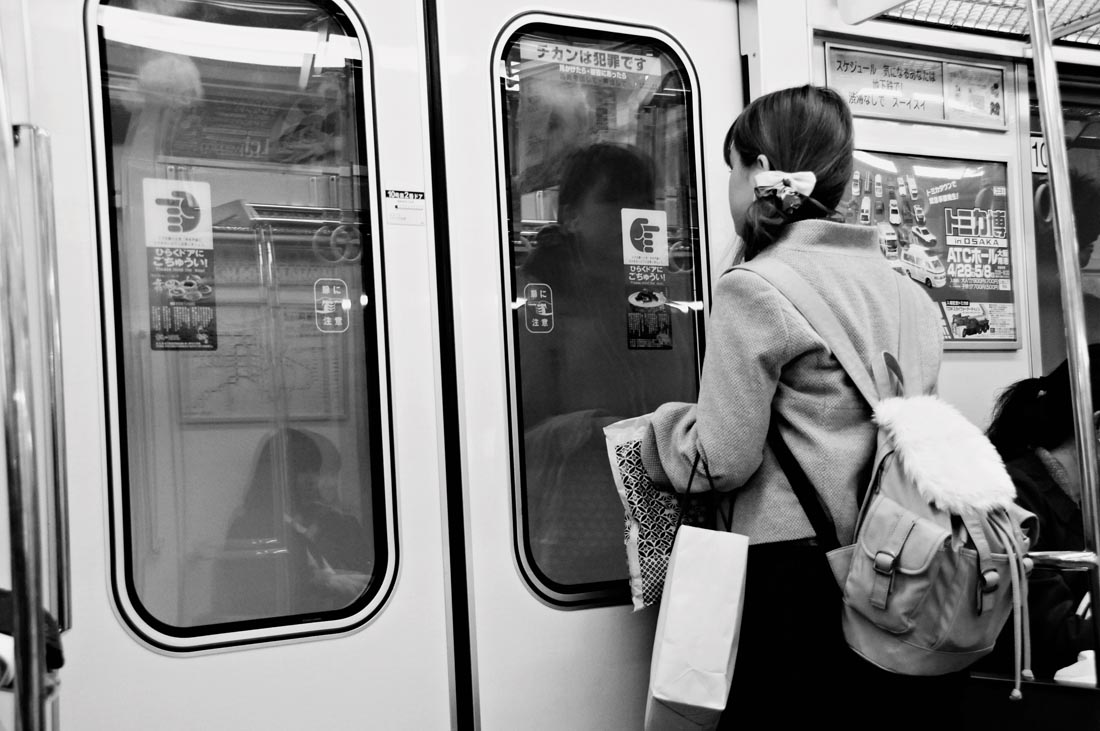 Here's Mr Takoyaki Man. I was told that Osaka is home for it's best takoyaki in town. Oishiii indeed! 🙂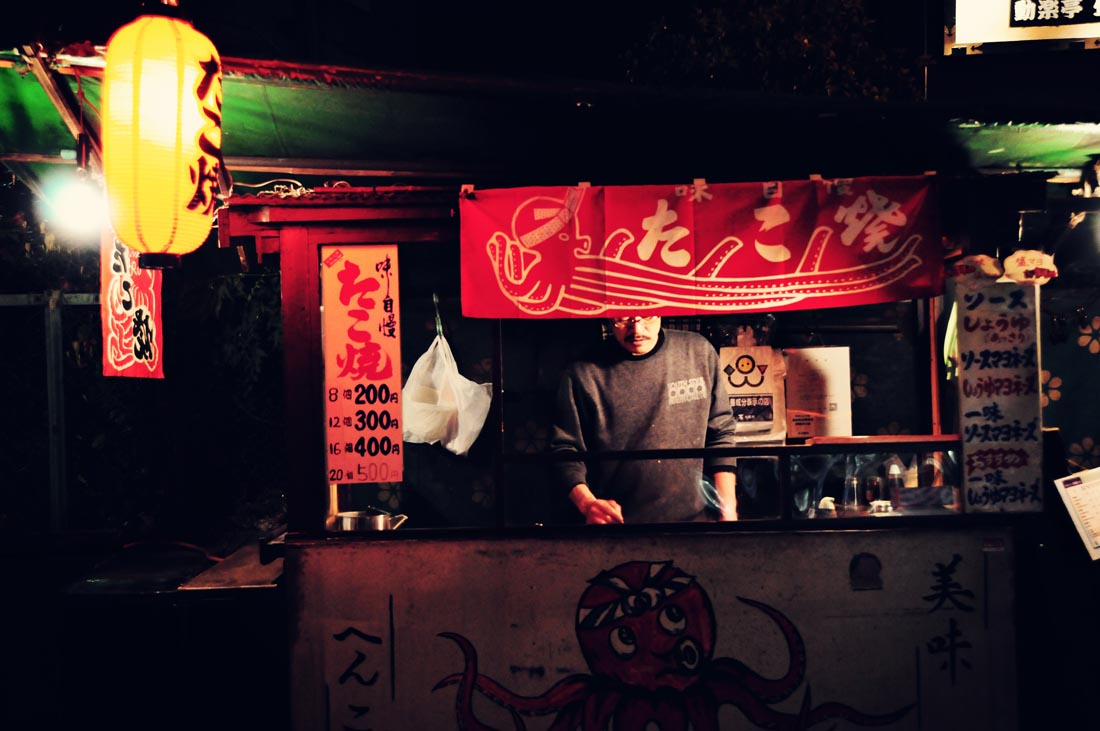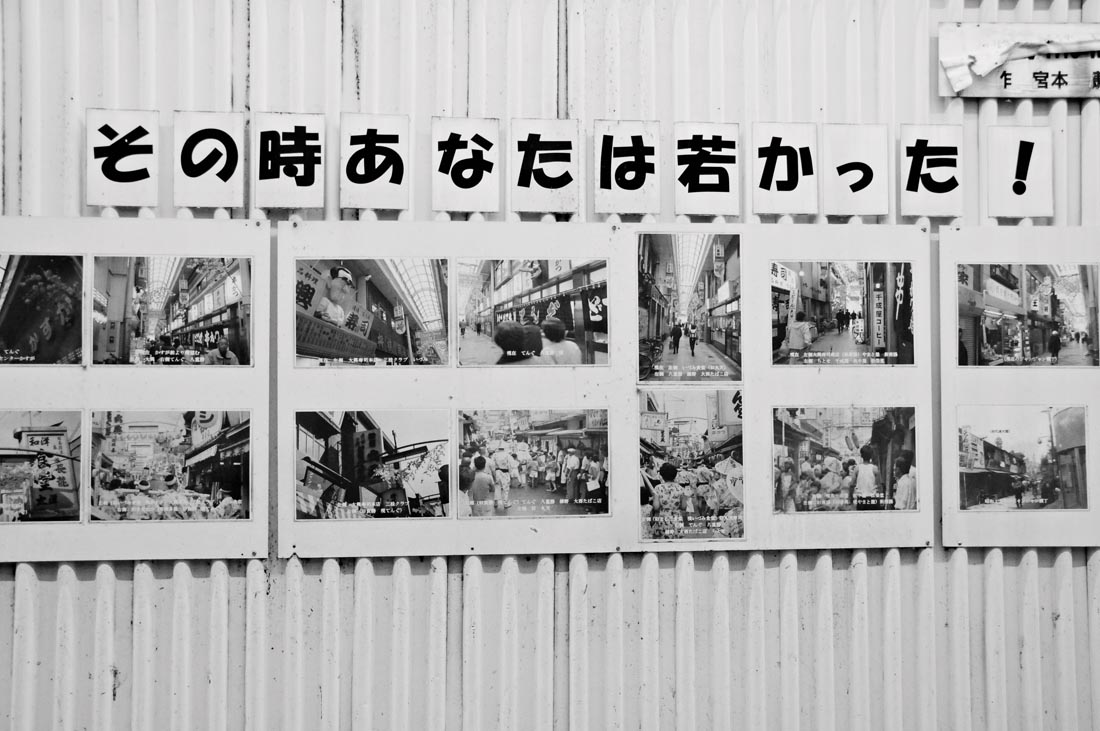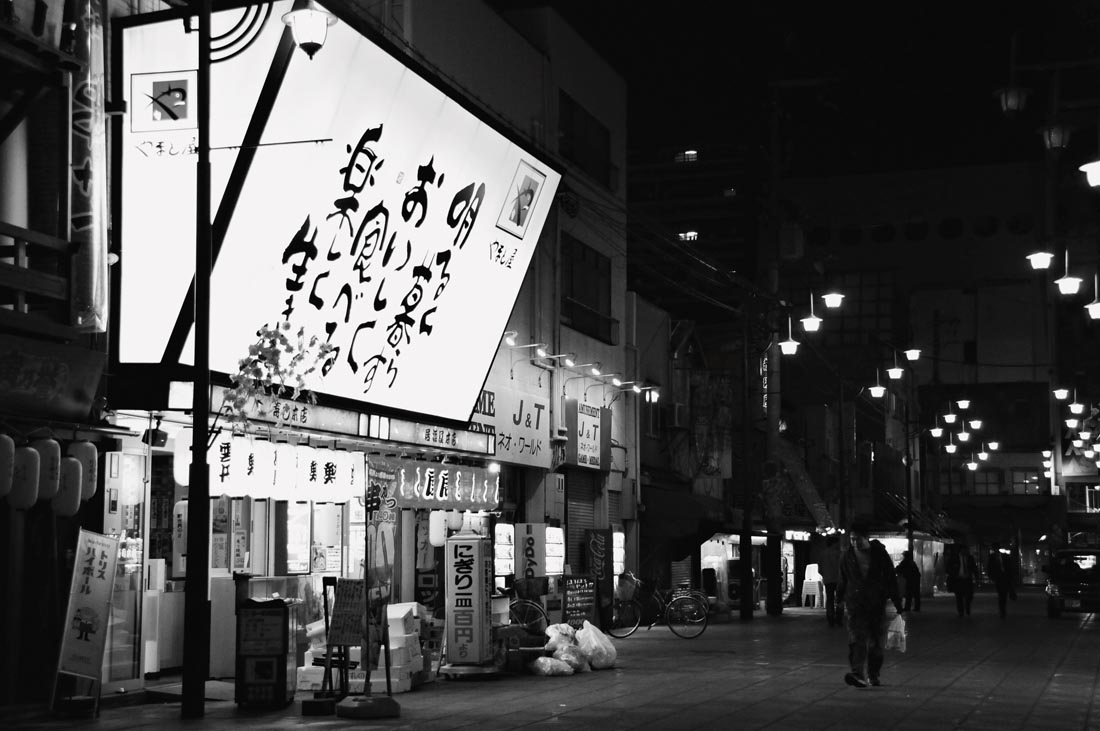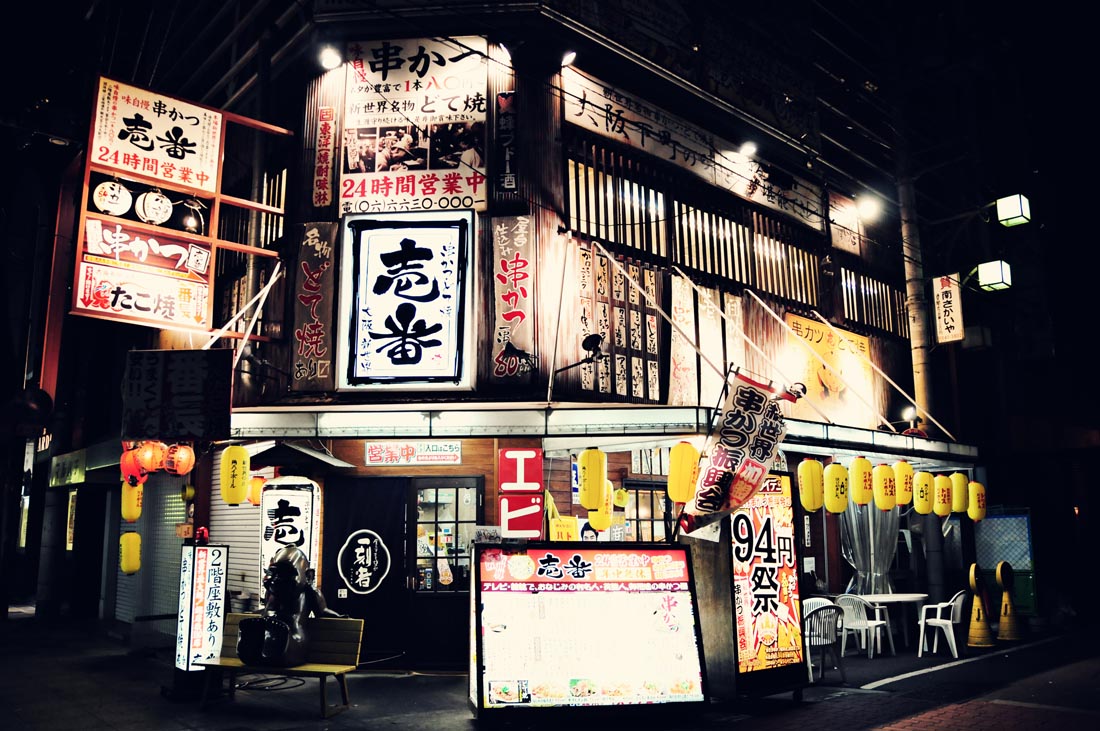 Ended our night with nama beer for Brian and well, just orange juice for me! Kanpaiiii!!!!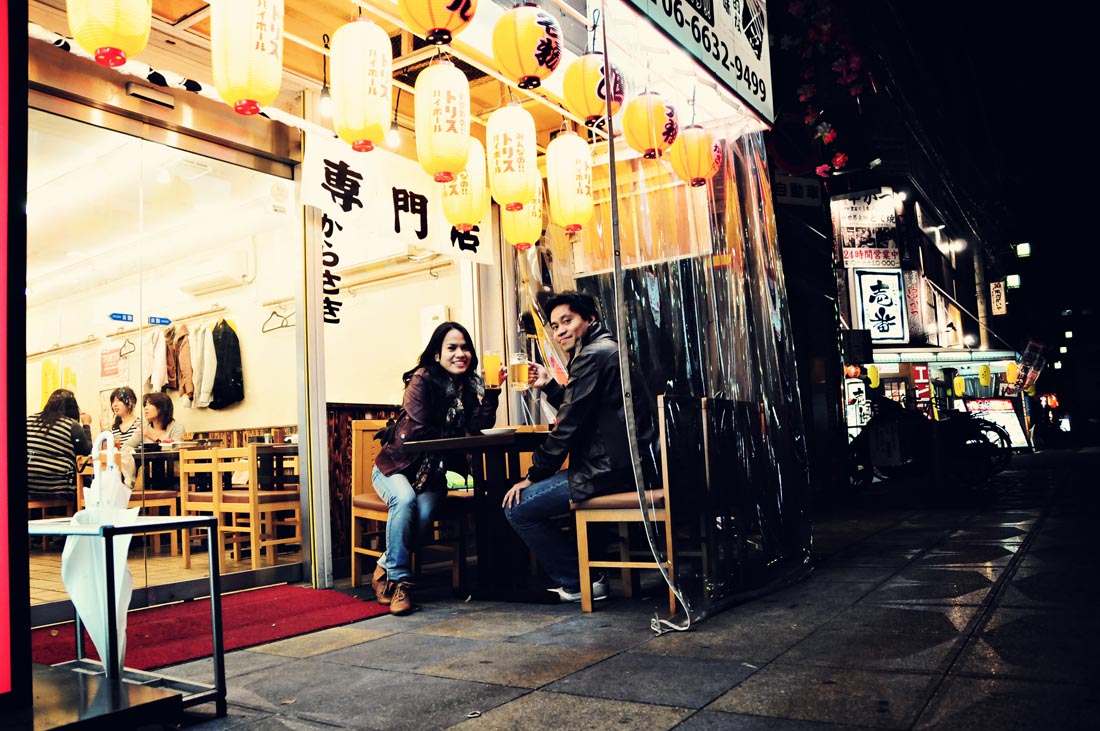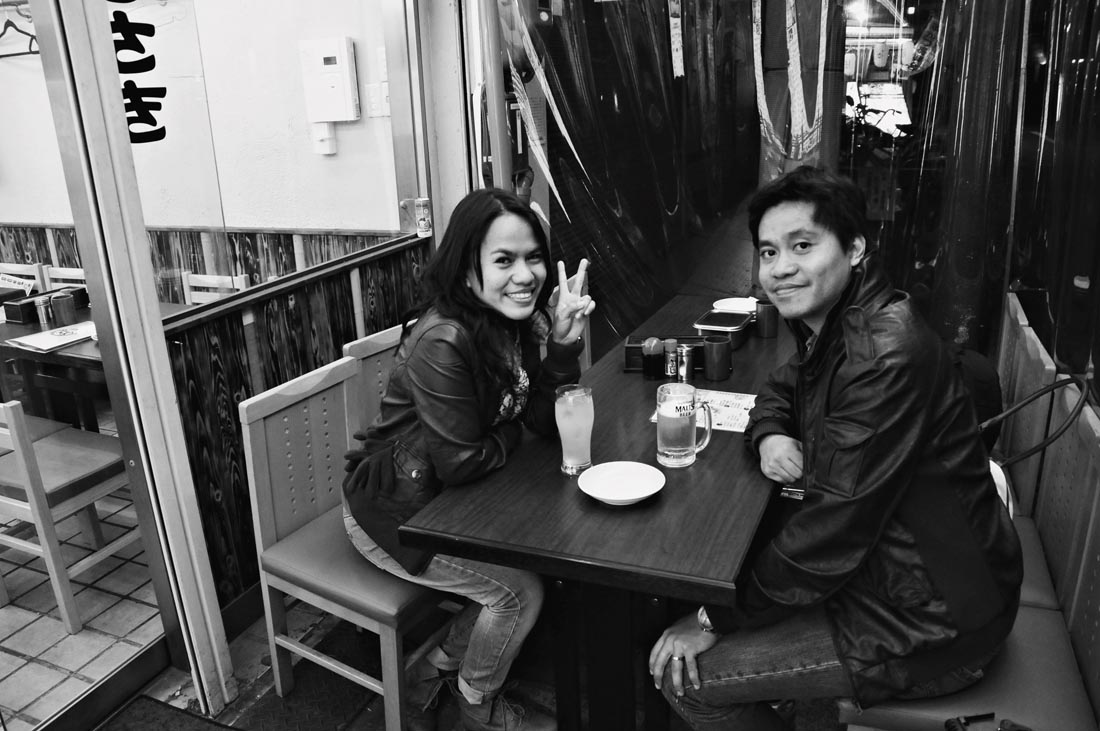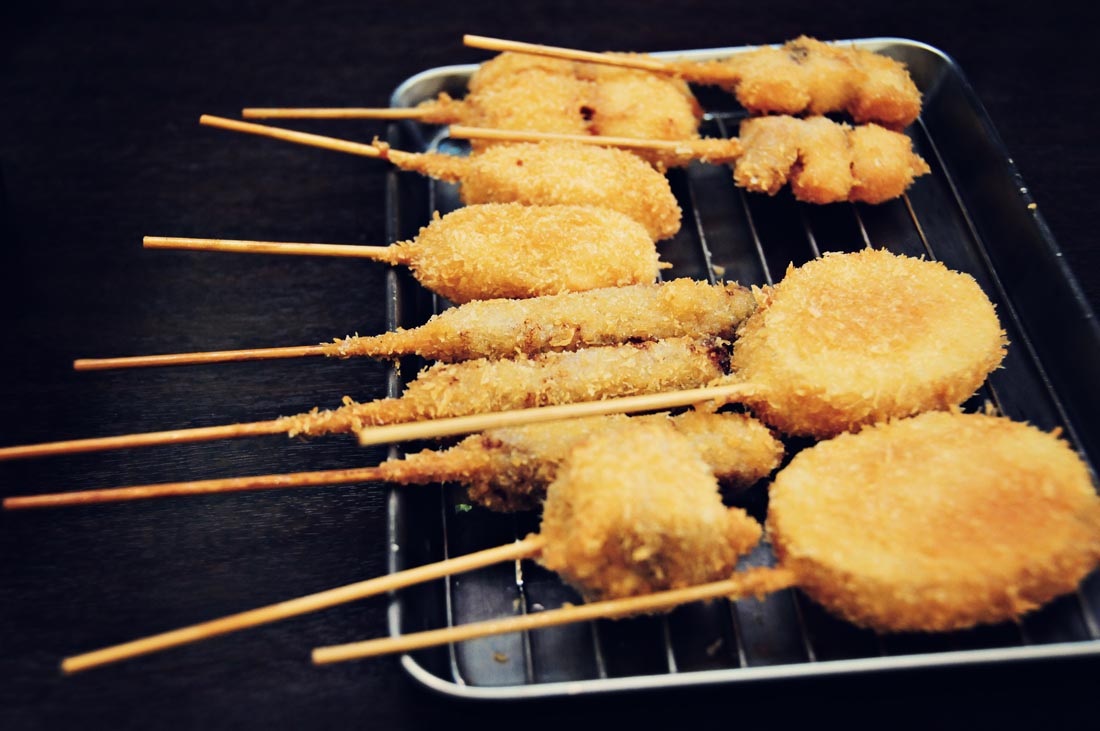 We noticed there were few English menus in Osaka, Brian understood some hiragana & katakana but still thank God again for menus with photos on them. Tsk tsk.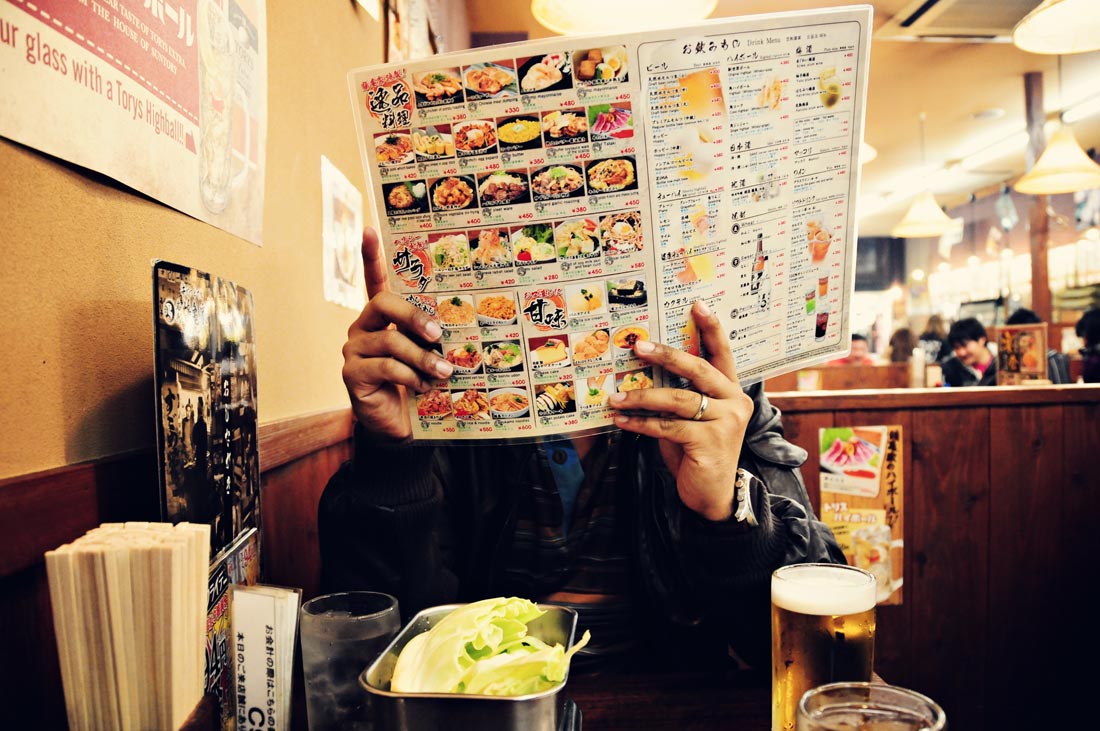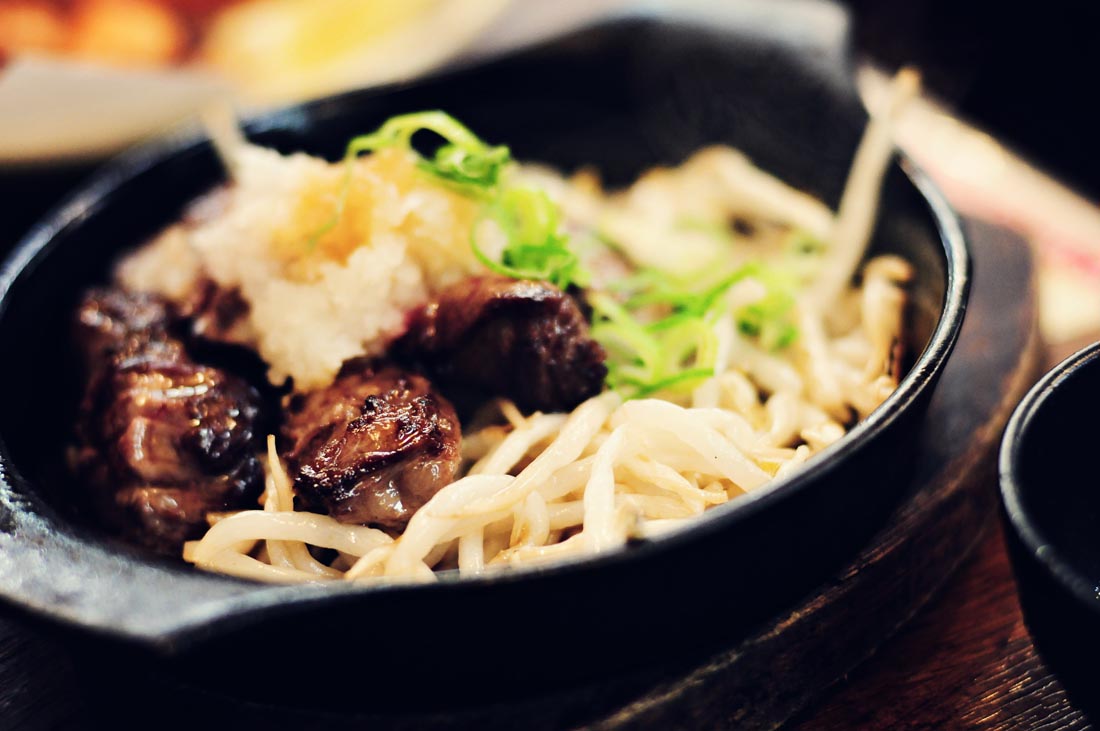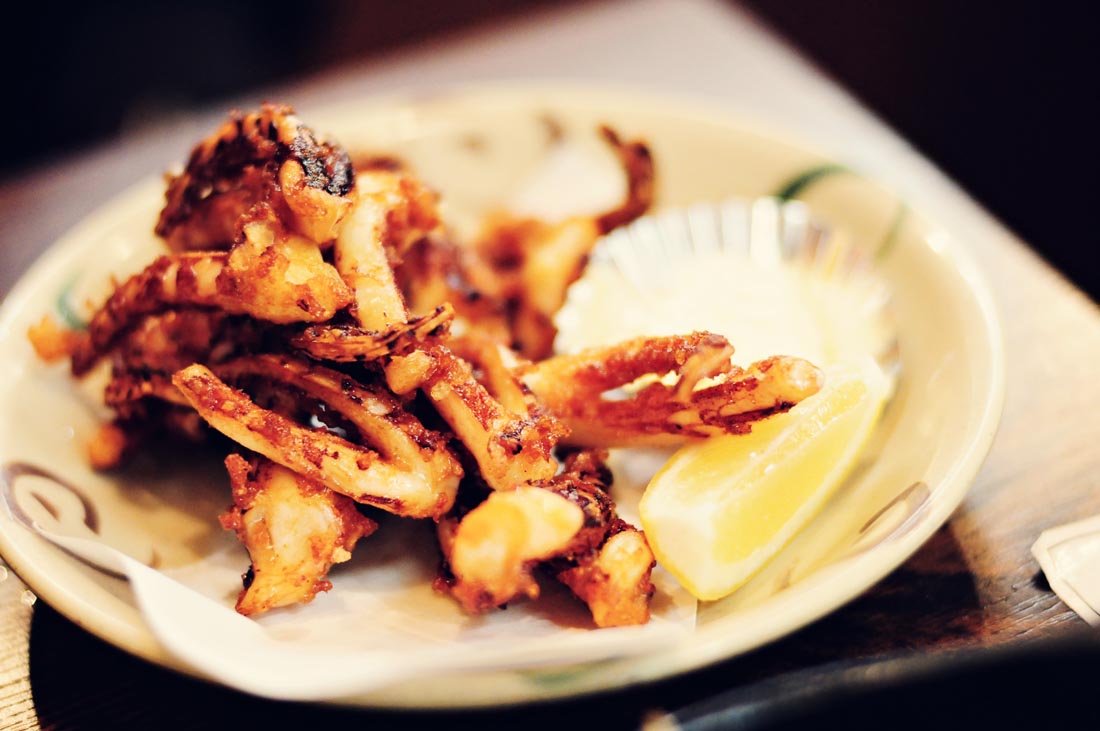 Uh-oh. This pretty lady must have caught me paparazzi-ing on her. She reminded me of Sassy Girl. =P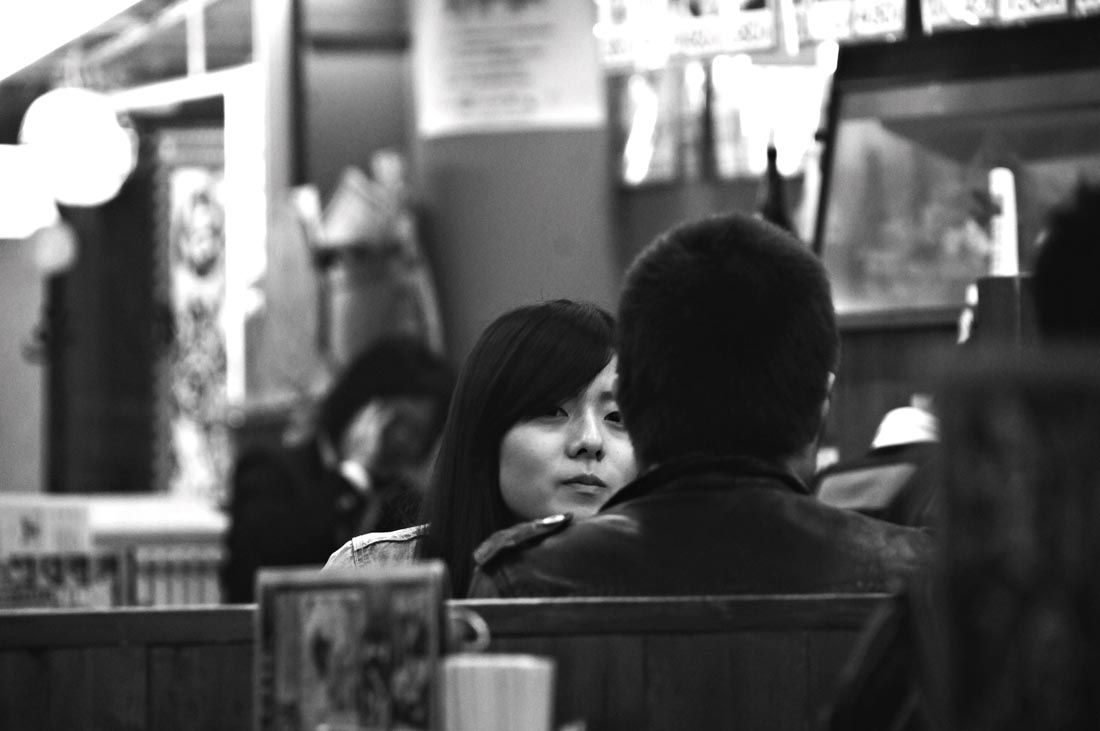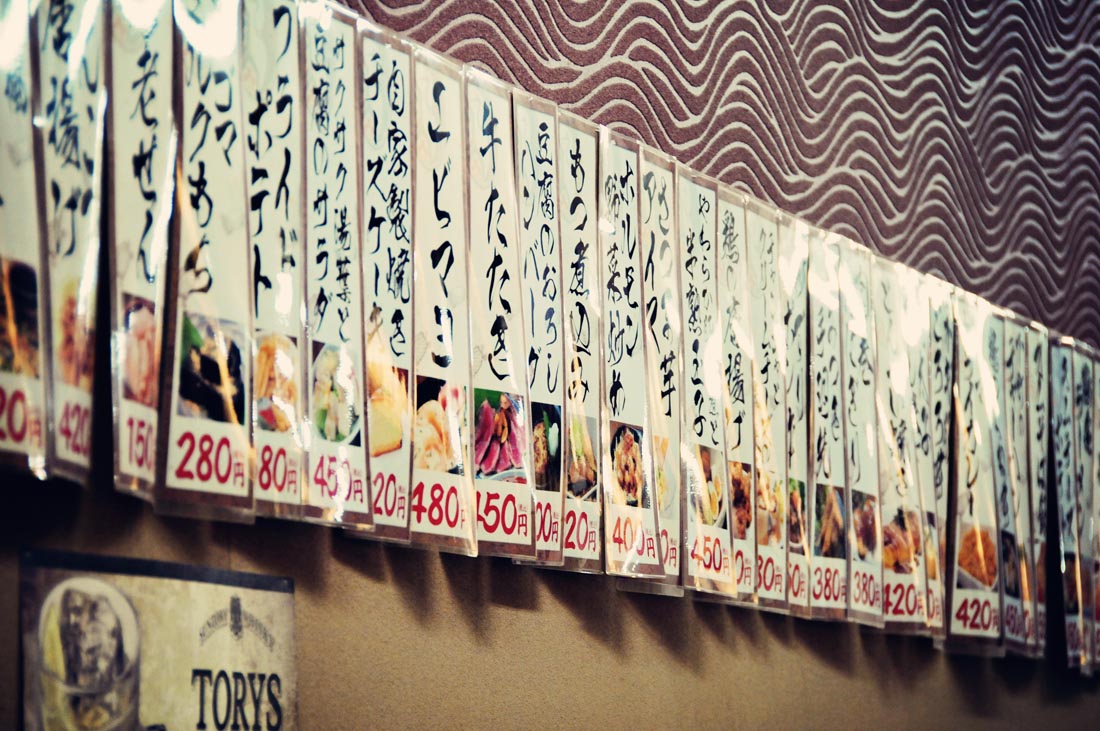 And this man surely looked like he's having a hard time to choose what's for dinner.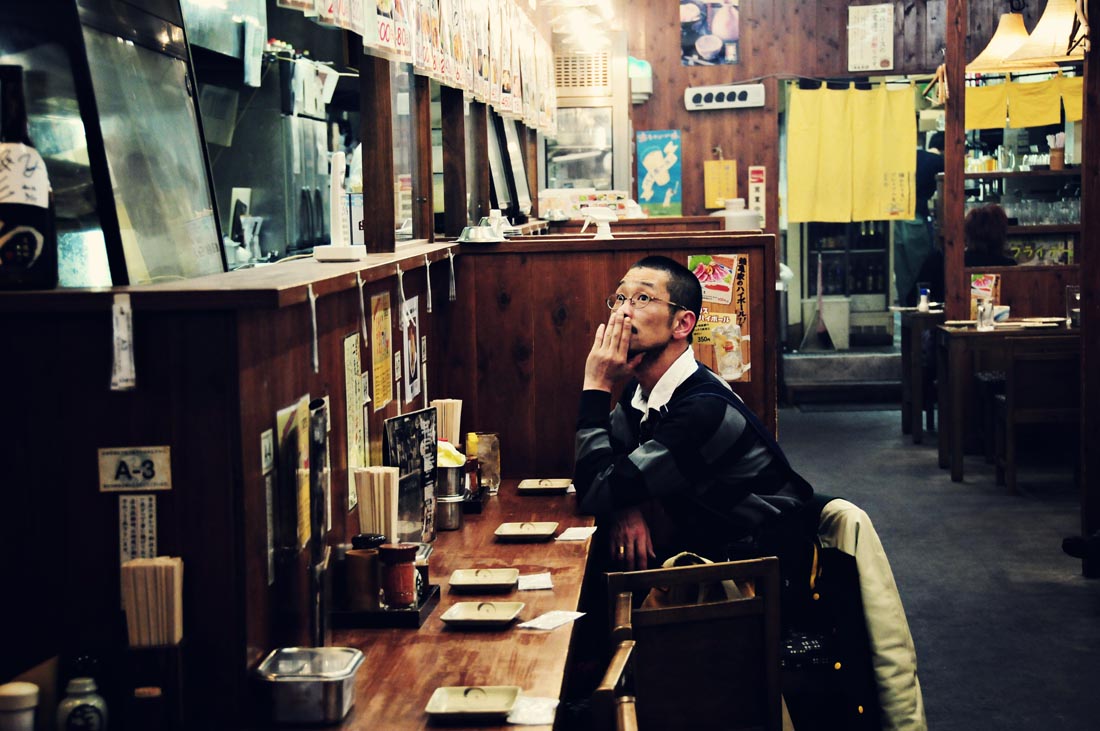 Someone gazed back and smiled infront of my camera. Kawaiii! 😛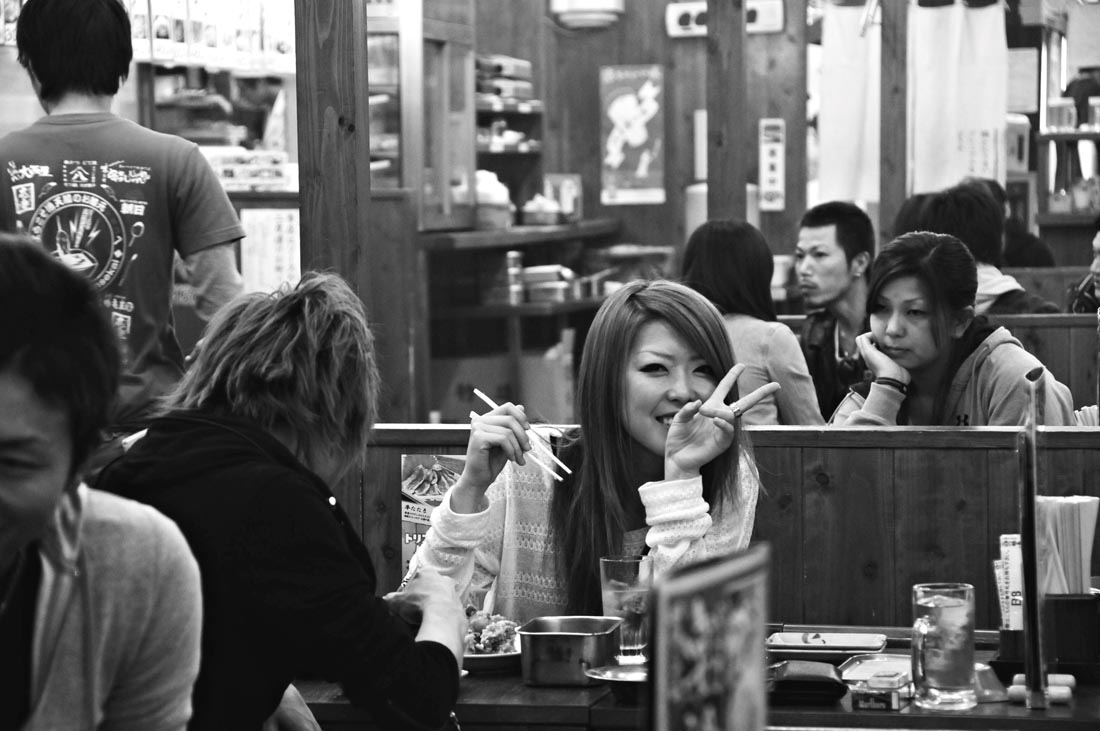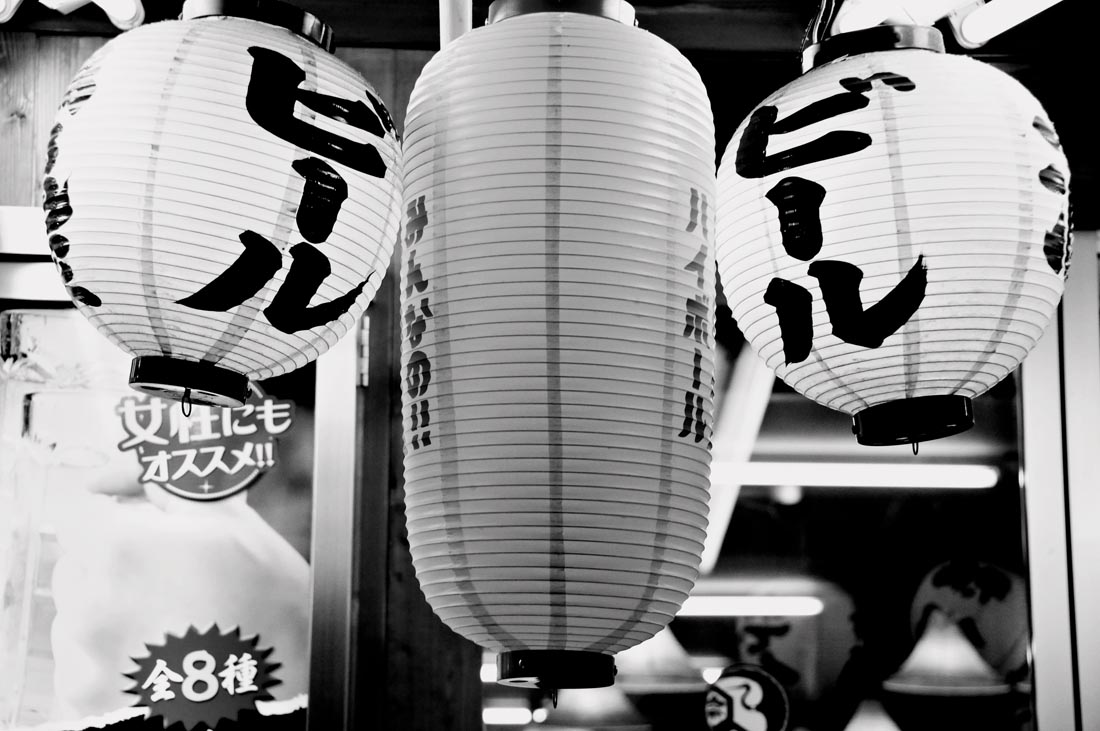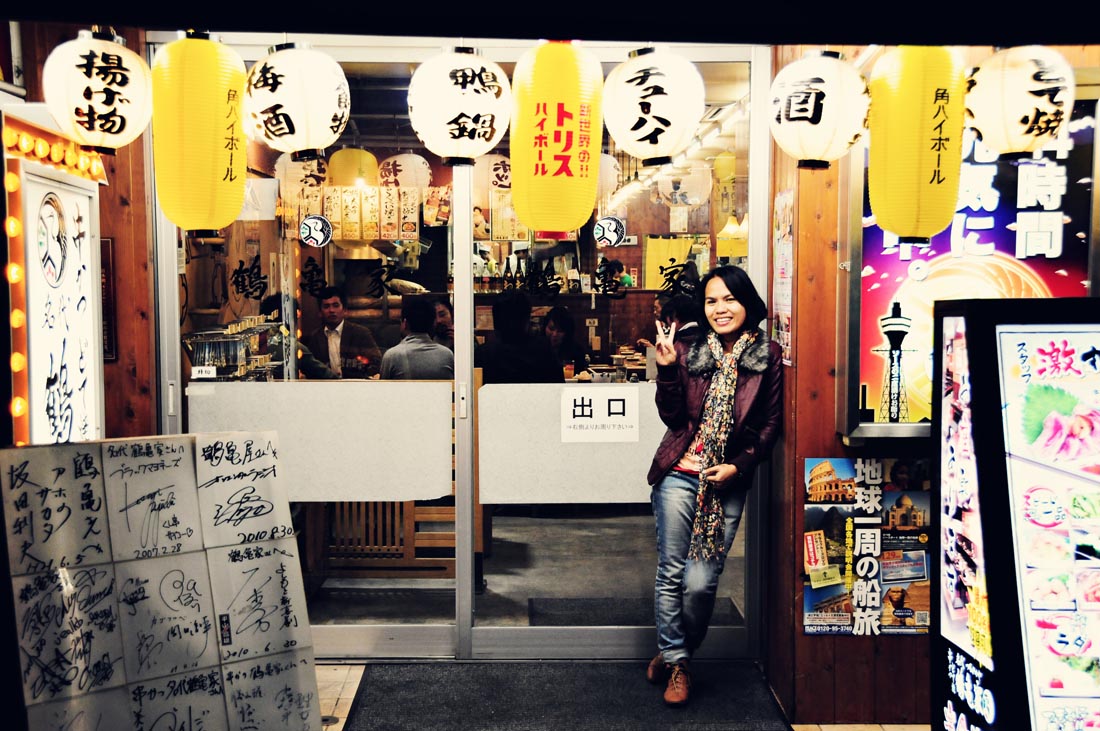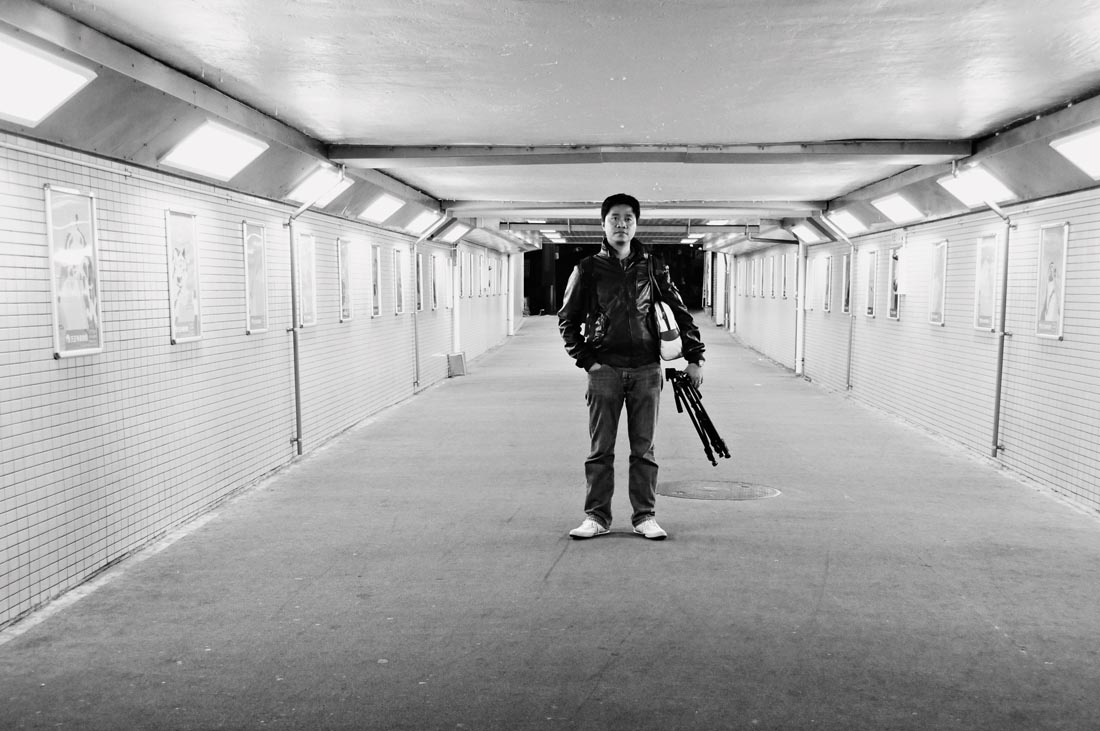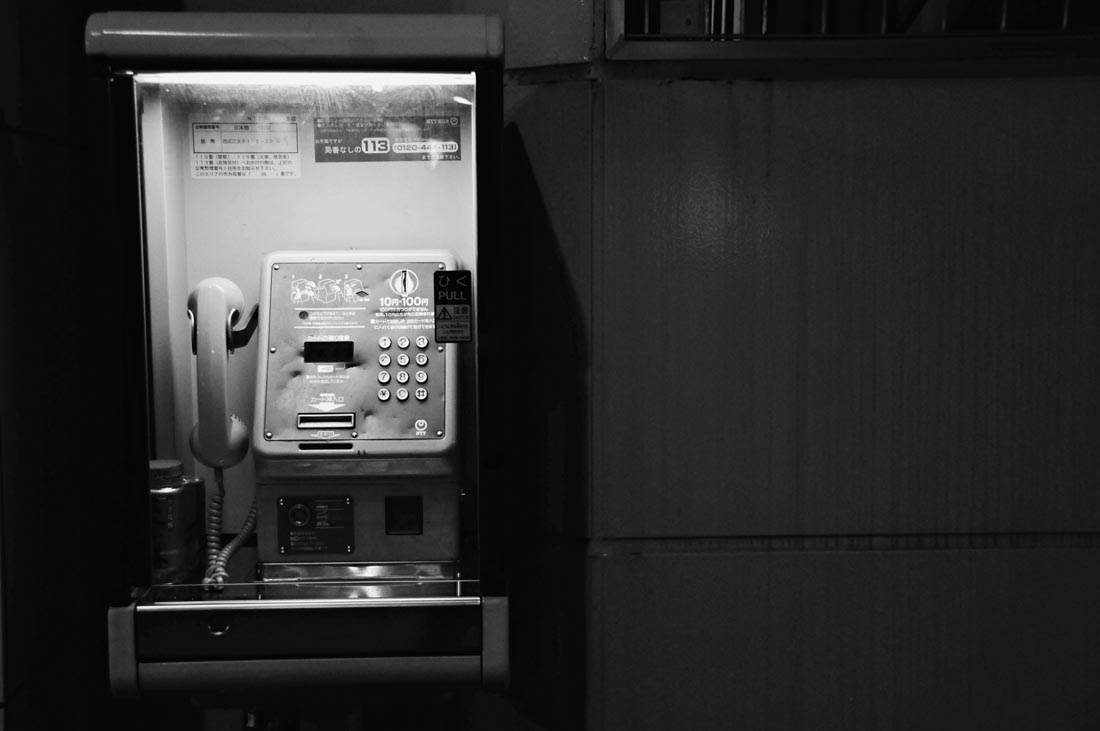 It was time to check out from our hostel the next day. It wasn't really the best place to stay at but Hostel Toyo was safe, clean enough, and cheaper.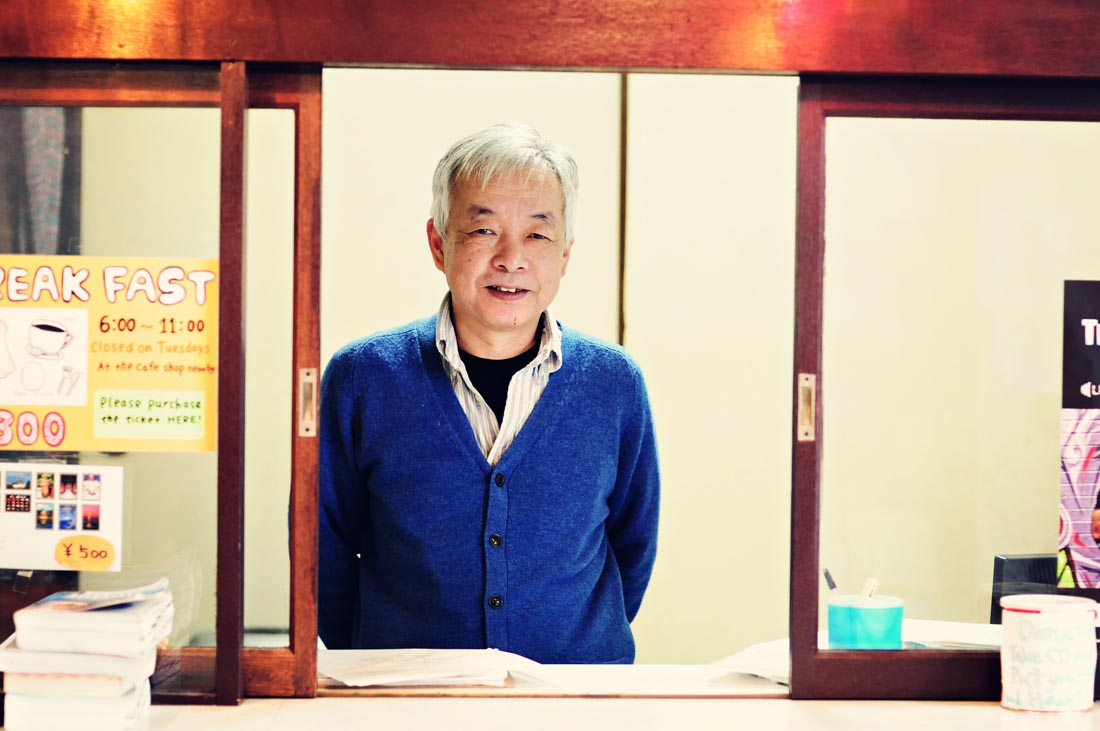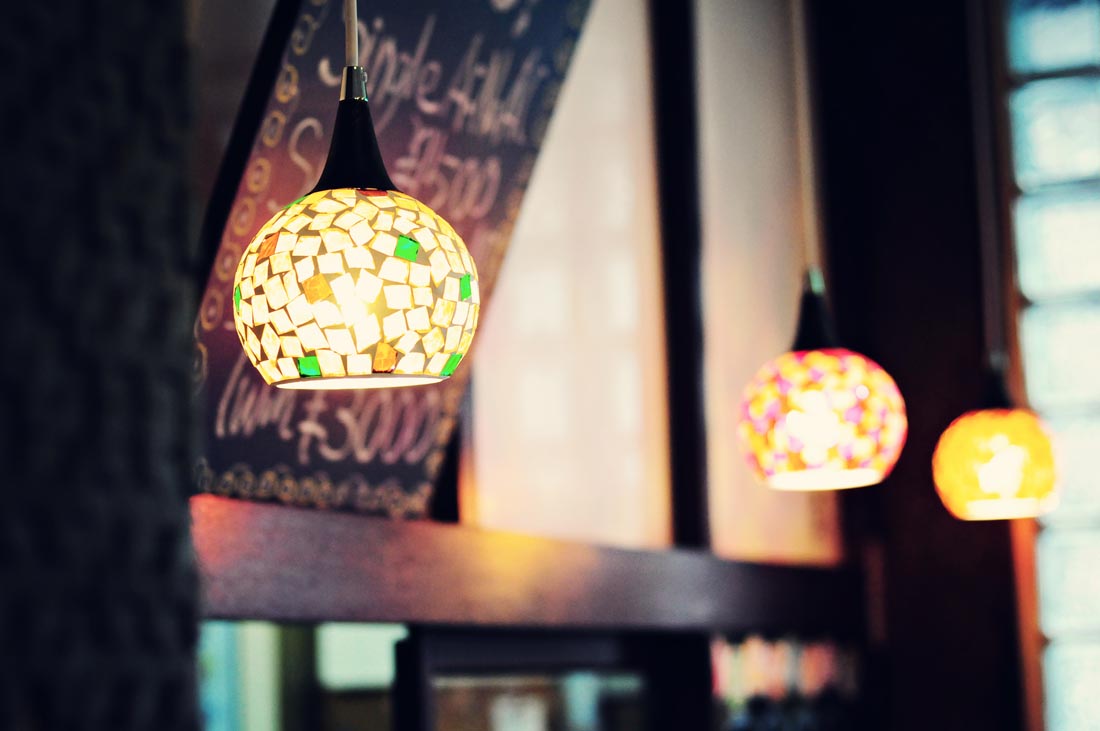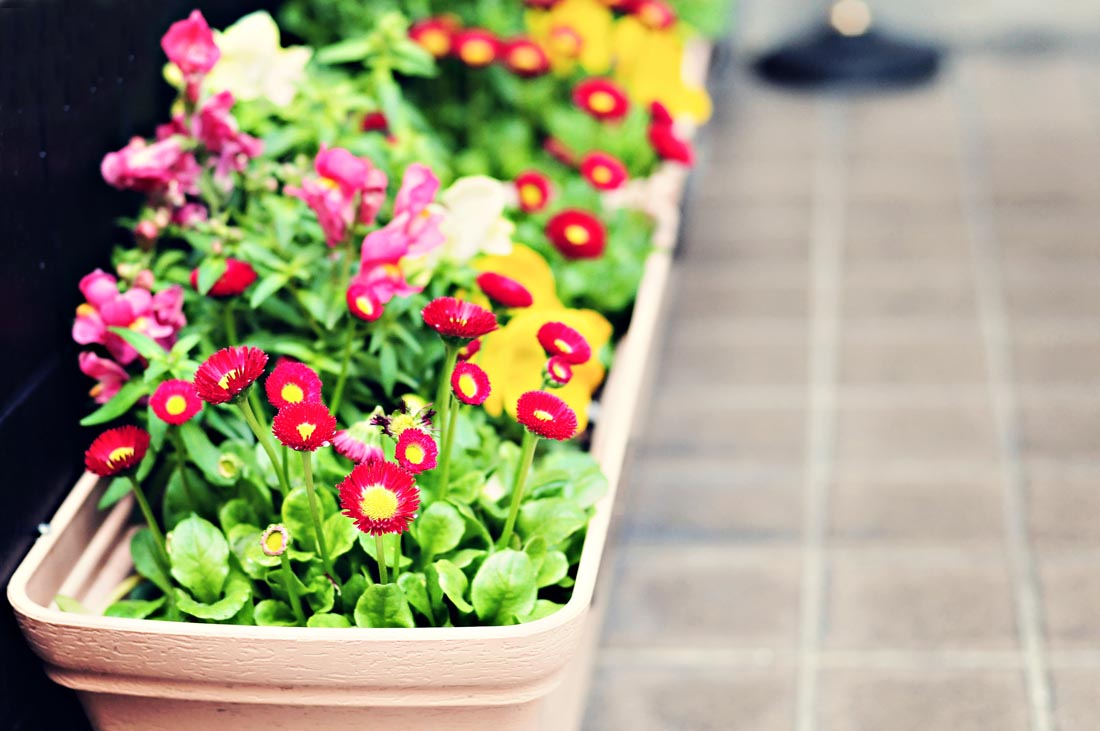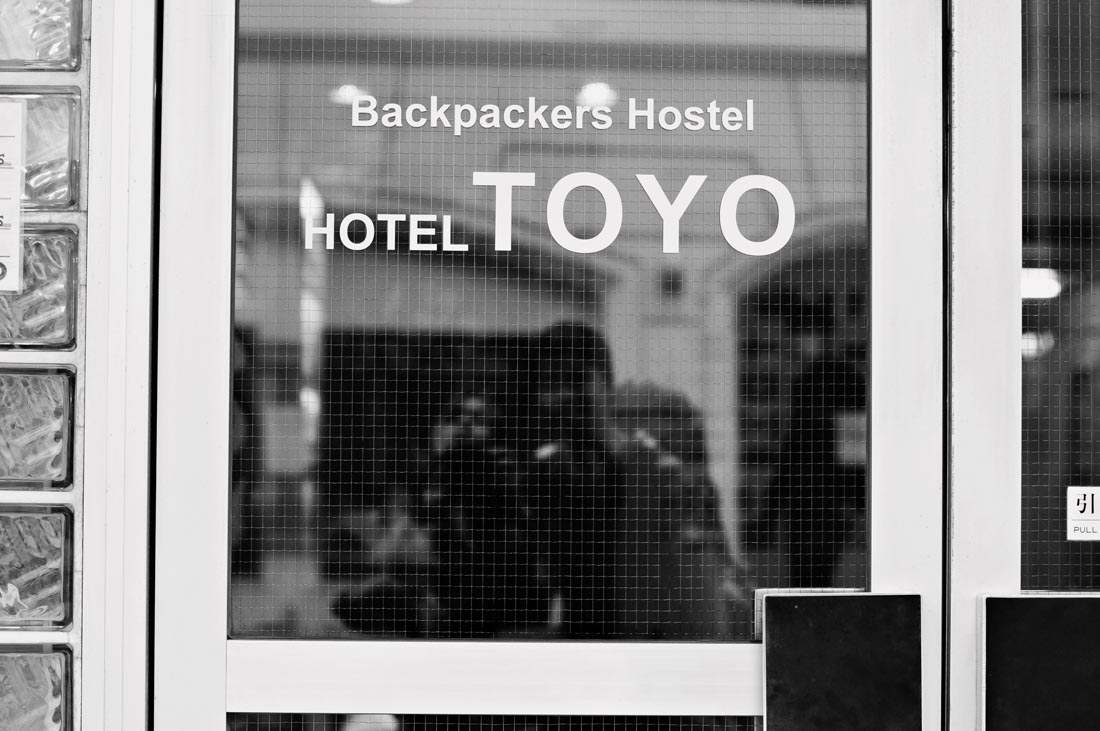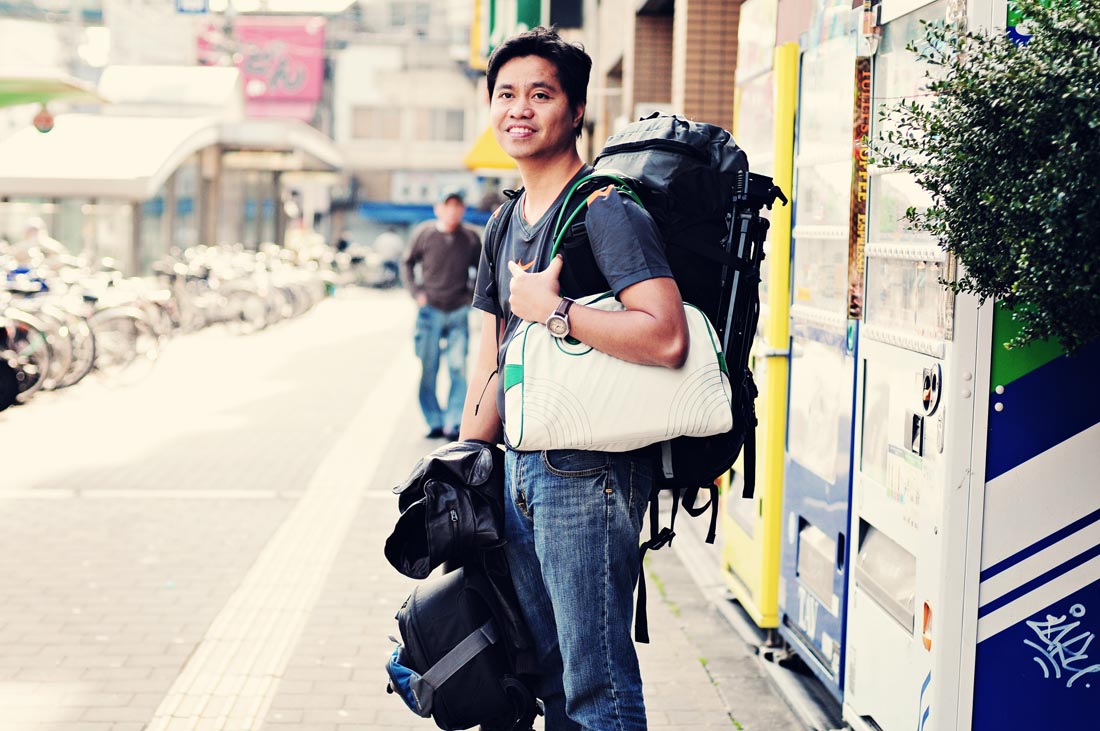 We met another stranger and was too friendly to even offer to take a photo of us two without us asking for it.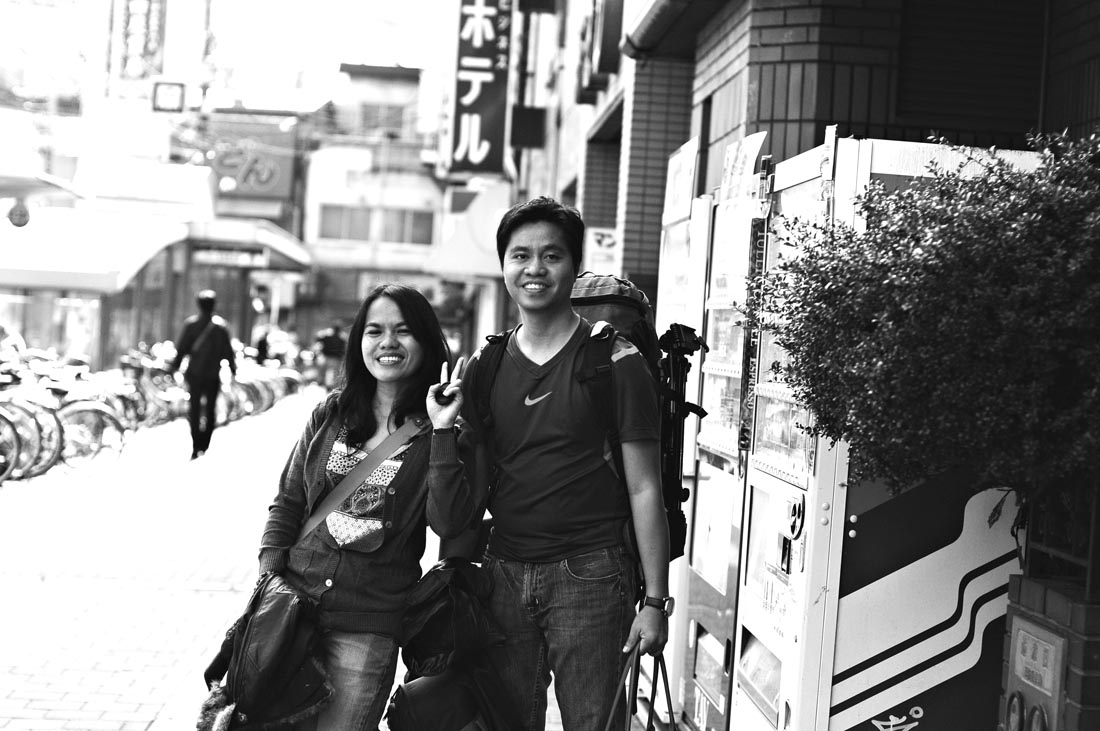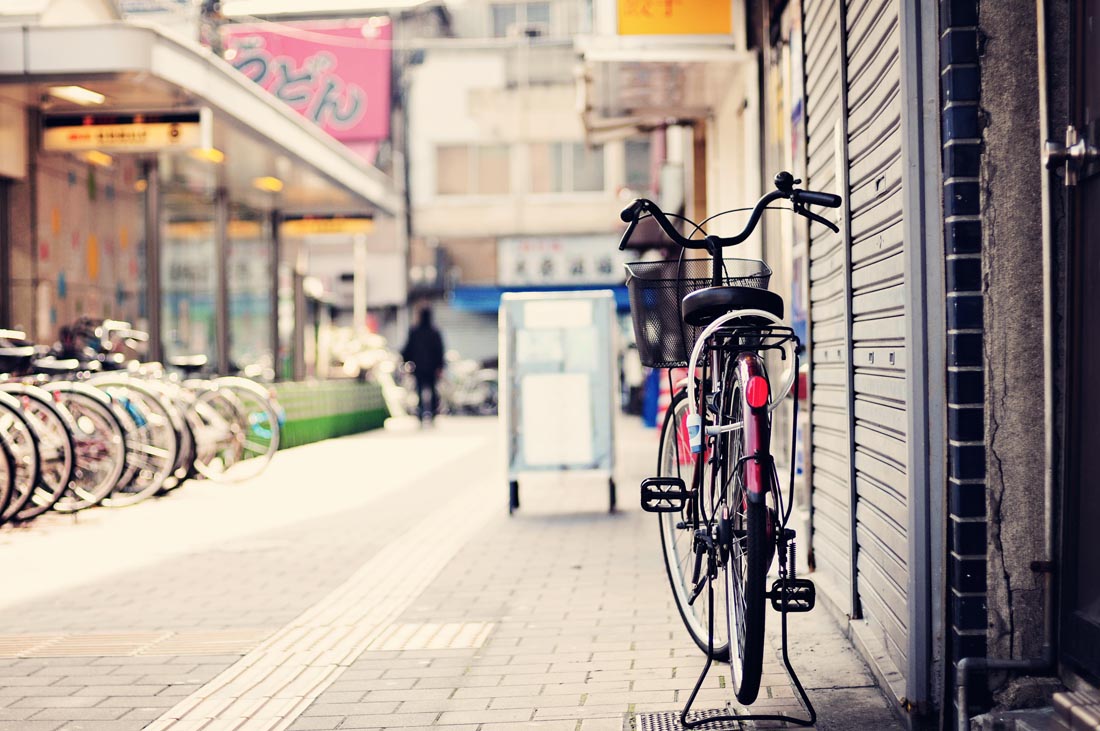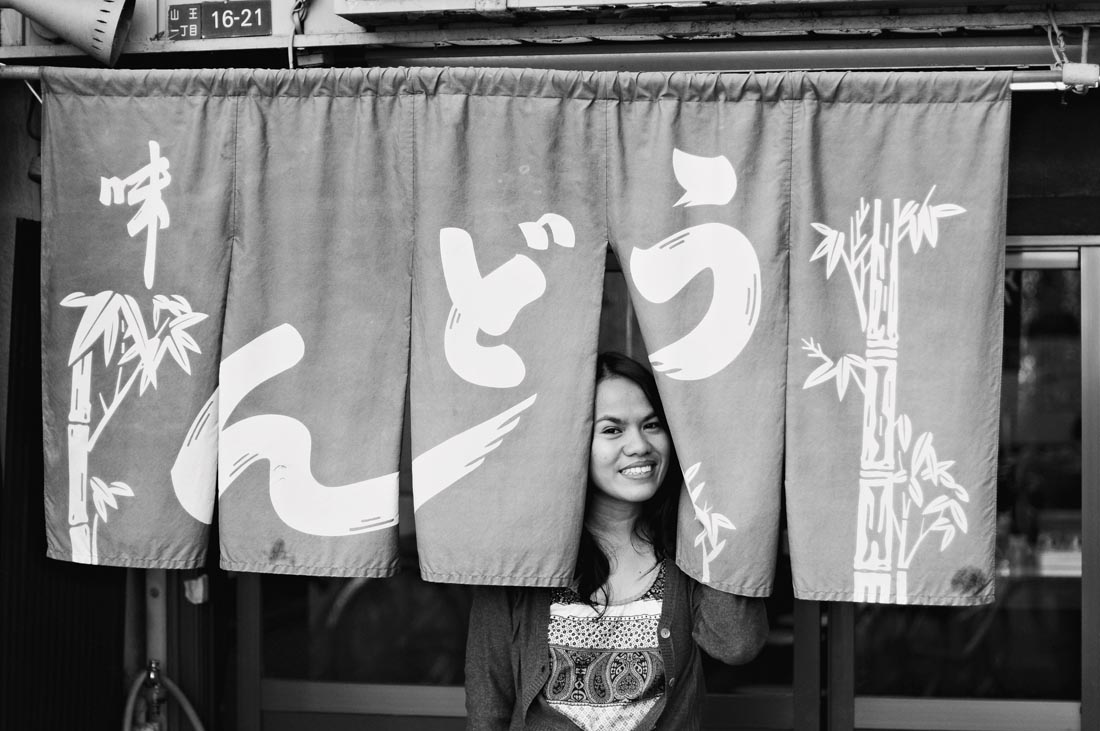 And this man here with me is surely funny. I couldn't help but grin so so wide.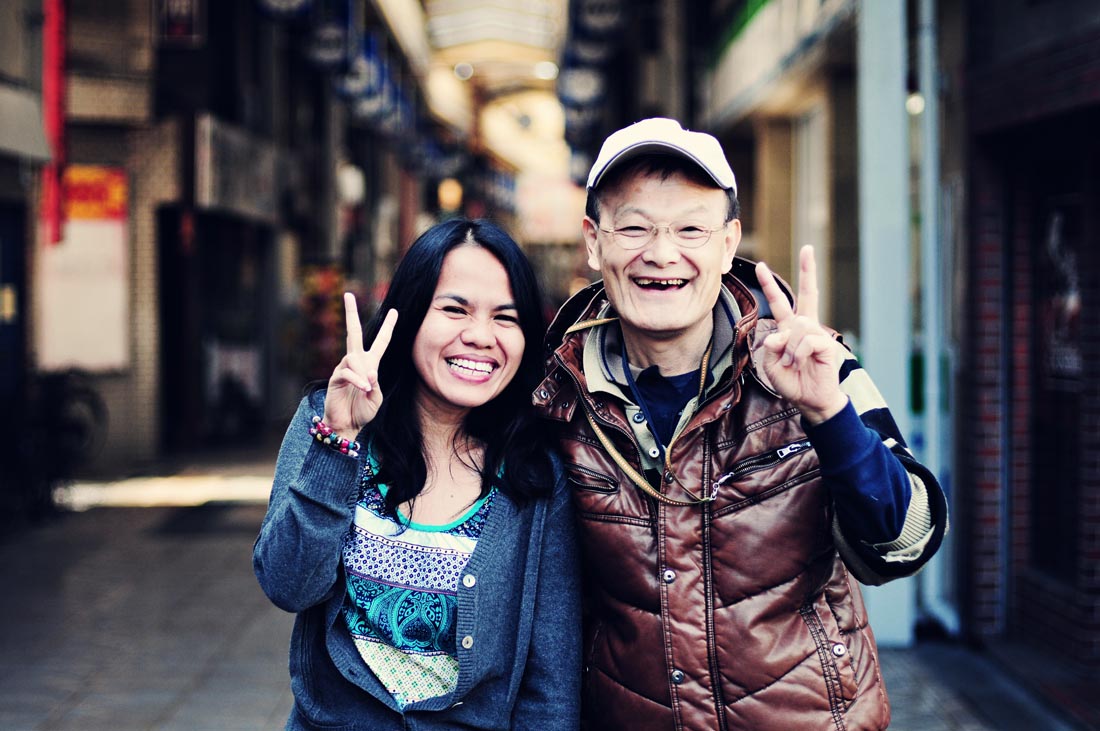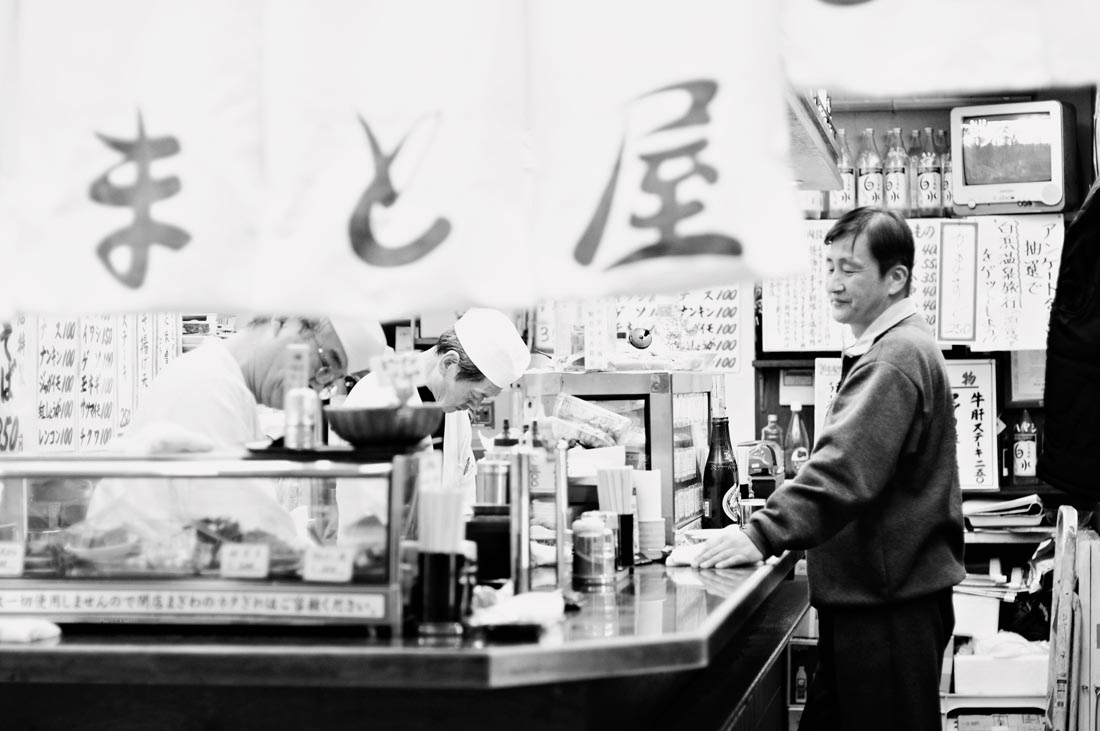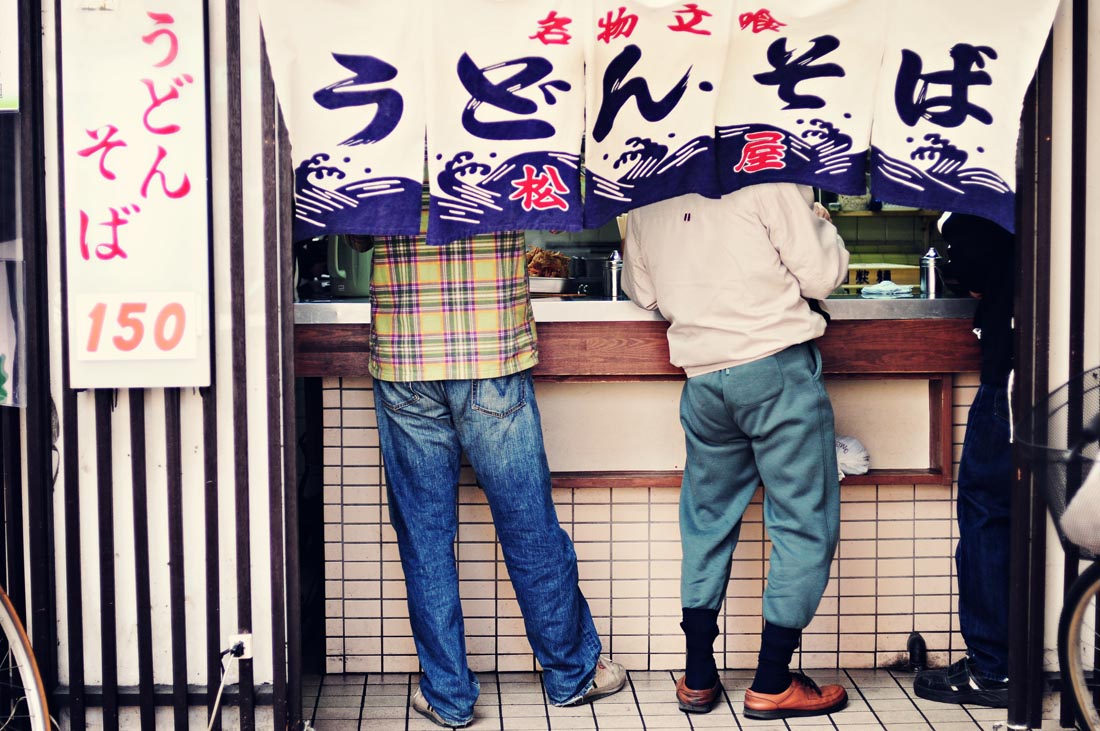 We ate our last breakfast in Osaka at an Udon house and obaa-san (grandma or elder) here looks oh-so-happy to meet us.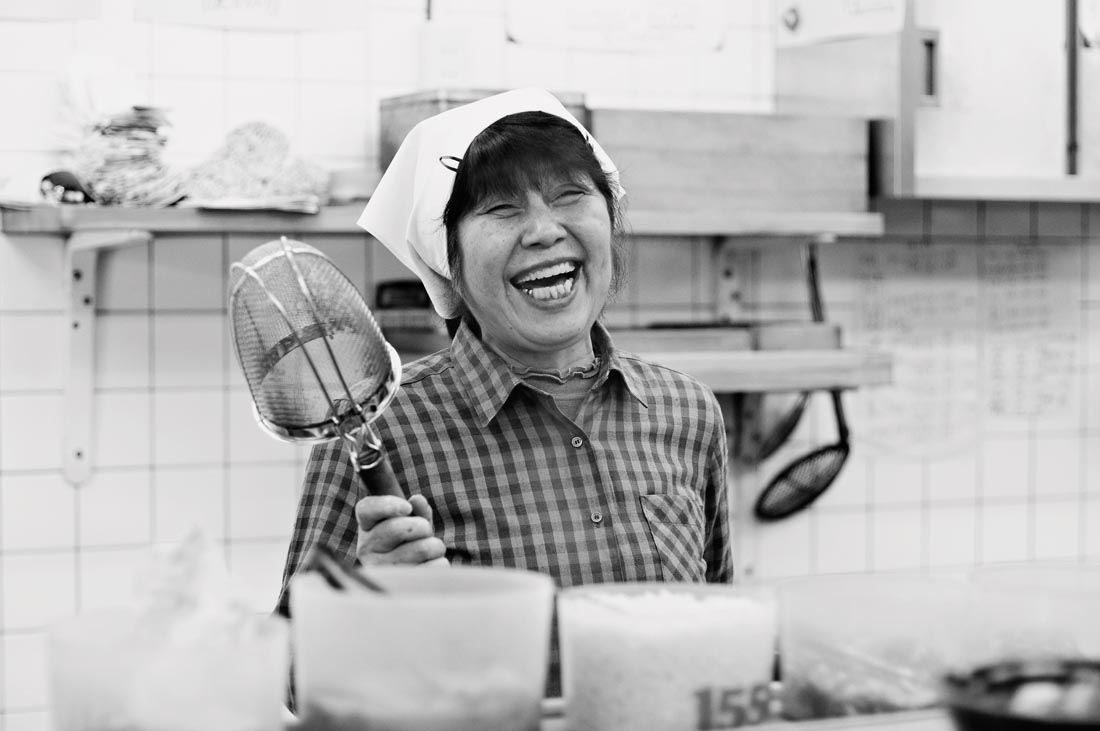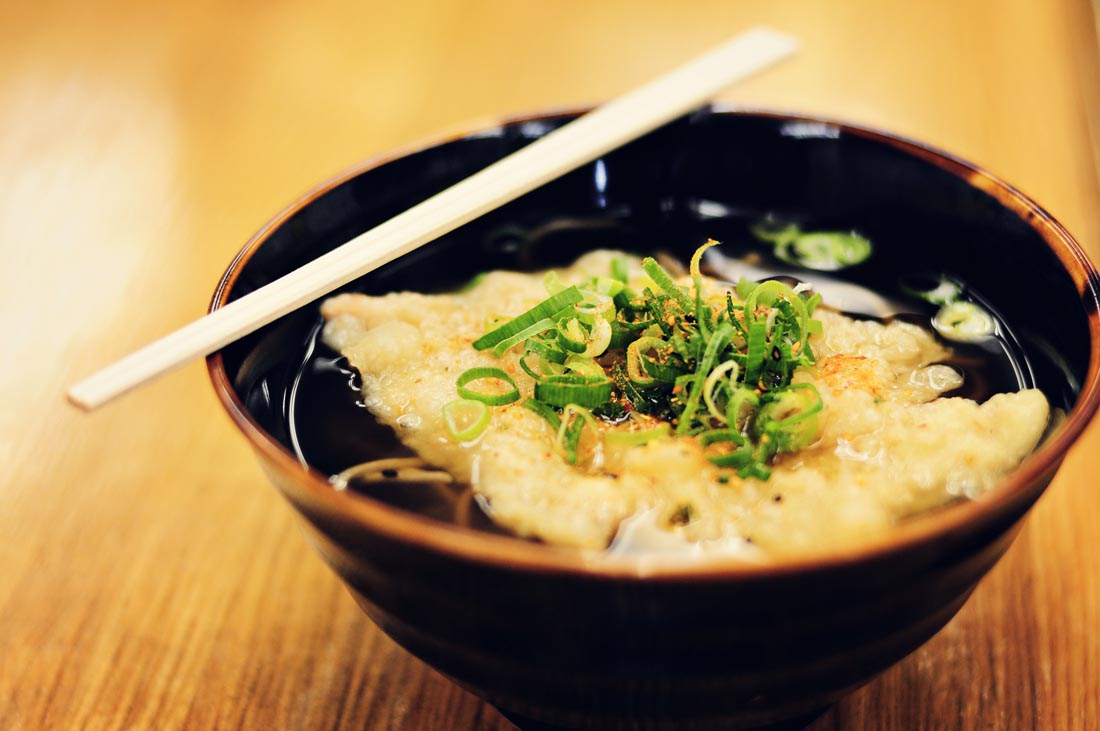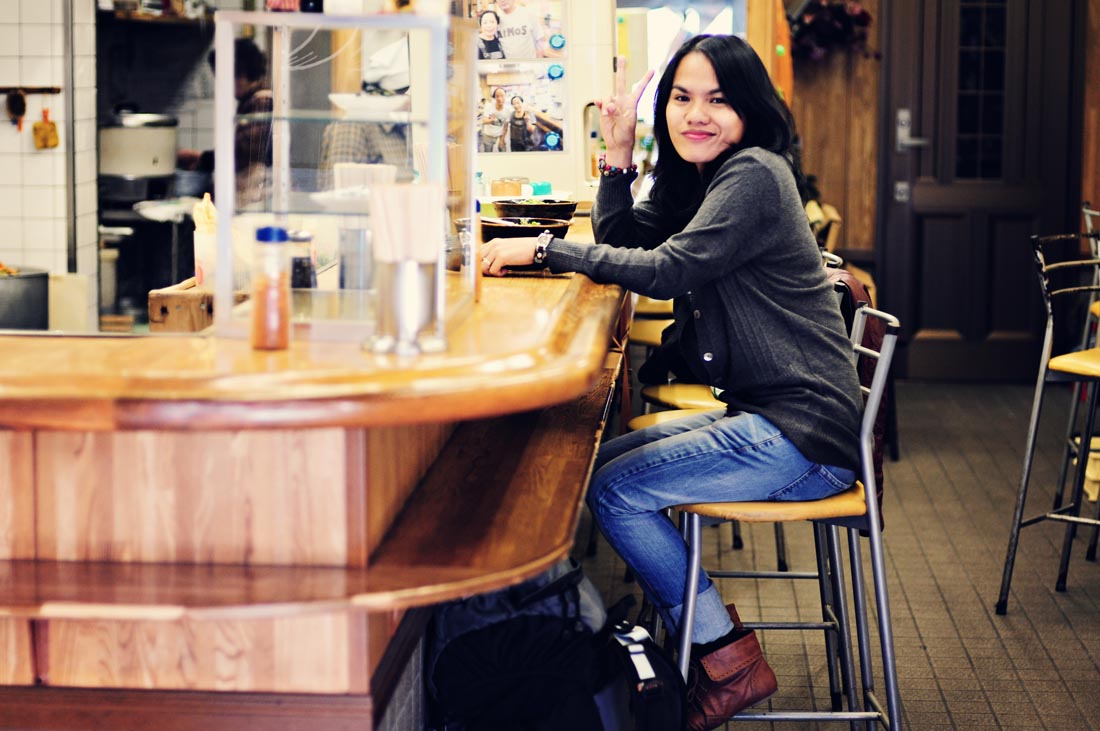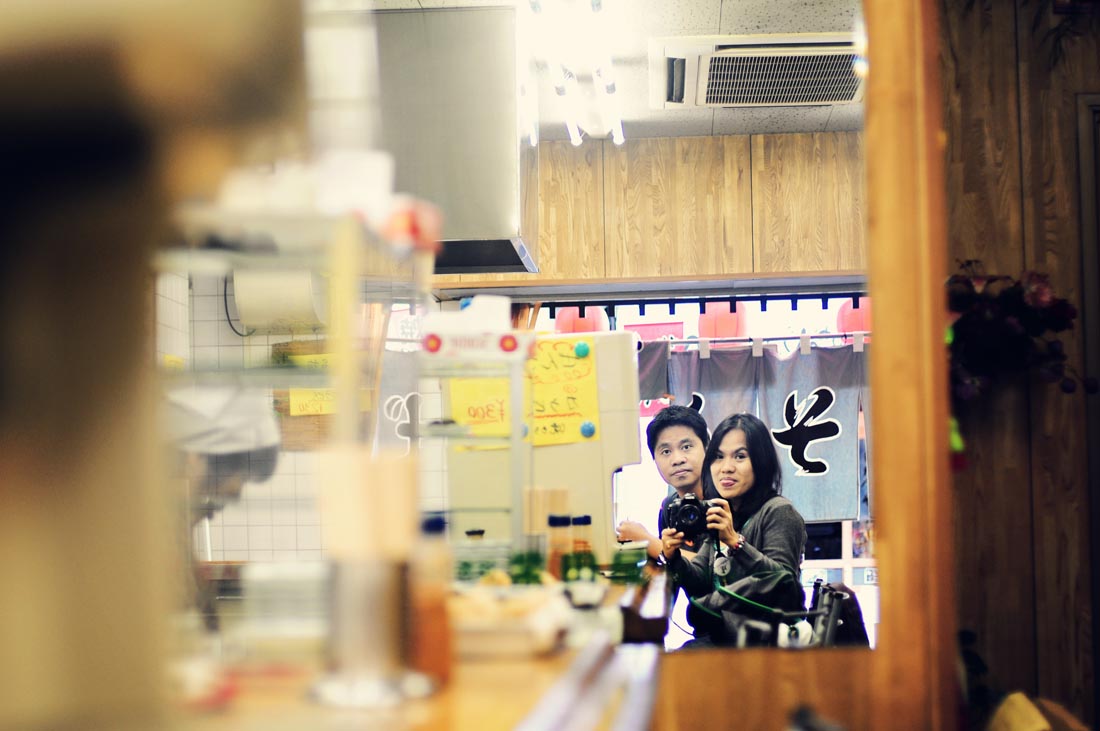 My tempura soba. Oiiishiiiii!!!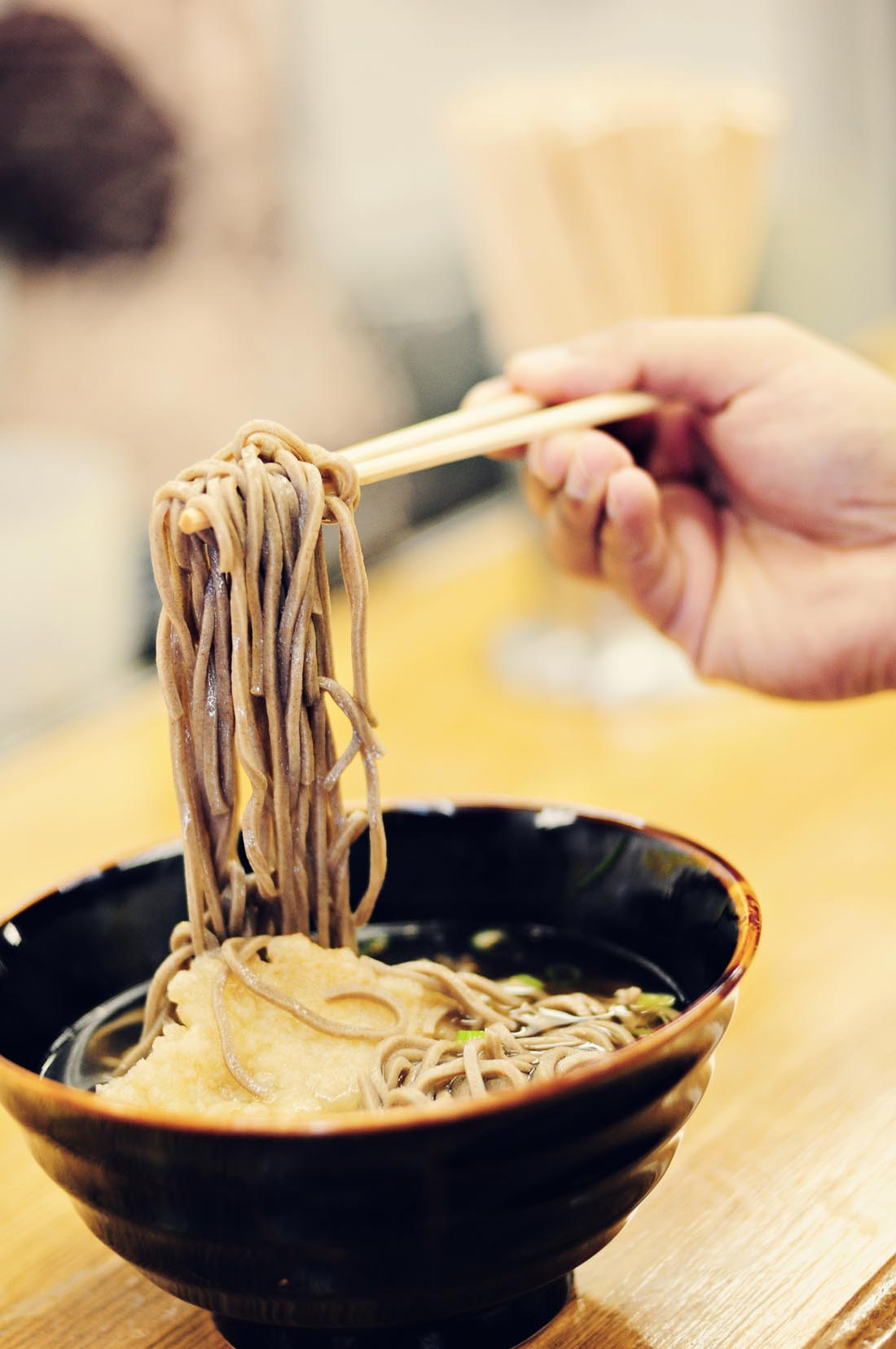 They sent us off with well wishes for our trip while in Japan. How heart-warming that was.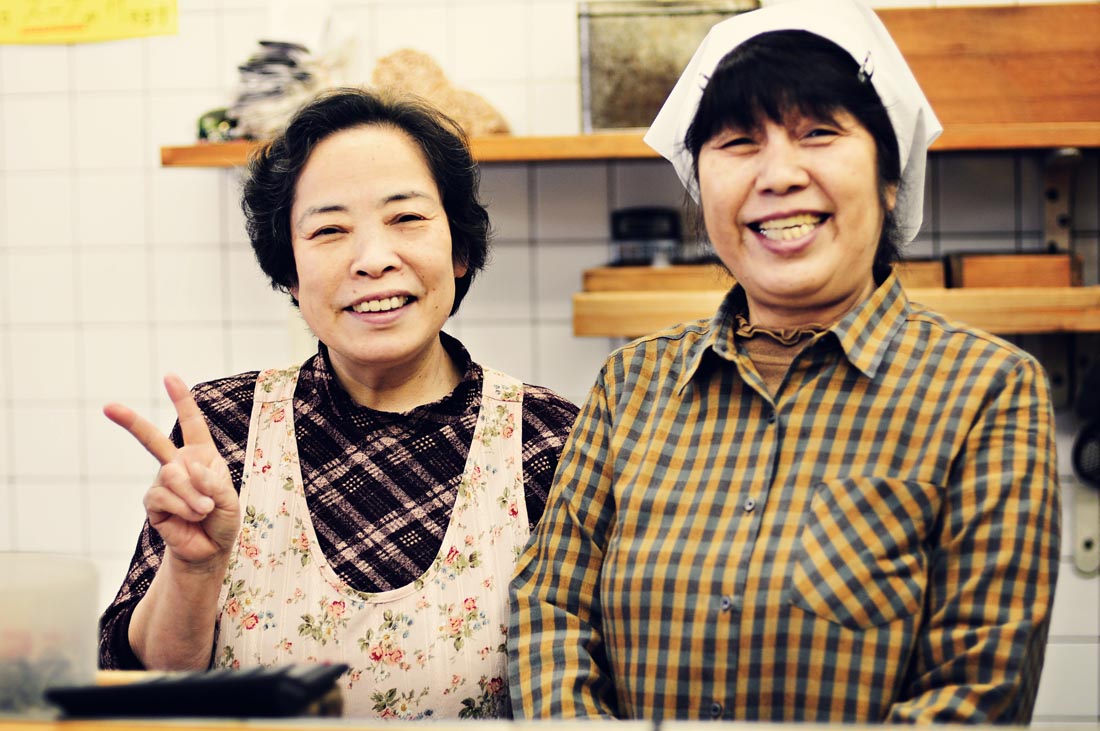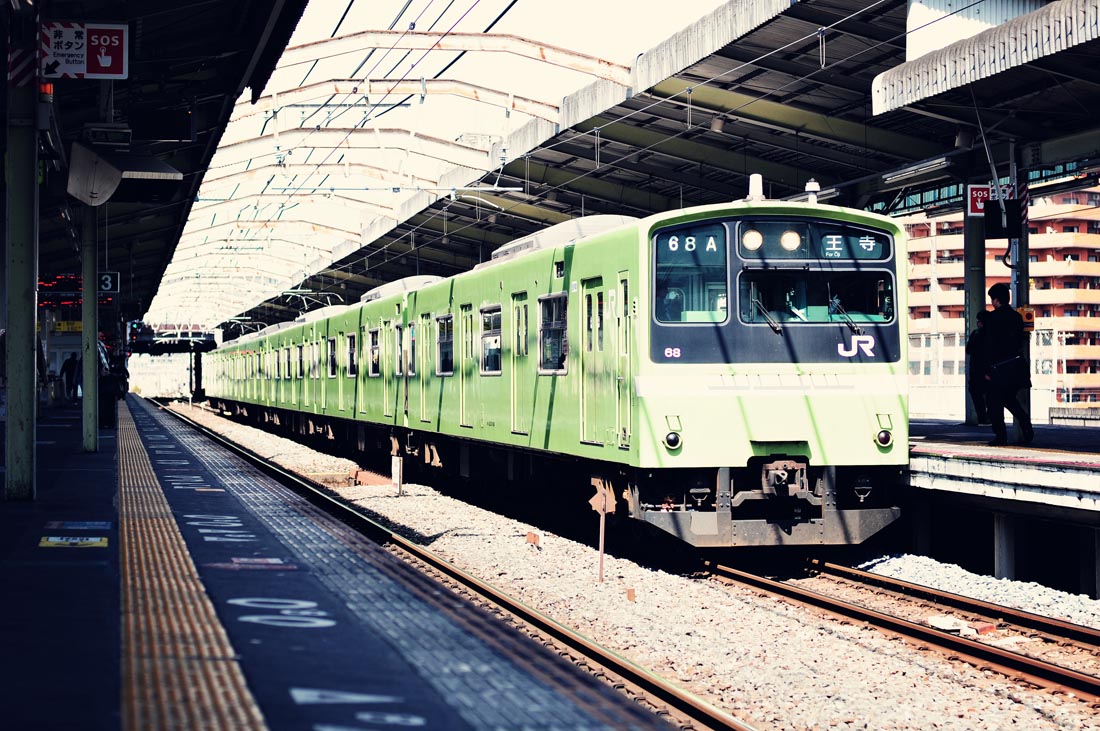 Train tickets.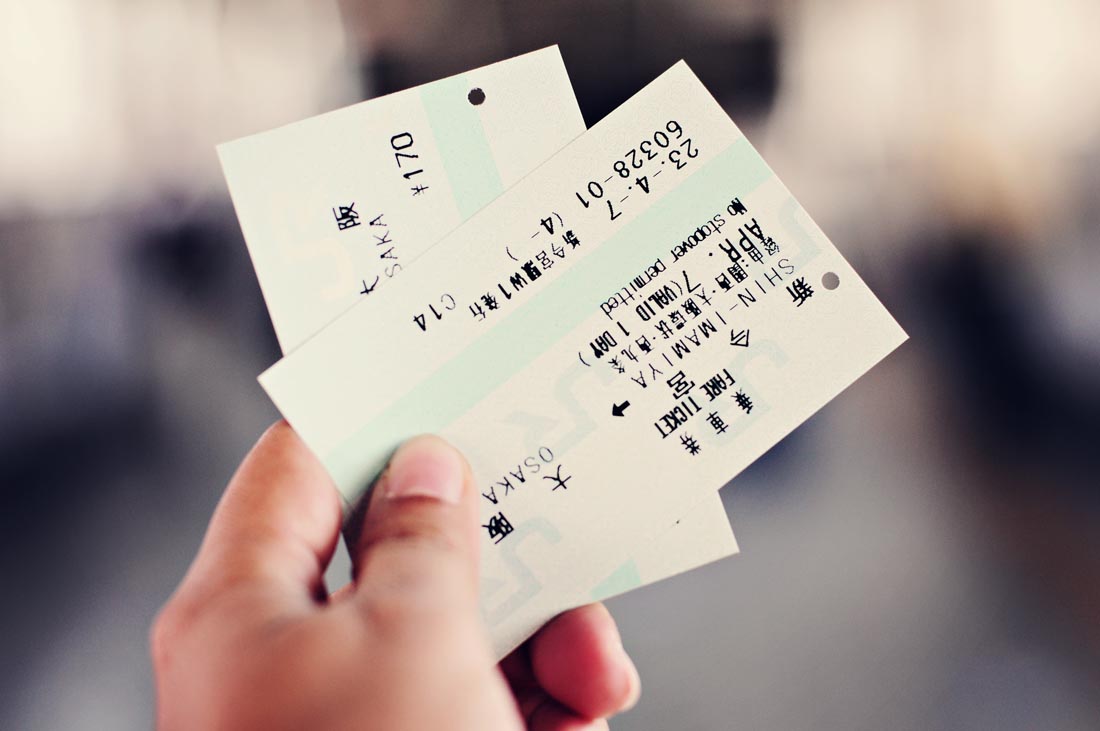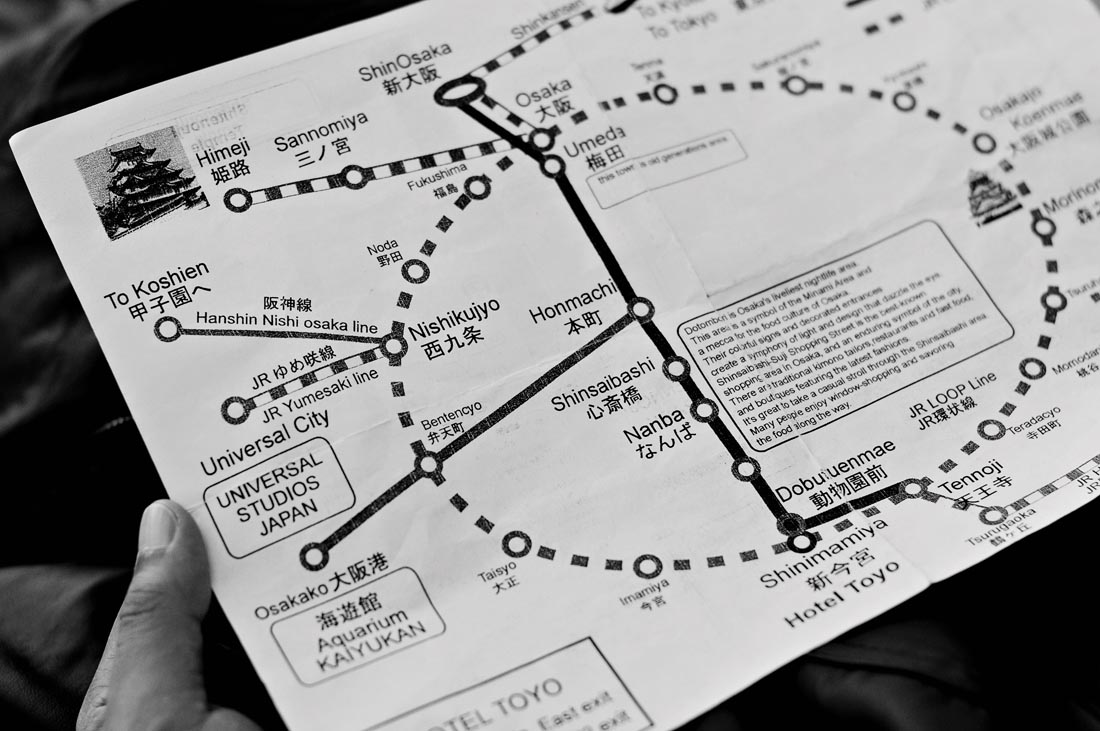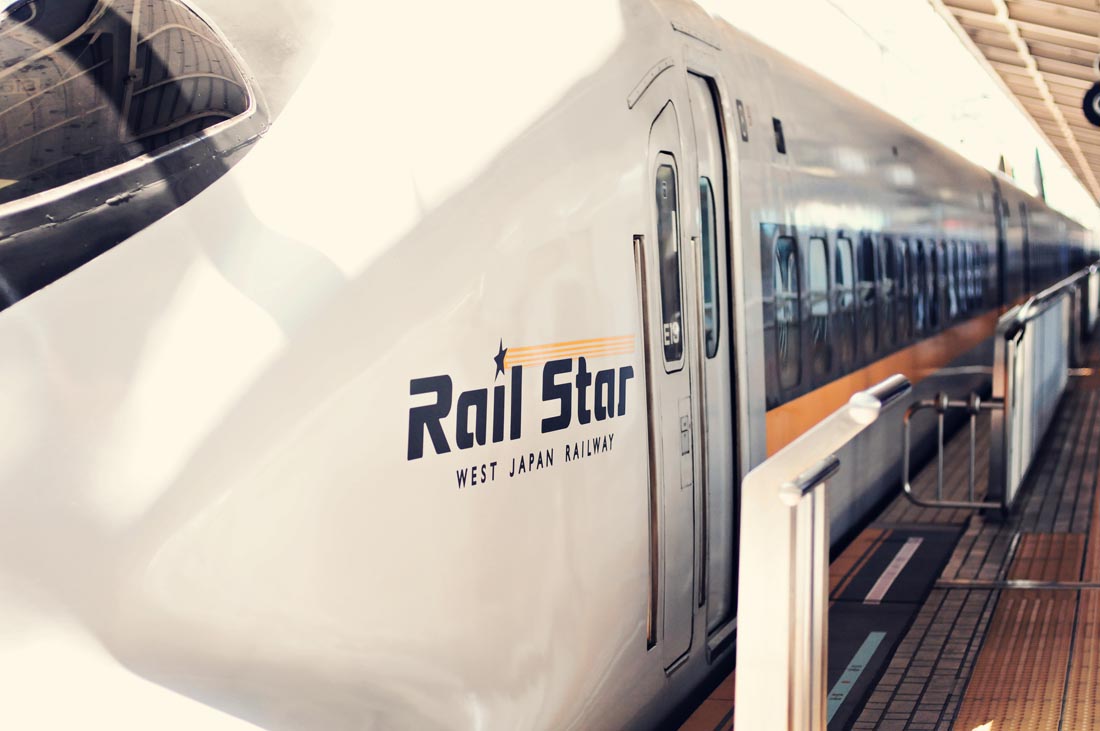 My first bullet train ride with Japan's shinkansen. You wonder how did it feel? Well, it was pretty normal like a plane ride, except we were on the ground at full speed. Duh! Hehe.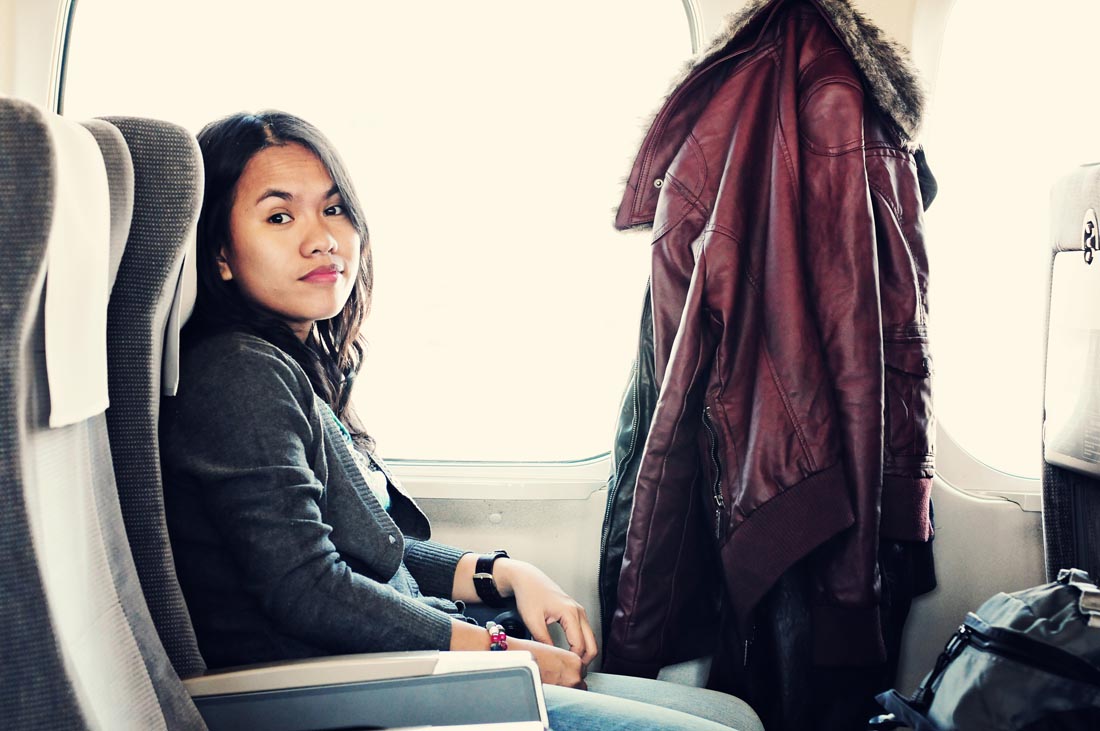 We're off to Kyoto! Yosh!!!! and can't wait to show you why I fell in love deeply more with Kyoto right away. More photos coming soon….in the meantime, enjoy the slideshow of all these photos if you're not too bored yet. Hehe.