It was past midnight and I was ready to sleep when I heard that 'new mail' wooosh sound from the iPod. Quickly, I checked and look what I've read: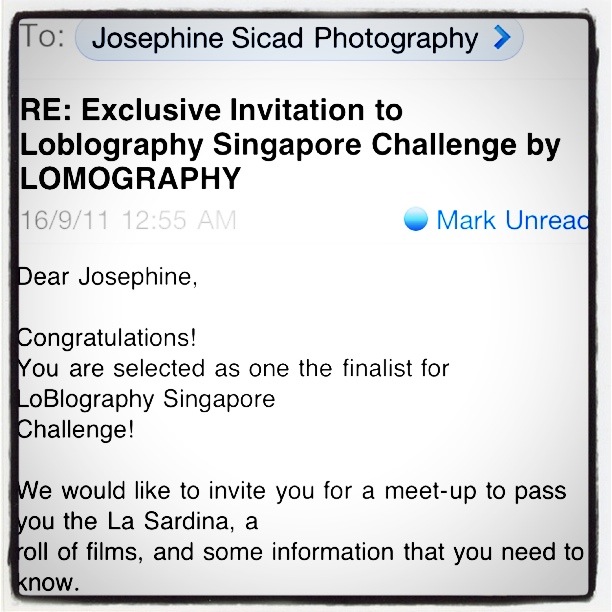 whoa. That didn't sound too loud huh? lemme try this again. WHOAAAAAAAAAAAAAA. there there! my eyes beamed at the thought of being picked! Thank You Lomography Singapore! – it felt like I won some singing contest I was never qualified for. Haha I don't want to put so much drama behind it really but hey, I can only count within my two hands the number of times I must have felt this 'winning' feeling. *bubble thoughts*. Like when I got silver medal for playing chess at grade school. Or that time when I finished all stages with all my might to rescue the Princess playing Super Mario Nintendo. I felt like a super heroine. Haha Or that first time I learned playing my guitar I felt I can be a rock star someday. Obviously, that didn't happen today God knows why. 😛 And oh, remember my first featured photo on a travel magazine,too? So you see, this woooshing feeling is putting a big grin on my face I can wear it all night during my sleep. 😛
What's this all about anyway?

Well, about few weeks ago, I happened to have clicked on a link posted from my friend's Facebook wall. Since Lomography is opening a new flagstore in Singapore, they came up with a lomo blogging challenge where they'll pick 20 bloggers living in Singapore and give out a La Sardina lomo camera (to rent only) for a period of time just to play & blog about the experience. See more details here. It sounded so cool, cute and that retro-looking baby weakened my knees so it made me think, 'Why not join,too for the fun of it!' I do own a mini Diana but I've either left it on the shelf most of the time or have not been getting good results. So I thought maybe this  challenge is a chance for me to rediscover & learn more the craze in analog. Right after I sent my email entry though, I got another separate email for an exclusive invitation for the challenge. Boy, did it get me a LOT more excited!!! 🙂
The finalists were all announced over at Lomography Singapore's Facebook' wall yesterday. I had to stick my nose to the monitor to clearly see my name inked there.
Can't wait to unbox the La Sardina as soon as I get my shaking hands on 'em! la la la!
Enjoyin' life's little triumphs is incomparable! Happy weeekeeeeend!!!