If you've been following my blog, few weeks ago, you probably heard me screamed out from your screens when I posted about being luckily picked together with 19 other Singapore bloggers as part of the Loblography Singapore Challenge. We were each given (for 3 weeks of road test) with this lovable retro baby, adorably called 'La Sardina'. It's a beautifully designed 35mm wide-angle-camera and looking so delicious like your favorite can of sardines it almost makes you feel really hungry if you stare at it long enough. 😛
And if you've read about me here, you'll know that I've only started learning photography back in Feb 2009 with my first dslr camera. But when you talk about anything with 'film photography' though, I'm still the naive girl. No kidding. I feel like a kindergarten kid learning my first ABCs. I kept wishing my grandpa had a film camera but he didn't. You can check my running project in my attempts to learn film in my Facebook page: 'Project I Love Film'. And I'm sure you've already read about my dramatic misadventures, right? Need I tell you more? 😛
So anyway, this is my official blogpost entry to the Loblography Singapore Challenge. 🙂
I decided to go out and ran for 10km goal with a La Sardina on a not-so-gloomy but not-so-sunny Wednesday either. 😛 Most of the time, I just run by myself. But now that 'La Sardina' is here and with its really light-weight features, I found myself a new running-mate. Yey!!! 🙂
For those who didn't know, I've been challenging myself too in running (not competitively though) while I prepare myself on my upcoming marathons this month (21km) and most especially for my first ever full marathon run in December (42km). Are you really sure about what you're getting yourself into, Jhoe? Well, I've asked myself that same question too many many times. And there's only one way to find out soon — if I make it or not. Hah! 😛
Now the first thing I learned about lomo cams as a beginner is – it's supposed to be super easy & super fun to use! That's why they say, 'Don't think. Just shoot.' Very true. However, unlike digital & other camera formats, the greatest challenge is knowing WHEN & WHERE exactly you can shoot — since the ISO, aperture and shutter speed (unless in BULB mode) are all fixed, which means you can't adjust them before or after taking your shot. So if you want to shoot in broad daylight, use the appropriate film between 100-200 ISO. Otherwise, on low dim light conditions or indoors, use higher ISOs like 400 or use an external flash. In the digital world that I've gotten used to, it would have been easier to adjust the ISO/shutter/aperture accordingly right? But once you load the film into the La Sardina, you're bound to sail on with your own luck!  However, as crazy as it might sound to some of you, I'm loving all this thrill that goes along with every surprise in every click! It can be heartbreaking (been there you know!) or exhilarating all at the same time. Once you finish a roll, you feel like teleporting to the closest film lab. And while waiting, your mind can't stopped wondering what will come out of those photos you took. I bet you'll start praying to saints even if when you're not the prayerful type of person. Hehe My analog friend would say, 'it's a different kind of high!'. Darn right, it sure is! 🙂
I've only tried 4 rolls of film with the La Sardina so far, but remember?!  2 came out blank that broke my heart. However, I told myself, 'A few more dozen rolls perhaps and I'll get the hang of this very soon.' 😛 And so like running, to learn film photography also takes persistence and determination — and for the record,  I don't give up easily so here's to more misadventures with film! 🙂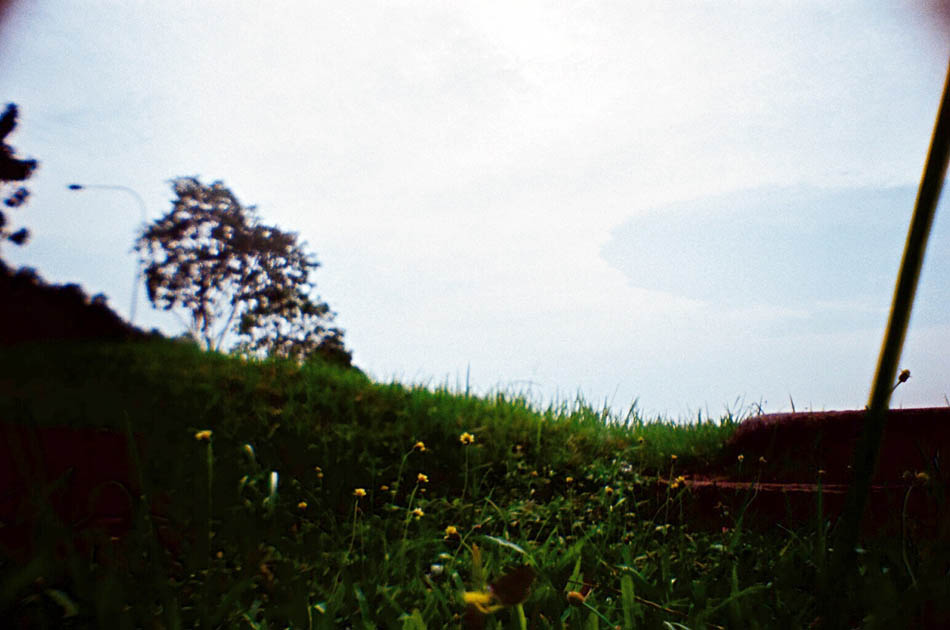 Please tell me you saw that little pretty butterfly on top of one of those tiny yellow flowers. Please please. If you don't, maybe try sticking your nose closer. Hahah. But really, I'm not lying at all. Ask La Sardina. 😛 Too bad I didn't manage to capture it right. 😛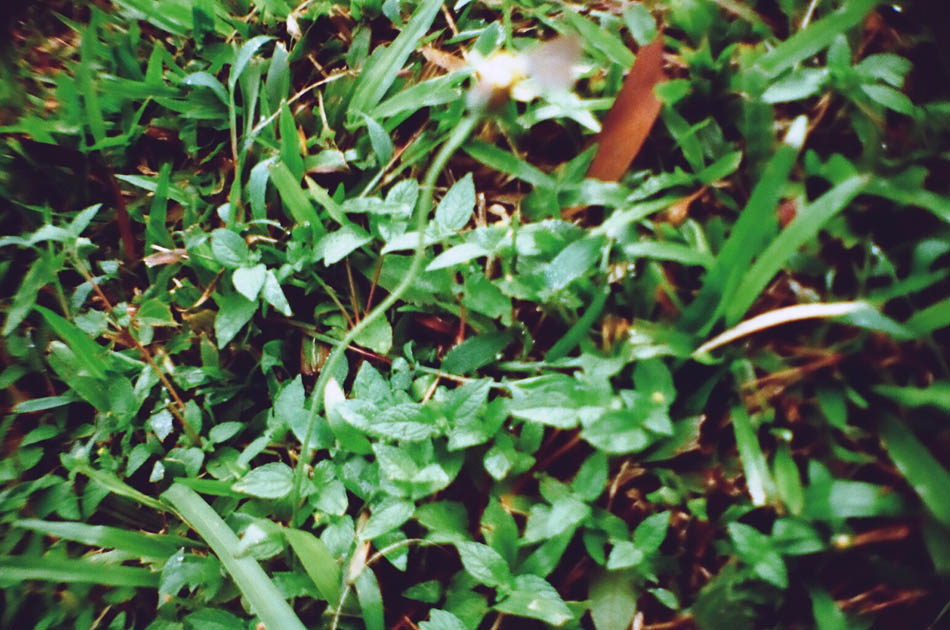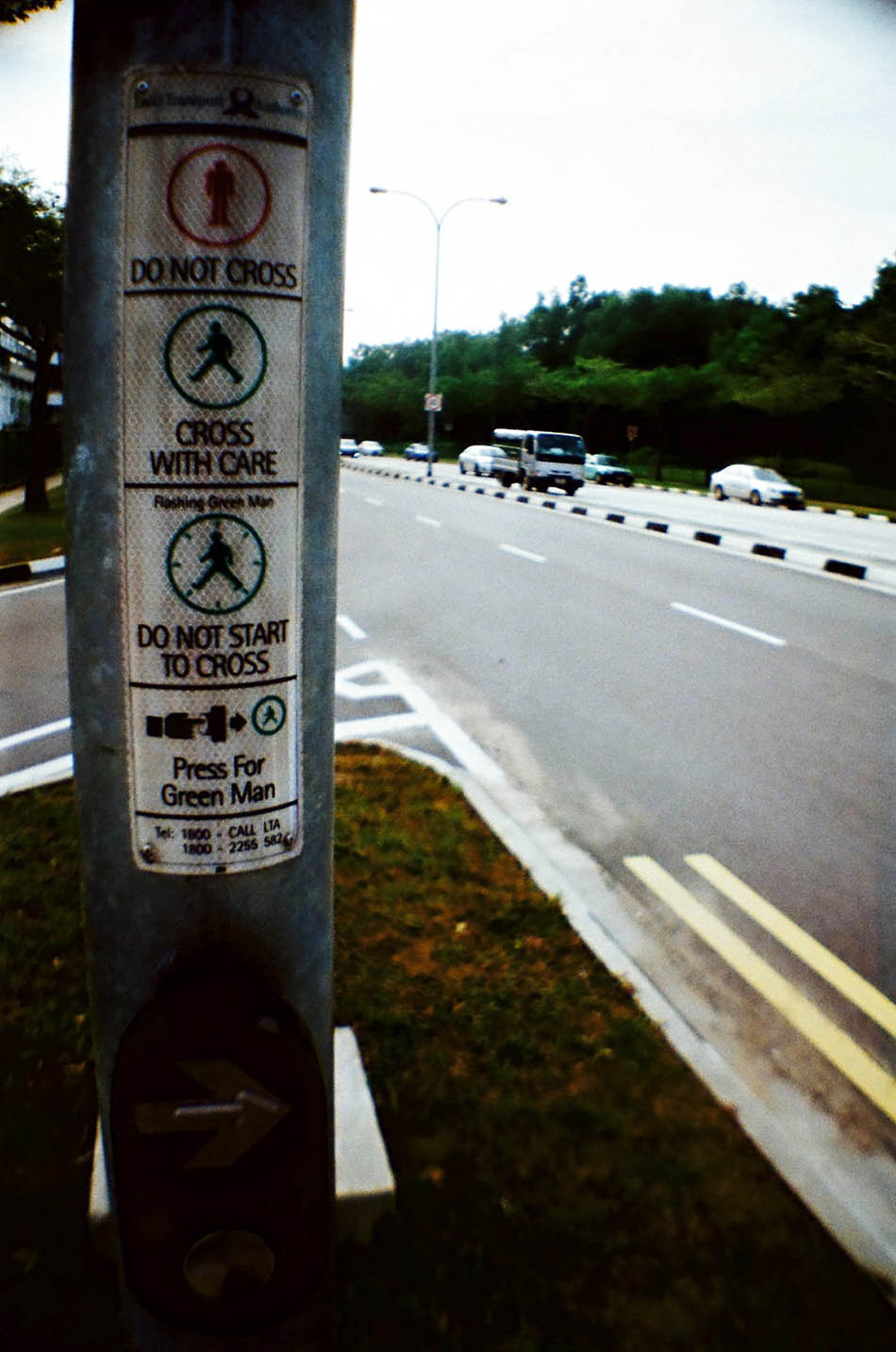 Don't forget to press for GREEN MAN. 😛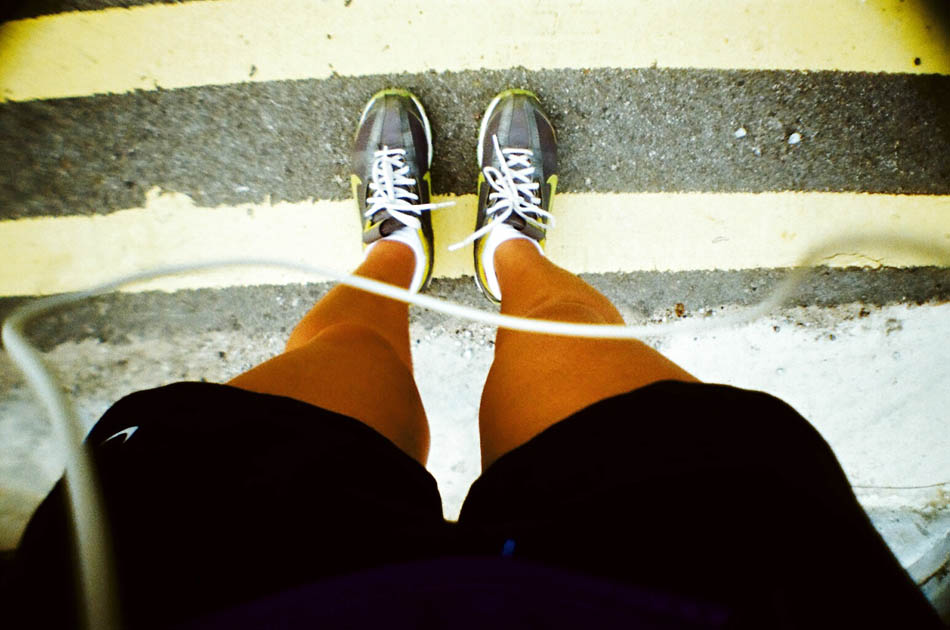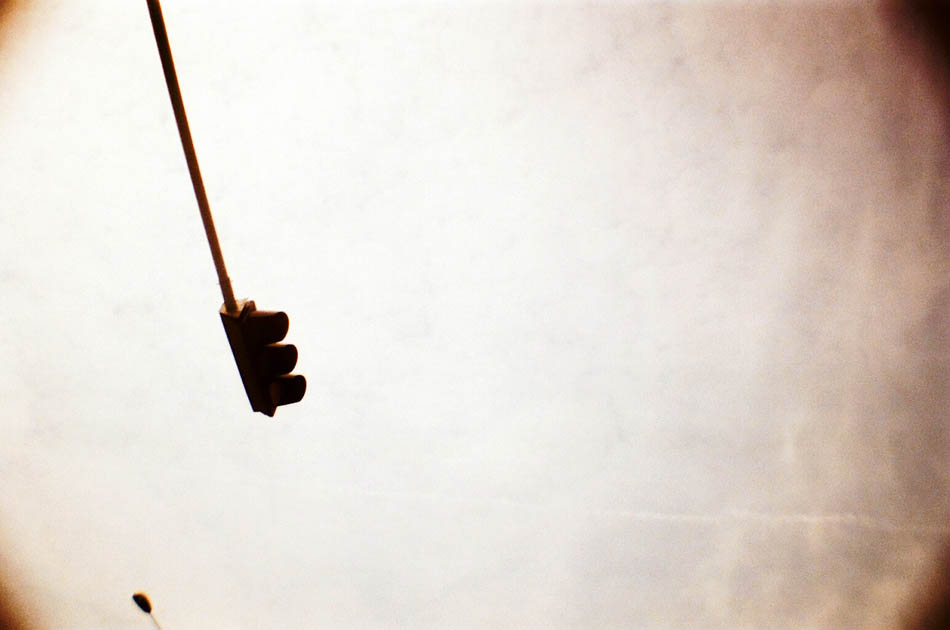 I love running along the street compared to circling in stadiums. Because I find it more enjoyable and encouraging to run a bit farther more and find out what's waiting right after a blind corner or being able to chase a sunset right on time. 🙂 I wish the skies were bluer that day in these photos but since it's been either raining or gloomy this week, I'll have to go for another run next time. 🙂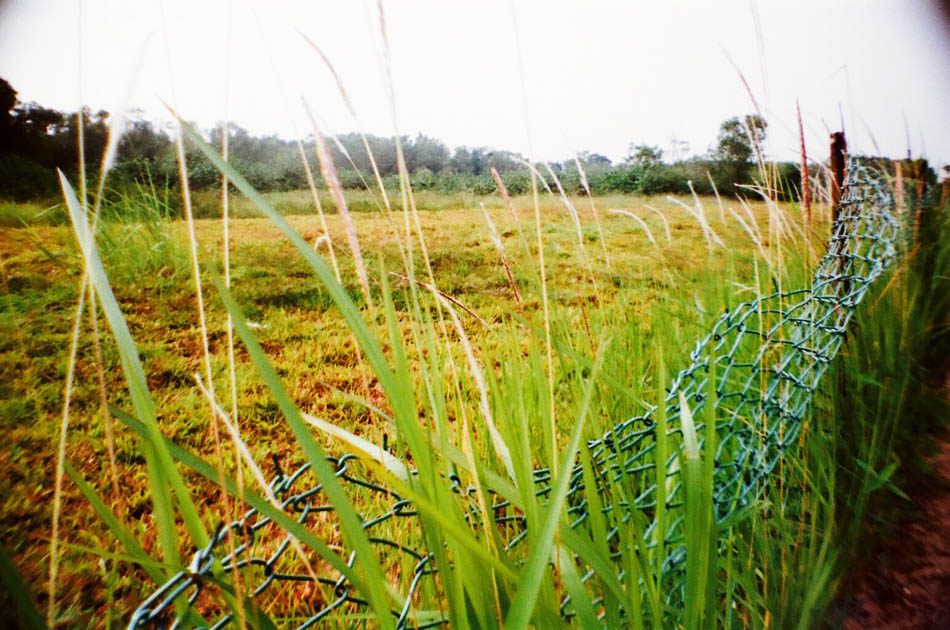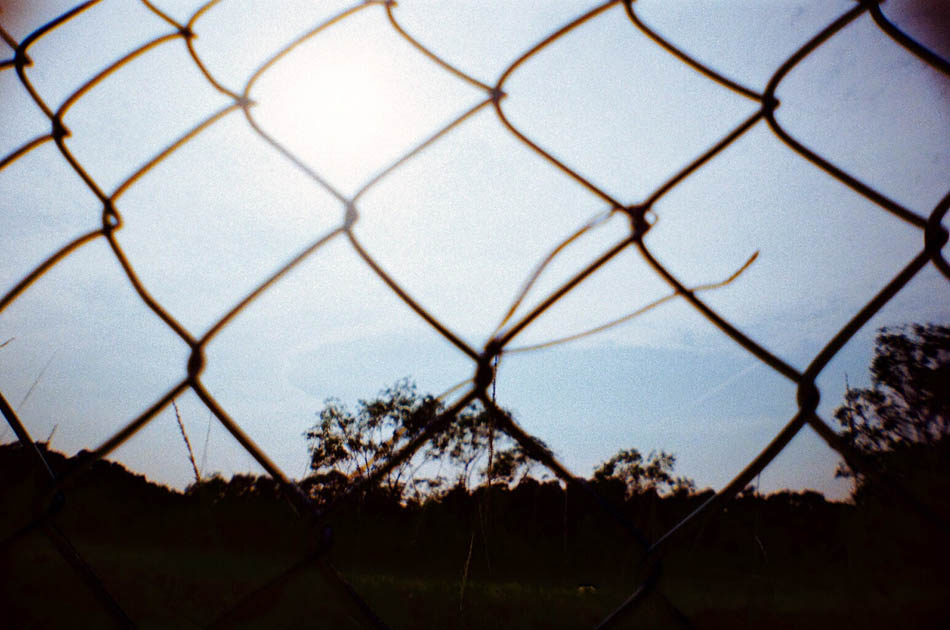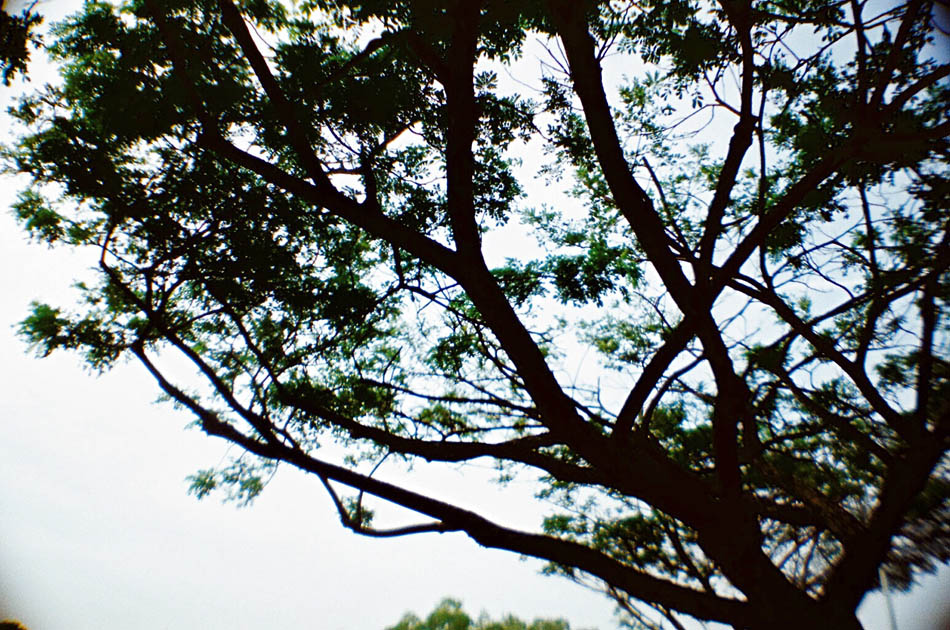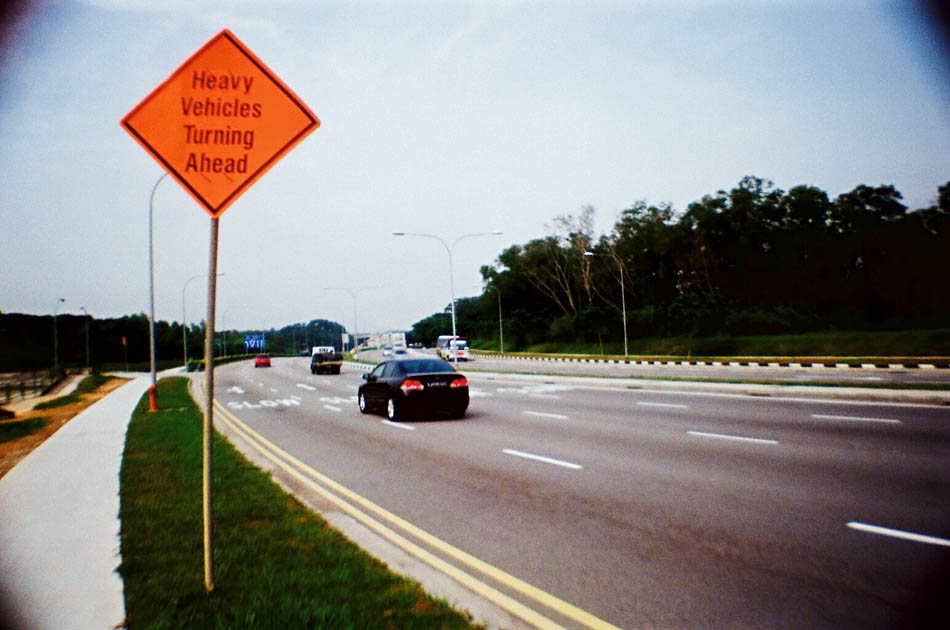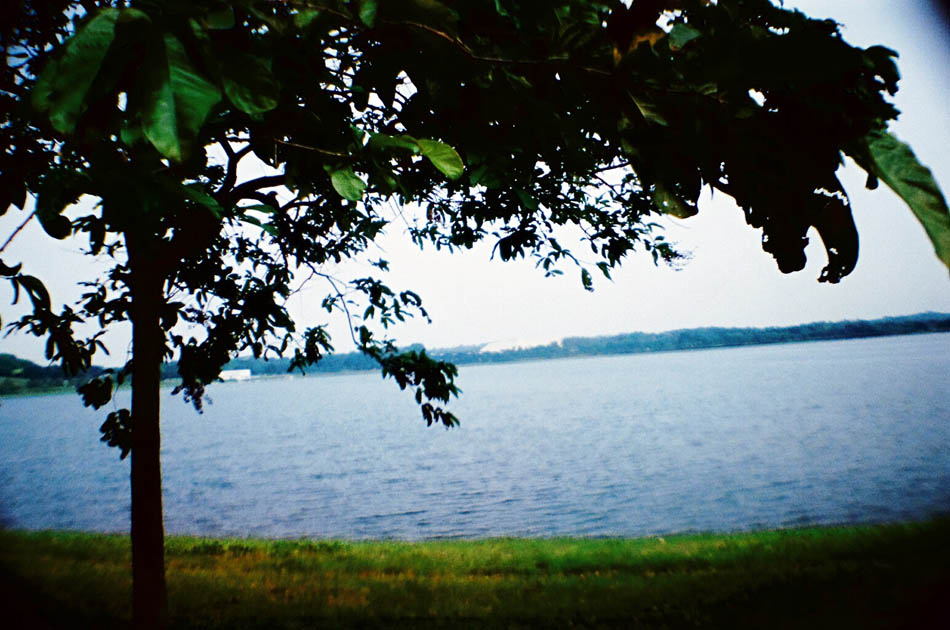 Almost there. 😛 Note that I would only stop in between my running for a few seconds just to click a snapshot. 🙂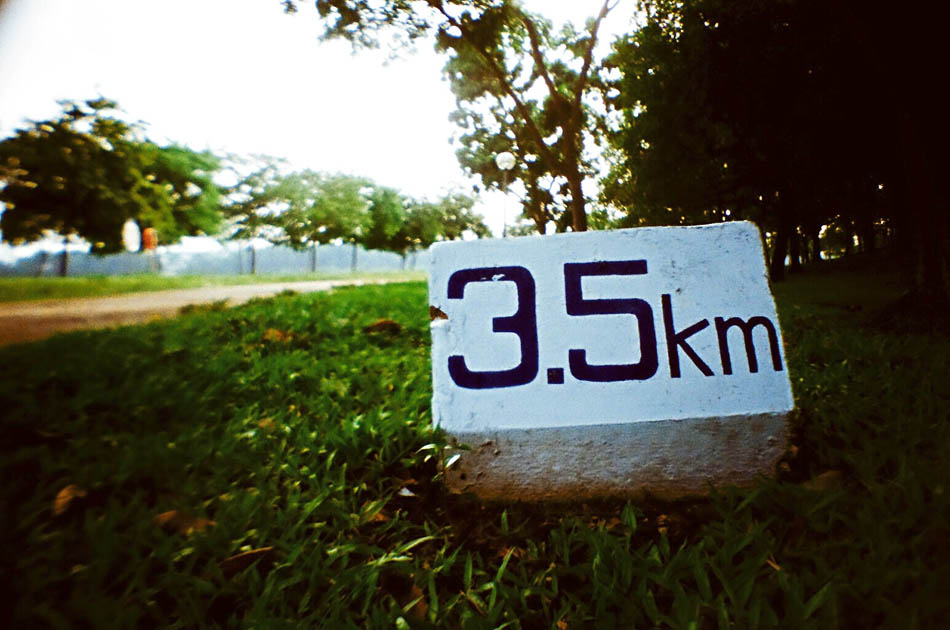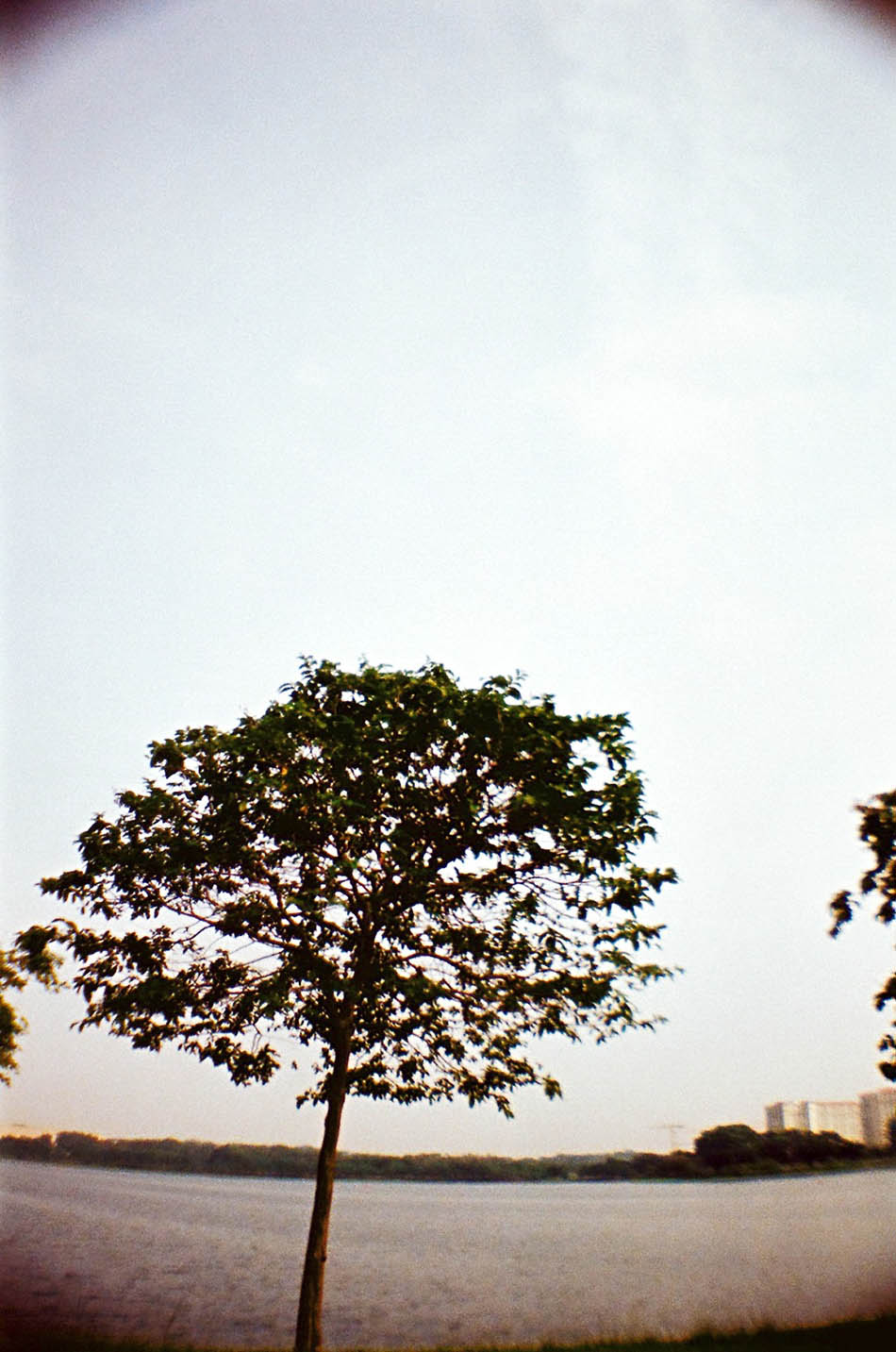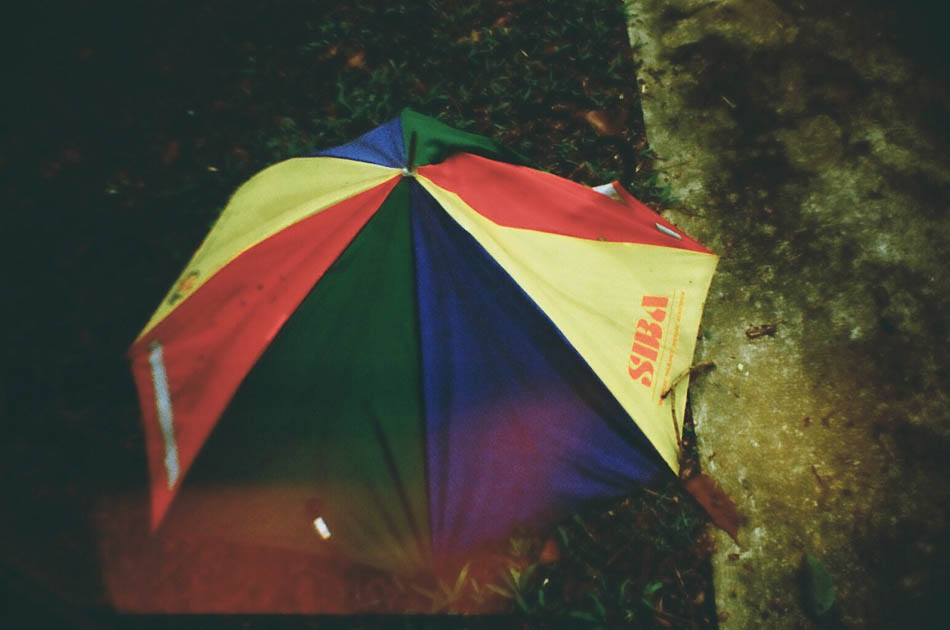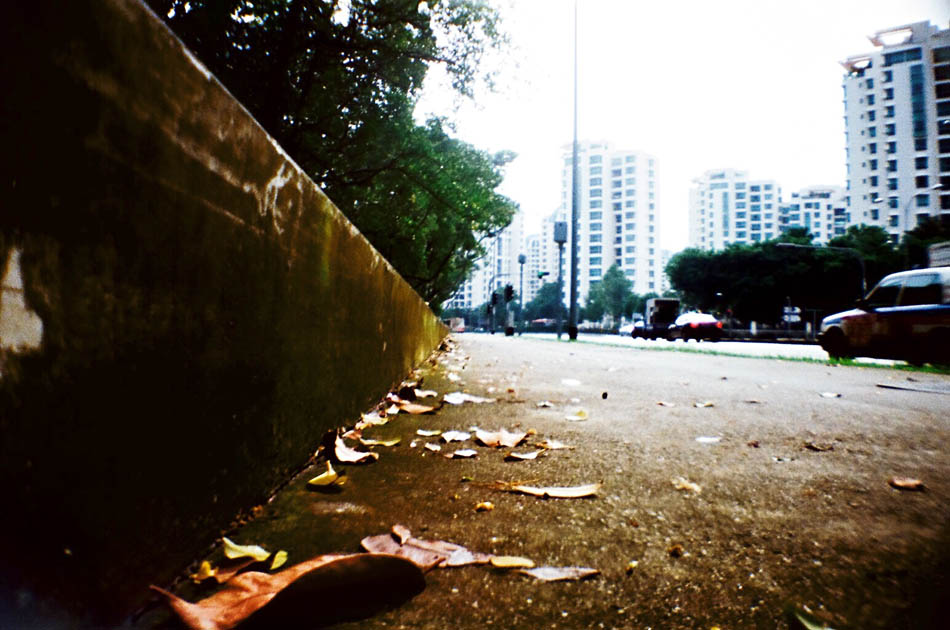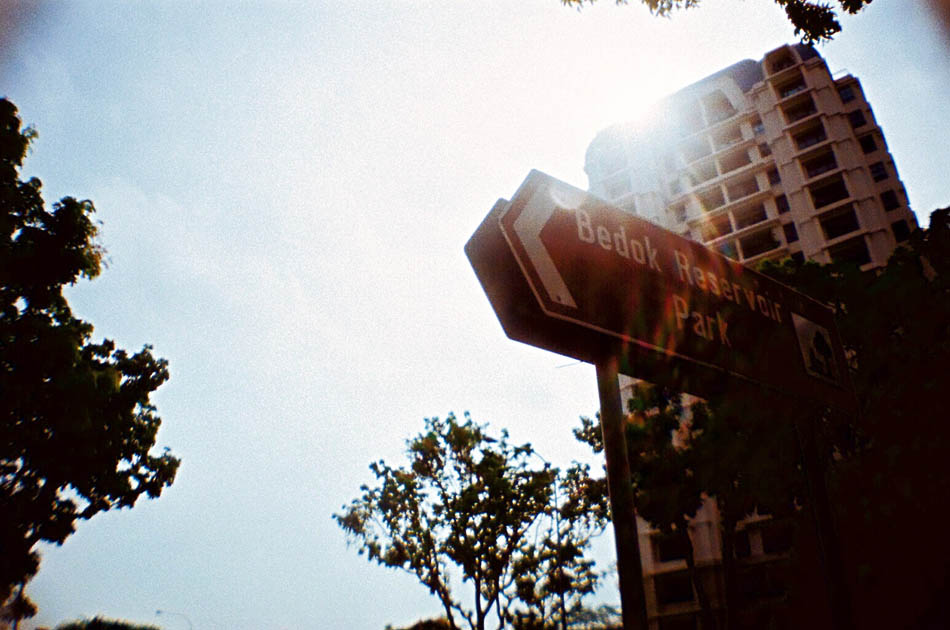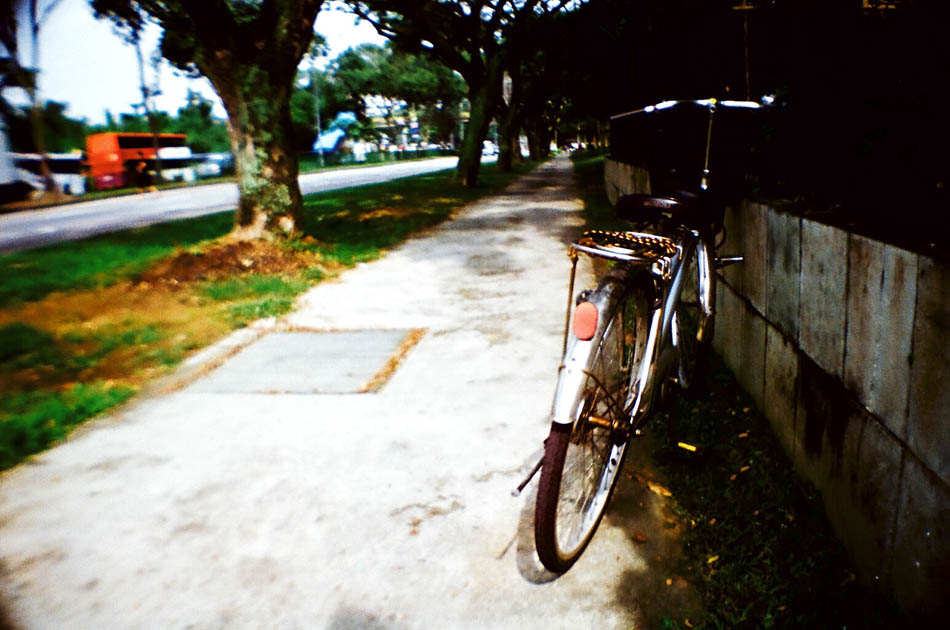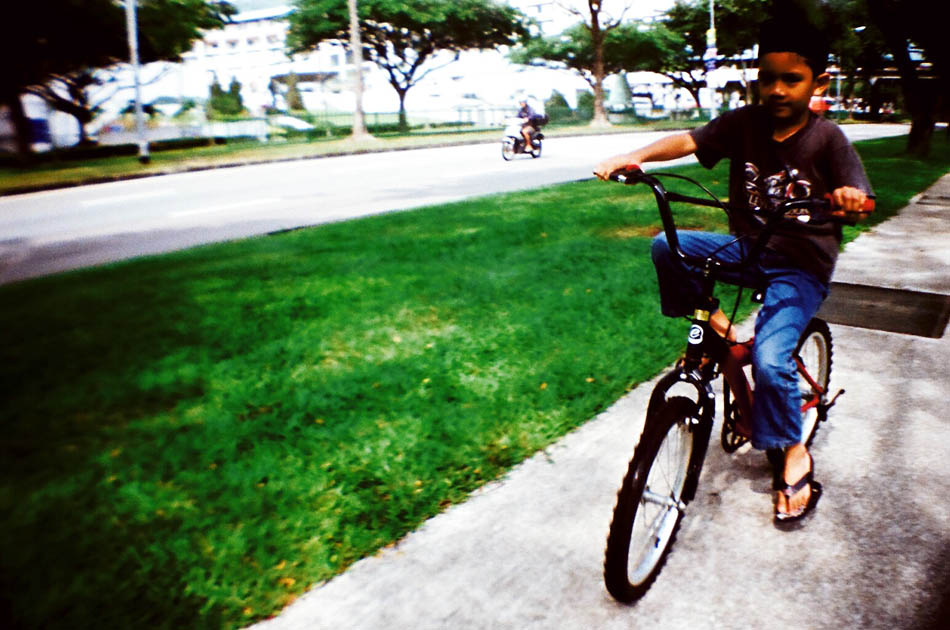 1km to go and I decided to quickly stop at a convenient store to get a drink first. 🙂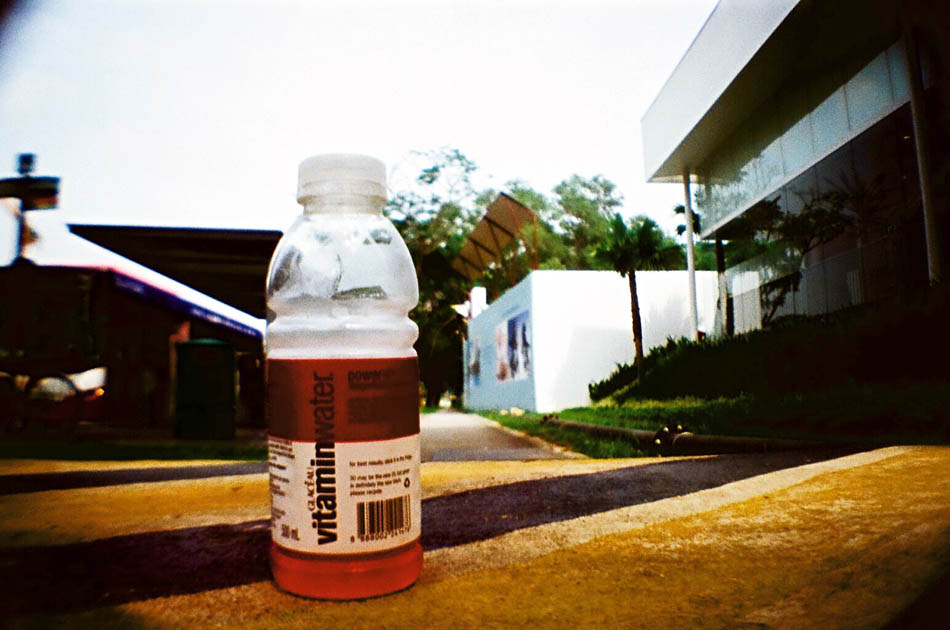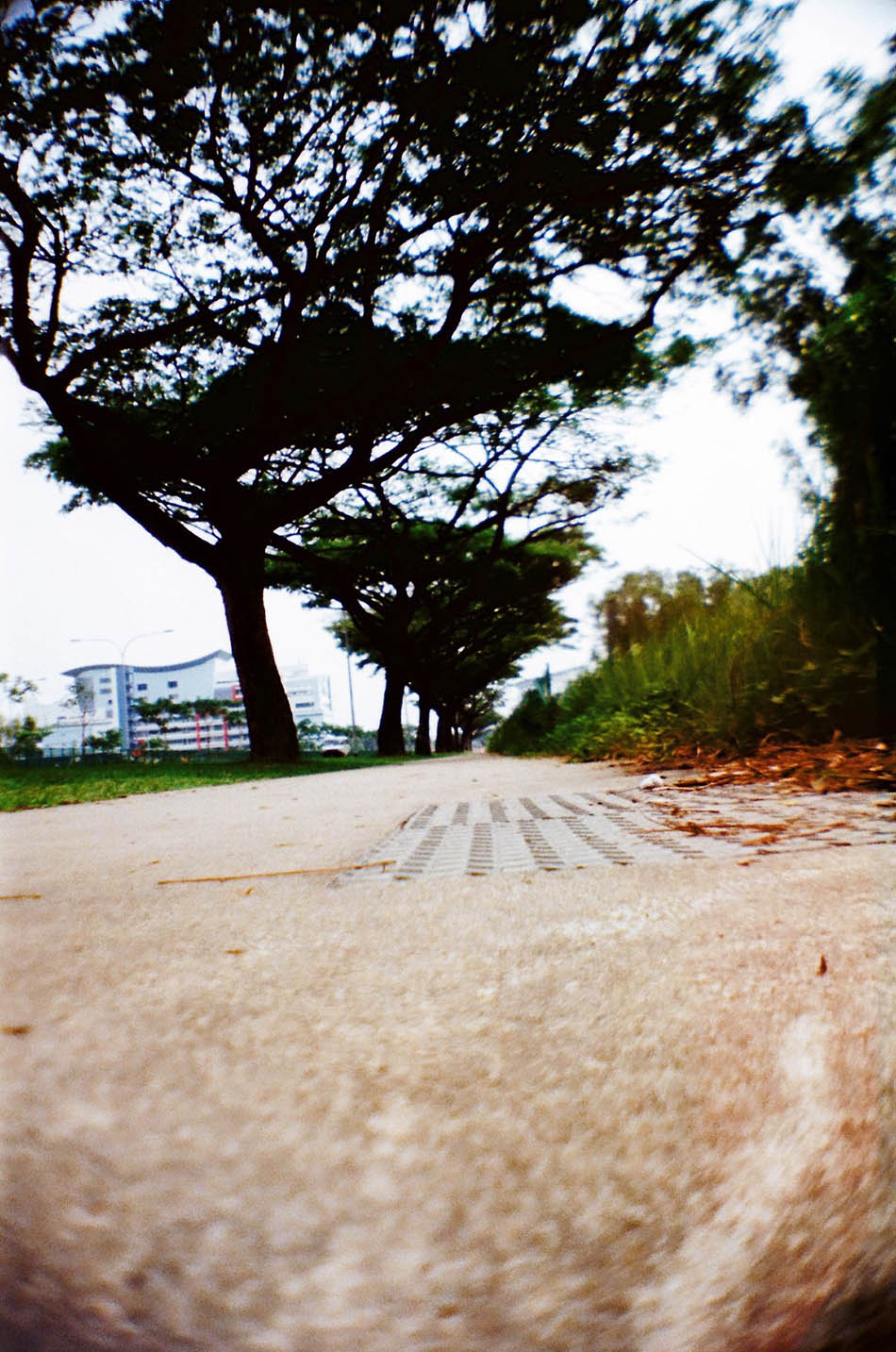 And so there it was. The world, while I'm running, through a La Sardina. I hope to bring it along on my next run again, on different routes. And experiment more other fancy techniques. Apparently, there are limitless possibilities out there and I'm just getting started. Feel free to add my humble-work-in-progress-Lomo Home.  🙂
So what now? All the challengers are supposed to return the La Sardina on 18th of Oct. Why do I have this feeling that it's going to be hard to let mine go. *sniff* I bet El Capitan will miss his misadventures with me,too. But if the Lomography team will find my entry as the most creative article (let's face it, mine's not too creative probably haha so I'll leave it to all the saints I prayed to :P) I get to keep my La Sardina foreverrrrrrrr. Universe hear hear!
On another exciting news, if you find that this wasn't a really boring post and LIKE it (only when you really do LIKE it :P), feel free to click the LIKE button and leave some love in the COMMENT box. Because if you do, I'll be closer to winning the grand prize for the  Loblography Singapore Challenge. which is a Lomo LC-A+. And if I ever do miraculously win, I'll first do a chicken dance (the way Zooey Deschanel does it 😛) and then pick 10 lucky readers to also win 10 piggy points generously given by the Lomography Team which are equivalent to online store credit that you can redeem in the Lomography Shop. Did your eyes just beam on that? 😛 Well, you know now exactly what to do next. Winner for the challenge will be announced on Oct 10 via Lomography Singapore's FB Page. Oh la la la!!!
For what it's worth, it doesn't really feel like losing or winning, because it has been an utterly fun experience since Day 1! Feel free to check out the other loblography challengers too! Spread the lomo love! =)
UPDATE>> The Loblography Challenge has been extended to Oct 16 Yey!!!! Announcement of winners will be on Oct 17!
FINAL UPDATE>> The winners have been announced HERE. I didn't bag any of the grand prizes but surely I won myself a great fun experience! 🙂 Thank you All for the support! =) And for those who left some love, I've picked 10 lucky readers and already sent you an email for a special 10% off discount code given by Lomography Singapore that you can use over at Lomography Online Shop! Enjoyyyy! =)