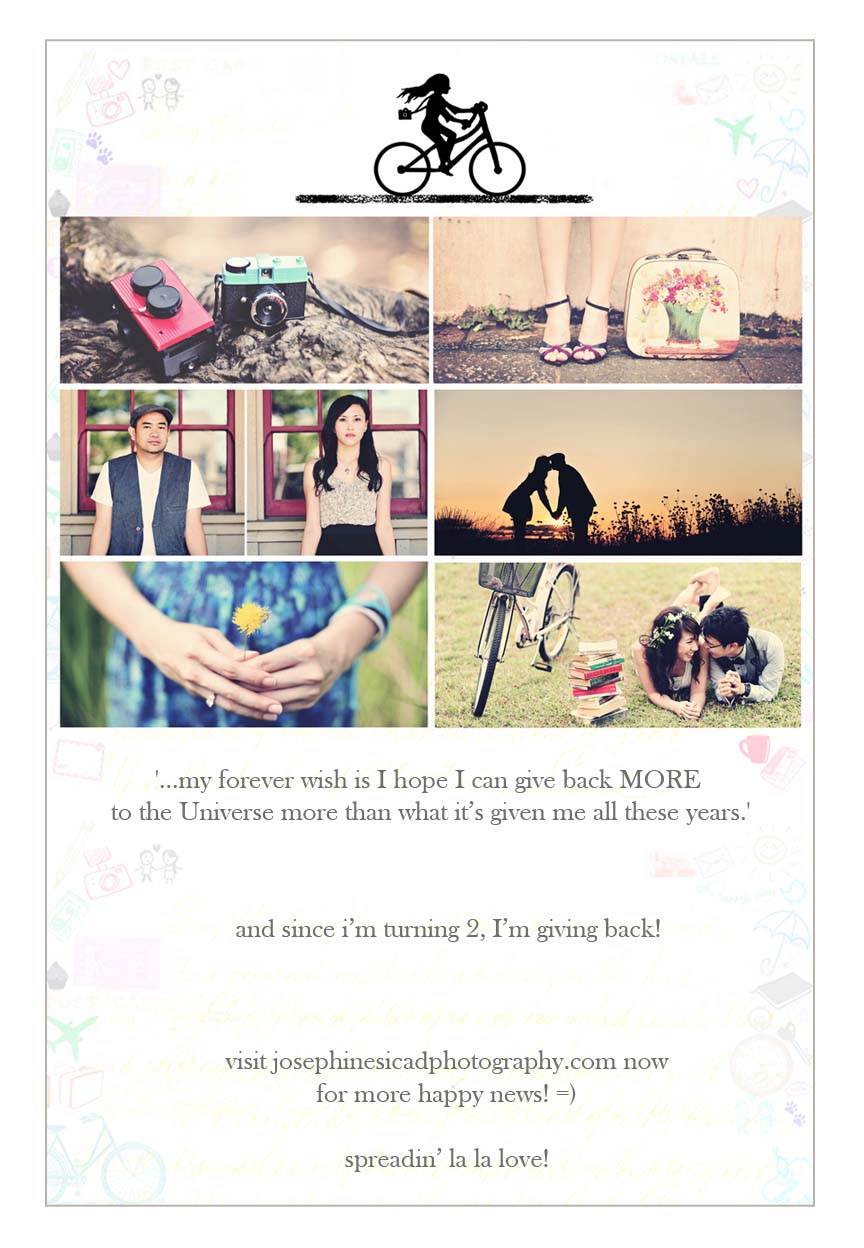 *eyes blinking fast* Can't believe I'm turning 2 ever since my first official couple shoots here and here last November 2009. Really, there's not enough words at all to fill up my gratitude wall. Eternally grateful.

And yes, it's been my forever wish. To at least give back.

Not that I'm donating millions of cash or a car or anything fancy out there. I really don't have that luxury. However, in my simplest gestures, I've put up little projects on the pipeline to share to you whatever I can.

Christmas Card Exchange Project
I'm  way way excited to send out cards soon & the 10 winners of the pocket journals! Weeeeh! Thanks for everyone who participated with my lil craziness! =)
Free Esession Give-Away Contest
So I heard all your YESes!!!! =)

I'm very much delighted to announce 'THIS IS SOOOO HAPPENING!!!' Ya'll ready for the guidelines? =)
#1 This is a free e-session/prewedding give-away contest open to all engaged couples getting married in 2012. I'm based now in Singapore but if you live outside of Singapore, yes you are qualified. However, if you win, my only favor to ask is you cover for my airfare only hehehe

I don't mind flyin' wherever you are. Really. *wink*
#2 Just email me@josephinesicadphotography.com, subject titled 'I want a Free ESession Give-away!', and tell me a short summary of your own love story.

#3 Send me any photo of you together with your fiance/fiancee because I need to post them on my Facebook page. Why? See #4.
#4 Because the lucky couple with the most LIKES, COMMENTS and SHARES on my page will be the happy winner!

#5  I wish I can pick as many of you, but I shall pick only a few, depending how many official entries will join. Deadline to submit is Nov 20, 2011 11:59pm Singapore Time. I shall post the top entry submissions on Nov 22 and by then you can invite as many of your friends and family to visit my Facebook Page and support your entries. Official winner will be announced on Nov 30, 2011.

So what will the winning couple get?
      Unlimited shots (1 day engagement/pre-wedding pictorial on agreed date within 2012)
      DVD-copy of all Hi-Resolution Photos
     DVD-copy of a Special Photoclip Slideshow on selected images
     Box of 50pcs 4R Hi-Res/Digitally-enhanced Prints
Now, did that even cause you to sweat? No right? Easy breezy. Are you still staring at this page? Why, what are you waiting for? 😛
Let's keep this rolling!!! Happy Thursday!!!!