"…because to capture love is always magical. Moments get documented forever.
And I couldn't be more passionately happy being the one to click on the shutter."

2 years ago today, I photographed my first engagement shoot here in Singapore. Back then I remembered how I felt all kinds of weirdness before meeting them for the shoot. If I tell you I wasn't scared, that would be a lie. I had thoughts running through my head, like how to make the couple comfortable infront of my camera. But mixed with too much excitement too, I got all hyped when I wrapped up the shoot with nothing to regret. Fast forward today, I still feel the same kinds of weirdness. But it's a weirdness I don't wish to go away. It's what makes me feel a lot more alive. Feeling scared , nervous, yet exhilarated — because to capture love is always magical. Moments get documented forever. And I couldn't be more passionately happy being the one to click on the shutter. 🙂
Turning 2 years in photography has been absolutely extra-ordinary. I can't imagine a life not documenting Love and what spells of Life. Needless to say, becoming a photographer is a big piece of who I am now and it's a lifestyle I'm sticking on for as long as I shall breathe. How I first learned my photography (and still striving to learn more) has taught me profound ways to never stop seeing more creativity and beauty around us. Ansel Adams made me realized that and I don't think that's ever gonna change.
And all these years, I have Brian, the ever supportive husband and my reliable assistant/2nd shooter, who has his own ways of encouraging me, not with words of praises, but with his endearing actions, like cleaning my lenses the night before every shoot and carrying the heavy load of gears to save me from the backpains. Despite you annoying me a LOT, Thank You honeybee. 🙂
And I have ALL of YOU to be grateful for. I know I've been repetitive in saying this, but THANK YOU THANK YOU THANK YOU (repeat if you will) from the very bottom of my beating heart.
Time to blow the cake! 🙂 *Pfffffft*
Cake blown and so let's get down to business, shall we?
Because I just turned 2, I've decided to give back and come up with a Free Esession Give Away Contest. And trust me when I say, it was hard enough to choose the Top 5 among 14 entries. Each story were full of love, I felt all goosebumps reading some of them, laughed at some knowing how I can also relate, amazed at those who survived long distances and grateful that they allowed me to read their personal story.
All the entries have been really engaging in their own ways and I thank you all again for taking the time to be part of this but I can only pick the Top 5. For those I haven't picked, you're not going away sad I hope because I'm sending over some love in your inbox soon. *wink*
So to help me pick a winner and since Facebook is the best social plug-in to do this, the couple with the most number of LIKES, COMMENTS and RESHARES on my Facebook page shall be declared winner on Nov 30, 2011. You may drop comments here on this post too (for those who don't have a Facebook account, like my mother hehe) but most of my count for votes will be coming from the Facebook page to make it easier to track.
*here we go….drum roll plssssssss*  🙂
Meet the Top 5 and hope you take time reading each of their happy stories!
***********************
Couple # 1. Ram & Lew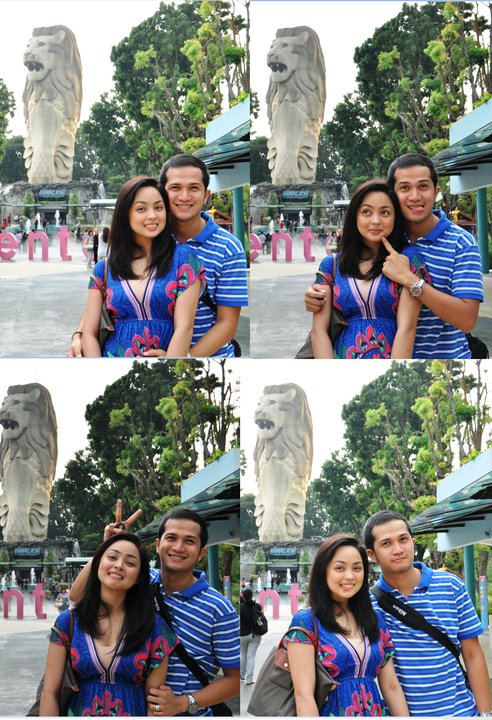 I am Ram, currently residing in Singapore, and my partner is Lew, who is now living in Canada. Actually, we already got married last year (December 2010) but it was just a civil wedding. So, we are now preparing for our Church wedding that will be held on December 2012 in the Philippines. We are really having a hard time sorting out a lot of details for the Church wedding, since we are both overseas and currently living in a long-distance relationship (saklap! ). But I guess we can manage… we have to manage… hehehehe..
So how did we end up being togther and why the heck are we living apart from each other?!
Lew and I were schoolmates since elementary years but we never really knew each other personally because we never became classmates even just once. We had our first interaction during our 4th year highschool program, whereby, she was the searcher and I am one of the searchee. In short, dating game na pakulo ng eskwelahan… Ayun alam na! Ako yung napili niya in the end and I recalled I had to steal a kiss from her (sa cheeks lang naman), eh kinilig?! Alam na ulit!  Then, I also find her really attractive and interesting kaya I started asking her out and then BOOM we became partners on March 2002, just right in time before we begin our individual college pursuit! <<<Fast forward>>> I became a Mapuan and then she became a Thomasian! Right after we graduated, Lew and her immediate family migrated to Canada and I had no choice but to stay in the Philippines. Eto na ang simula ng long-distance relationship na inaayawan ng lahat. It was truly a struggle for us (actually until now) but we really had no choice but to wait for the right time. Though one thing is for sure, we love to be in this relationship that we have and we'll never give up. Those reasons are enough to keep us going and be able to survive the long-distance relationship at syempre communication.
So, I worked in the Philippines for 2 years while she was living and studying again in Canada. Then I went to America and stayed there for almost a year but we never get to see each other still dahil sa visa constraints etc. Tapos I decided to go to Singapore because of the career opportunities while Lew decided to pursue her dream to be a flight attendant, based in Qatar (ang gulo namin noh parang naghahabulan?). That was a blessing in disguise for the both of us, because Qatar airways have regular flights to Singapore. So, we get to see each other at least once a month whenever she had to do a flight here in Singapore as part of her shcedule. Kahit na 3-4 days lang yun, sobrang pasalamat na kami na nagkikita kami ulit. Also, since both of us are working overseas already and can spare a little bit of extra money. We made sure that we often travel overseas together and spend more quality time. As time passed by and our relationship grew deeper, we decided to get married on December 2010. Afterwards, Lew and I decided for her to quit her job and go back to Canada to be with her family there. Right now we are discussing about moving together in one country. We had our fair share of long-distance relationship already, so we have to end this current situation somehow. Hopefully, everything will be alright next year and we'll finally be living together in one home.
The good news is, she'll be visiting me here in Singapore this coming December so we can celebrate our 1st year wedding anniversary  and 1st Christmas as husband and wife. We're also going to plan for our church wedding that will be held next year, by then we are already happily loving each other for 10 years… So there goes our story! Hopefully, we are able to meet your criteria.
Thank you and I hope you enjoyed our "not so short" story the way I enjoyed writing it and remembering everything…
Cheers,
Ram
**********************************************
Couple # 2 Kah Wui & Eileen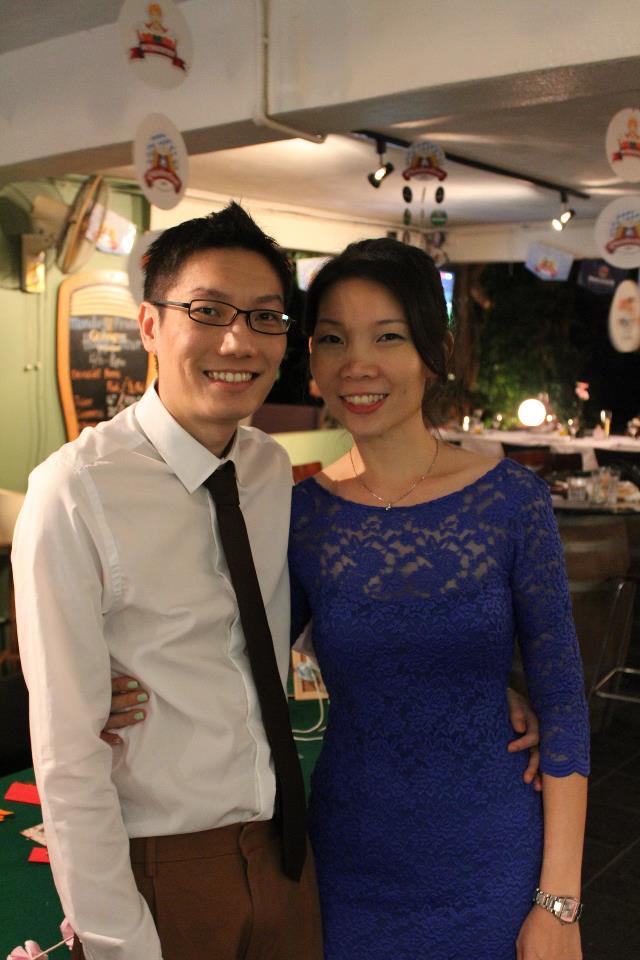 I dont know how to tell you how I felt after seeing your post in FB!!! 
 It was like …..gosh!!!! Awesome!!! Perfect timing!! Lolz… ok ok…we shall start before i start blabbing other things. Hehe…I'd share with you 3 of our recent pics that I love most & I cant make up my mind which one to pick. Lolz..The first pic was taken during our ROM dinner, then the 2nd one was taken at one of our friend's wedding dinner which I think it looks cute. Hehe.. As for the 3rd one, we are on the way to sign our ROM – a very memorable one!
    Hmmm…well it's funny how fate works sometimes. My bf & I come from a small historical city in Malaysia called Malacca (like I had shared with you before, if u remember). Funny thing was that we are supposed to have known each other since secondary school as we were in the same school but of different classes. However we didnt have the chance. On top of that, I am a close friend to one of his close friends. After secondary school, we all parted different ways. Finally, fate brought us together & our path crossed after that. Started with group outings, online chatting, etc and slowly stray off the group – going out only two of us. Lol…
    Oh oh oh…. n u know how he asked me to be his gf? He is working in KL & I was in Malacca. So he drove back to Malacca on Friday night & asked me out for supper in mamak. I agreed to go out (felt excited as I can sense it coming *blush*). We chatted & ate in mamak but yet nothing happened. After supper, we went off (in my heart was like, 'y? y he hasnt asked?'). He asked to go for car ride, before sending me home. And again I agreed. He drove around town and we were chatting in the car but yet nothing happened. I was a bit disappointed and asked him to send me home. Upon reaching the neighbourhood he finally asked me to be his gf!!! Yippeee!!! And we went round the neighbourhood a few rounds before stopping me at my hse! Lol…
    We went through many, many ups & downs during the four years together, both personal & work. The cutest thing about us is that we even have nick names that even our close friends know – kiwi bird (from his chinese name) & turtle (from my chinese name). Picture below is a cartoon drawn by his best friend. Lol…
     We are not financially well-to-do, but managed a house which we called home, at the end of the day, which is something we are really proud of. He knows I am a simple person whom does not like to be fussed about. He did the proposal at our home, took half day leave decorating it with rose petals & balloons. It was a simple but touching yet romantic gesture. 😀 He isnt the richest or the smartest or the most romantic guy in the world, but he's the guy that I felt most comfortable with, the one that I can be myself. He is my confidant, my best friend, and definately the love of my life.
   We really, really hope to win this give-away as we really do love your style of photos – the way it is taken, the moments captured, the color & its theme. Hope to hear good news from you!
Cheers,
Eileen & Kah Wui
***********************
Couple # 3 Luigi & Deejoy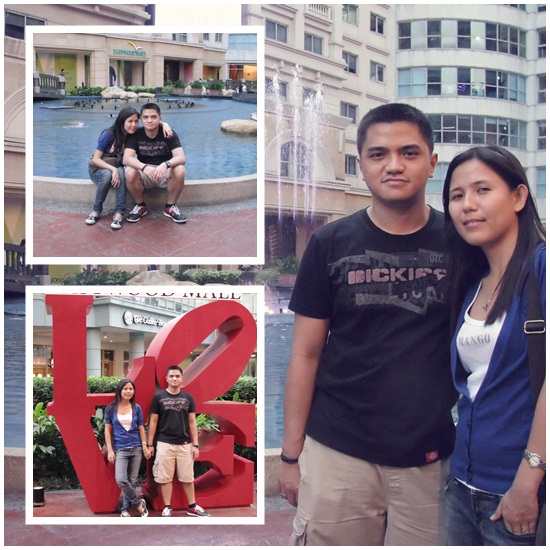 -An Answered Prayer-
Luigi and I are friends/colleagues, we never expected to fall for each other. For we are totally different, like HOT and COLD water (haha!). He is the quiet and mysterious type while I am the bubbly and outgoing type of person!  (in short tabian ug laagan??? haha). We were just two friends who became closer and got the chance to know each other well.  It didn't take long for him to fall in love with me (so he said LOL!). But on my part, the turning point would be the time when he told me he would soon be leaving our company as a good opportunity was open for him in some other place. That was the time I realized maybe I had have feelings for him too 'cause I was sad instead of being happy for a friend when I heard that news.
He wanted to keep the communication open, to continue to court me even though he knows I just came out from an almost 8 year long relationship that wasn't too healthy and that I was not ready for a commitment anytime soon.   That time, I told him to stop whatever it is that he is doing.  I wasn't ready yet and I wasn't sure If I want to take risk of a new relationship or give a chance to my past.
I was praying to God at that time to give me courage and guidance so I can make the right decision.  Just when I thought I would be saying goodbye to him soon. On the day of his final medical examination for the new company, he showed up in the office and told me afterwards that he chose me over a good opportunity back home.  It is a big decision that he took, though he is not sure of the outcome he continued to show me that I am more important to him than anything else.  For someone who has never been into a relationship before, he had shown me how it is to be loved and to love someone in return.  In the end I chose the person who had shown me love and respect.
And 5 months from now, we are finally getting married… weeeeeeeee!!!
——————————————–
Thanks for the chance! =))
Regards,
Deejoy
***********************
Couple # 4 Mckoy & Darlene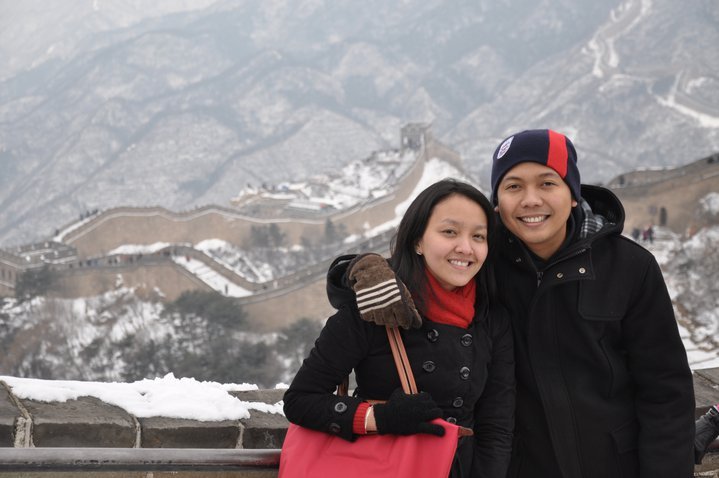 I don't know if this will suffice but here goes.
From Spy to future-wife
Mckoy and I were orgmates in college. My type of guy then was that of a "boy next door" type, and he was the opposite. He was the typical bad boy, puro alak, "maangas" and all. A college friend of mine had a crush on him. I slowly became her "spy", literally texting her whenever I see Mckoy around in school. I didn't know that by this time he was already noticing me and looking my way. Before graduating, we had the chance to get to know each other better; that he had cousins in the same town I live in Isabela. I realized that he wasn't the person I expected him to be. He was a family man. I secretly had a teeny crush on him and told myself: "lucky is the girl that he'll fell in love with".
We never lost touch. He still calls me at least every month to catch up (khit na may bf ako. Hehehe.). Mckoy works in Pampanga, so whenever he comes to Manila, he would call then he'll visit me even for a few minutes. My friends was starting to tease me, I shrugged it off since I thought I am not his type.
I had a boyfriend then, fiancé and I went out when we broke up. He (fiance) was secretly wishing na daw na d kmi magkatuluyan ni ex and he succeeded. Last 2009, we went to our Lady of Manaoag with friends, I was healing a broken heart then and he prayed for a girlfriend to Apong Manaoag, someone na "seseryosohin" and napatingin daw cya sa akin that time. J
After that everything fell into place. We realized that we never can really predict what God has planned for us. Yung akala mong ndi para sayo at dti mo lang pinapangarap yun pla mapupunta sayo. And I quote: "mas maswerte pala ako dahil ako yung mapapangasawa nya" J
P.S. I was typing this while at work now. I'm still crossing my fingers though. Sana mapili khit nde super detailed. Hehe. Thanks
Mckoy&Darlene
***********************
Couple #5 John & Tin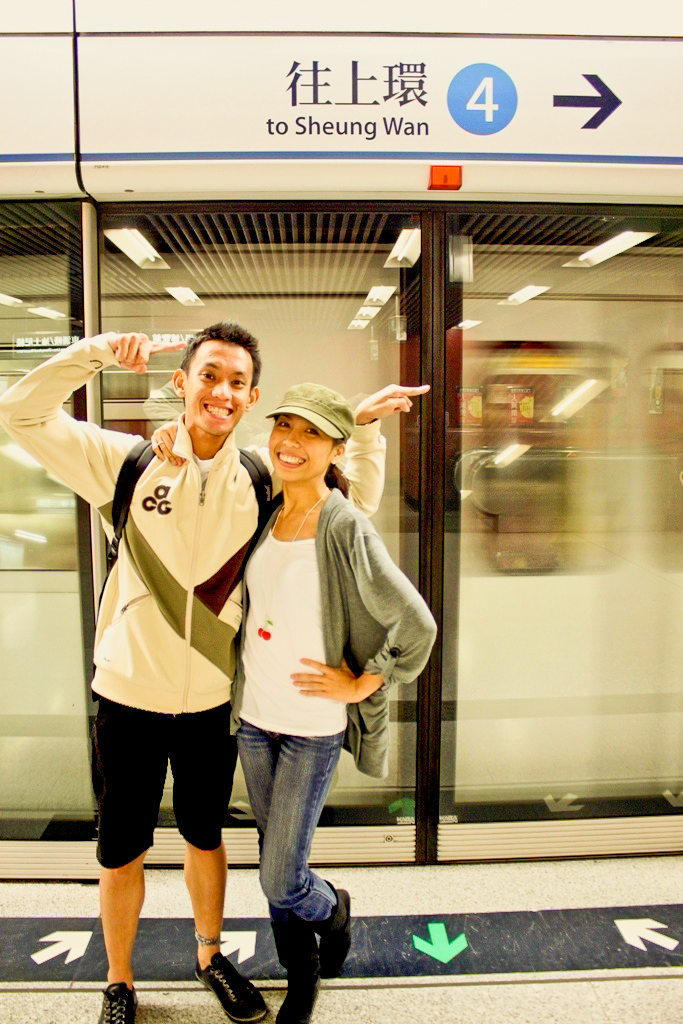 We first met way back in grade school. He was the "crush ng bayan" and I was the nobody girl.  We became classmates in sixth grade but I don't recall interacting with him. Though I must admit, John with his charm and intelligence, no doubt many girls swooned over him including me! Haha However at that time he had his eyes on someone else. Friendship was not even established.
He went to another high school but still kept in touch with his group of friends in grade six. It so happen that one of his friends is my girl best friend. So there it started, that I was invited and began joining in their activities. We became friends and as years went by became close.  But mind you, by this time I am not anymore attracted to him. The feeling was purely platonic and we were both in a relationship.
Fast forward to Dec 2006, I was then recovering from an operation and a heart break at the same time. John was one of the very few dear friends I have who was there to help me get through that difficult time.
Then year 2007 came, little did I know that something that I never thought would ever happen is about to begin. He started making his move in February, doing things that obviously gave me an impression that he likes me. However, I shrugged off this idea, thinking that he was just sweet because he is a good friend. But then, I was also starting to like him so come April, I asked him straight why he is doing these things that a normal suitor would do. And I remember, he said that he wants to take care of me. If I had not asked, I wouldn't know that he is courting me! (John is super torpe!) But honestly, I never thought that he would like me but I'm really glad he did. He was everything that I prayed and hoped for, and I am thankful having him.  And after a month, we became officially us 🙂
We were happy for a good few months, until John left for Dubai to pursue a career in line with his hrm degree. It was in Oct 2007 when he dropped the news that he had to leave. Initially, I was not cool about it, I was really hurt by his decision but then who am I to stop him. So I let him go and we promised to make things work out for us despite of the distance.
While he is away, I also made a career move. I tried my luck in Singapore and was fortunate enough to land a job here. Long Distance relationship is tough, but we were tougher. We managed to stick with each other for 1 year and 4 months despite of the 4 hour time difference and mood swings I had whenever I miss him so badly hehe. We have proved that nothing is impossible with trust and love with the help of Skype and phone calls combined 🙂
Good thing that he did not stayed there for too long because he decided to follow me in Singapore where we both now stay and work. As I always say, we are better when we're together. He constantly makes up for the time when he was not around but surprising me with my favorite stargazers every now and then or by just holding my hands tightly whenever go out together.
Today is the very same date last year, when John finally popped the question and I said yes! The classmates->friends->barkada turned lovers and soon to be partners for life will be tying the knot next year on Dec 21st 🙂
Tin + John
——–
So there you have them! Head over to the Facebook page now and start spreadin the love! =)
P.S. Photo from the most top was taken from a postwedding shoot last weekend. more of that on another post *wink*
 ——- UPDATE Nov 23, 2011 ——-
Just wanted to update the rules a little bit. Looking at the Facebook page, I've just realized that it's hard to track the unique number of per user comment on each couple entry and the only unique count is through the LIKE button so to be fair enough, the couple with the most  number of LIKES will be declared the winner. =) Of course, you can continue to drop your comments  & SHARE the post as many times in a day as you like since that's the best way to spread the love,too! =) 
And I did say that winner will be announced on Nov 30, 2011  —last chance to vote will be at 12pm Nov 30, 2011  and I shall then disable my Facebook page for a few minutes to capture the last votes. Anytime after that, I shall enable back the page and announce the winning couple! =) 
It's getting so exciting, isn't it? =)