Aside from blog hopping online, sometimes, I collect  (or stay longer browsing on a magazine stand) Bridal and Fashion magazines to get updated with whatever's hype around and mainly to refresh my mind with ideas and inspiration. I'd swoon over pages and pages on amazing photography of places and people secretly wishing someday I'll have my photos printed on one of those magazines, too.
And so there I was, on a bookshop last Friday and well, I jumped off my feet when I finally found a copy of the Female Brides Magazine displayed on the rack. Quoted from the magazine's website, "Female Brides is a comprehensive biannual wedding guide featuring the latest, trendiest and most adventurous of bridal ideas. It is an inspiring resource for trend-driven brides-to-be."  So, seeing the Wedding of Kirstie & Nicholas (which I photographed last June 2013 in Bali along with Paul from Calography) featured in print in a Singapore magazine is a REALLY big happy blissful surprise ever since the bride told me last August. I had to give the magazine a big tight hug! (If you get a copy yourself, scan over to the 'REAL WEDDINGS' section) 🙂
Sharing this joy with Kirstie and Nick…congratulations for being featured guys!!! It brings back all that memories we shared documenting your happiest day yet! 🙂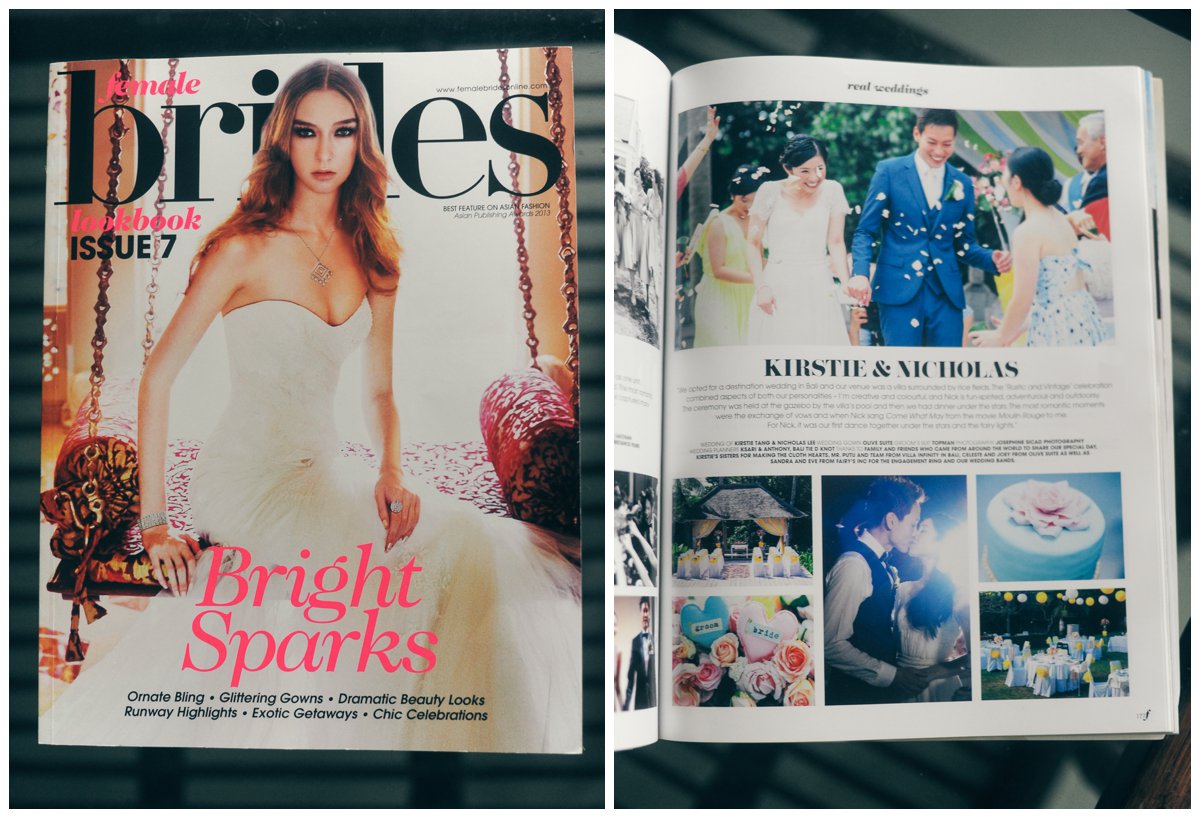 I've been way too grateful being featured before on other online blogs but this was definitely another happy first magazine print experience.
Looking forward for what 2014 brings when I'll be starting to accept again more weddings (and hopefully destination shoots, too!) now that my lil baby's not so little anymore. Contact me@josephinesicadphotography.com and let's chat! *wink* Hear hear, Universe! 🙂
Happy happy Monday!!!