i honestly can't remember the last book i've read. or wait, maybe i do. probably, 'gone girl'. just because i've heard people say it's a good one and a movie was even made from that book (though i haven't seen it yet). such a shame i know that i really should be reading more but something always gets in the way and since after that, i've only had time at reading a few pages (too luxurious if I even finish a chapter) and leave it untouched. i've been wanting to really read something i wouldn't be able to put down like how i read neil gaiman's stories.
until i stumbled on this just recently online. newly published about a photographer's life. a woman photographer. well, hello, that resonates much to my kind of life, too apparently. but this one's a life of a photojournalists to be specific, a mother of one, who shoots in war zones. like seriously?! well, i don't shoot in war zones but i tell you, this book made me dream I could and it sure is one of the best life-changing book I've read yet.
and so believe it or not, something in the book's title compelled me to click on 'Order via Paypal' in seconds coz (i'm that impulsive) I couldn't wait to get a hard copy delivered or get up from my chair and hunt it on the bookstores here in Singapore which probably isn't available yet because  remember, it's just newly released last month.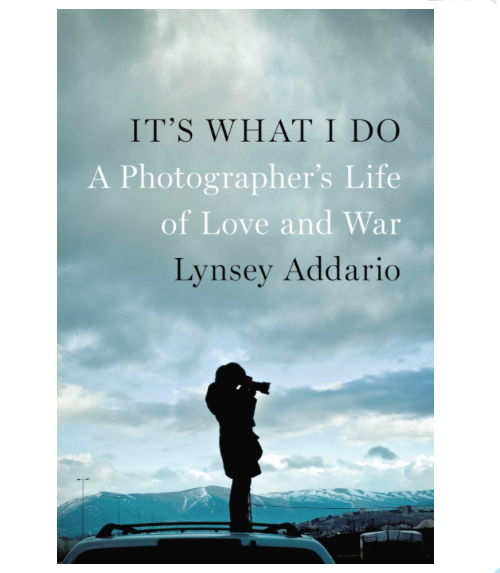 "Photography has shaped the way I look at the world; it has taught me to look beyond myself and capture the world outside. It's also taught me to cherish the life I return to when I put the camera down." – Lynsey Addario
i finished reading the book the other night. it's was so beautiful, it hurts reading it from start to finish. but i did find myself smiling in between, it made me feel more than grateful i'm doing what i love doing, too. now, i'm not really good in book reviews but it was truly riveting, i was hooked at every word she wrote. it almost felt like taking photos along side with her. (yeah, i daydreamed of it!) and i could almost hear her read out loud her own story and there i was listening like a child hearing a favorite book — my heart ached. a lot. at all the challenges Lynsey had to go through again and again (imagine being kidnapped twice?). her relentless pursuit for not just ordinary but extreme stories that shaped her life, making her come out stronger and even more passionate.
"She makes a decision she would often find herself making — not to stay home, not to lead a quiet or predictable life, but to set out across the world, face the chaos of crisis, and make a name for herself." – review from Amazon.com 

if I even had that chance to meet her in person in this lifetime, i'd be dumbfounded and will truly be blown away. so much love and respect for you, Lynsey. I really just want to hug you now. 🙂
I could pick as many favorite quotes from the book but these part made me teared up:
"Journalists can sound grandiose when they talk about their profession. Some of us are adrenaline junkies; some of us are escapists; some of us do wreck our personal lives and hurt those who love us most. This work can destroy people. I have seen so many friends and colleagues become unrecognisable from trauma: short-tempered, sleepless, and alienated from friends. But after years of witnessing so much suffering in the world, we find it hard to acknowledge that lucky, free prosperous people like us might be suffering, too. We feel more comfortable in the darkest places than we do back home, where life seems too simple and too easy. We don't listen to that inner voice that says it is time to take a break from documenting other people's lives and start building our own.
Under it all, however, are the things that sustain us and bring us together: the privilege of witnessing things that others do not; an idealistic belief that a photograph might affect people's souls; the thrill of creating art and contributing to the world's database of knowledge. When I return home and rationally consider the risks, the choices are difficult. But when I am doing my work, I am alive and I am me. It's what I do."
Lynsey Addario is an American photojournalist whose work appears regularly in The New York Times, National Geographic, and Time magazine. She has covered conflicts in Afghanistan, Iraq, Lebanon, Darfur, and the Congo, and has received numerous awards, including the MacArthur Genius Grant and the Pulitzer Prize in International Reporting.  (see a recent interview with TIMES here)
Meanwhile, I'm looking forward to a film adaptation of the book by Steven Spielberg, no less.
And because i still do prefer the smell of books on my hand, I'm still definitely getting a hard copy once we settle our move to Australia first so i don't worry about bringing more luggage. 🙂