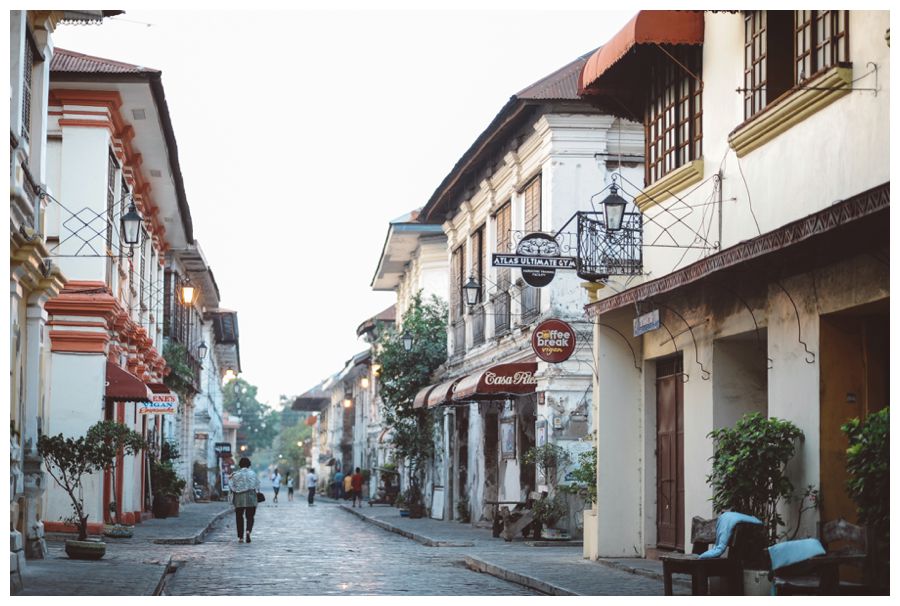 I once read on an inflight travel magazine that "Great destinations can be emotionally impacting, intellectually engaging, romantically energizing, and spiritually satisfying." I coudn't agree more.
And this trip to Vigan to shoot Jack & Sophie's prewedding shoot marathon (i guess i can call it that) last January 2015 was one for the books. (in case you missed it, their first prewedding shoot was in Boracay last Nov 2015) I wasn't aware exactly how many hours it was going to take us to our exact destination. All I knew was we were taking a night bus trip from Manila to Vigan, and then at some point , we rented a private van to go to places around Ilocos.  Lester, the groom's bestfriend based in Manila, did amazingly most of the planning for this whole trip. It was also my first time to ride a  night bus actually. Although it was a reclining seat, I wasn't able to really get enough sleep but I might have to blame it on too much adrenaline in me, too.
So after the almost 8hrs-sleepless bus ride, we arrived in Vigan as earlier as expected in the wee hours long before it was sunrise. We went straight ahead riding the local tricycle to our villa. I couldn't decide what i was going to really feel at first, seeing how it looked ghastly the moment we stepped into the gates. Or maybe it's just the little scared kid inside of me who dreaded ghost stories all my life. (but you may ignore that part of me!) We stayed in Villa Angela Heritage House which really was a truly nostalgic place with all its old century authenticities being over a hundred year old restored home of a former governor back in the Spanish colonial times. Well, if you must know, I'm relieved to tell you I survived our 2 nights there without any eerie experience whatsoever but all filled with fun memories thankfully with the whole gang despite Lester and his friends teasing me about his made-up-ghost-stories. And I'm glad i had a braver roommate who kept me a little less scared during our limited sleep, a new found friend who happens to be also a talented make up artist, Azil.
Vigan had me swept away at cobbled stone walkways, all its vintageness, weathered paint-chipped-off distressed brick walls and horse-drawn carriages. I can't tell when can I ever go back so this was probably a once-in-a-lifetime experience I will never forget. Here are photos from the first leg of our Ilocos trip. Enjoy!