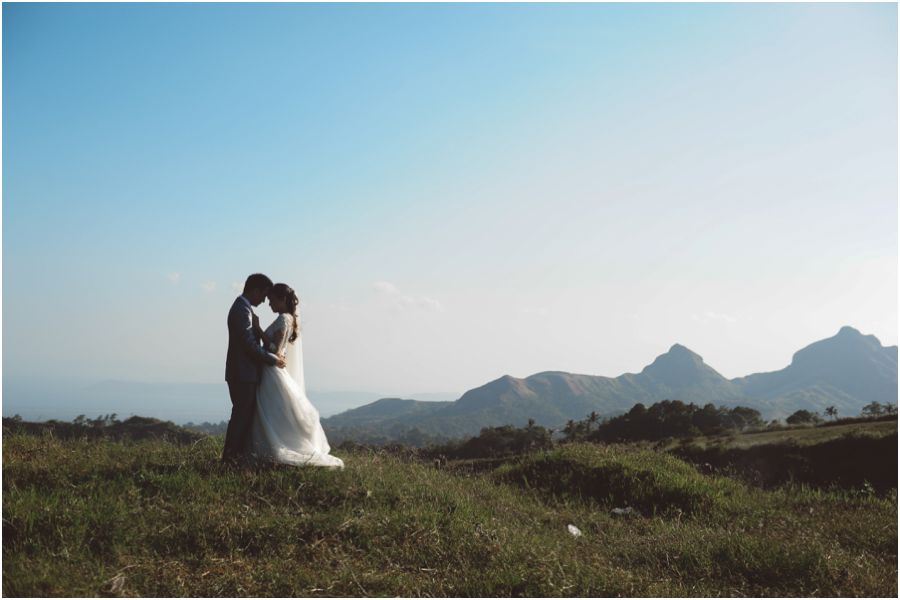 this couldn't wait. so i'm posting the wedding highlights first from our destination trip to Tagaytay last weekend. i actually got suddenly sick during the wedding reception that started with a bad headache and sore throat. so after the wedding shoot, went back to our hotel knocked down to bed. indebted to my dear friend and 2nd shooter, Jeff Garban, who helped nursed my fever chills and assisted getting me some medicines. the next morning, i felt all better with a minor sore throat. but sadly, it didnt all go away yet until we flew back to Cebu last Monday. still nursing minor cough and colds now and a husky voice i can perhaps impersonate Nicolas Cage or Fiona Apple.
but despite all that, it was such a memorable wedding experience..the kind that makes you want to shoot more weddings like Dax & Niña's. same thing i felt shooting their engagement photos back in January,too.
and when Niña sent me a 'thank you' message from the airport, the night they were about to fly out for their Maldives honeymoon, i replied how much and truly more grateful I was for her and Dax for choosing me to document a glorious day! beyond glad i met these two loving souls together with all their favourite people in this world, some even travelled all the way from the US! And I shouldn't forget to mention how unbelievably cool it was that most of the wedding planning, details & ideas came into life all because of the groom himself since Niña was till staying in the United States and focusing on her studies. Now that's what I call 'real' love!
Congrats again Dax & Nina! Hope you both are having the time of your lives spending your beach honeymoon under the Maldives sun! I already miss every bit of fun we shared!
Main Photographer: Josephine Sicad Photography | 2nd shooter: Jeff Garban of Salt & Bleach  | Videography: Joel Salindong | Prof Make up Artist: Precious Medina | Hair Styling:Isabel Escobal | Wedding Preparations: Discovery Country Suites, Tagaytay Philippines | Ceremony: Chapel on the Hill, Tagaytay Philippines | Reception: Sonya's Garden, Tagaytay Philippines | Event styling, Caterer & Decors: Town's Delight | Event Coordination: Ruby Anne Ines of Celebrations Events Specialists | Florist: Clint Carl Flower Shop | Emcee: Bien Rivera